Are you getting ready to paint the exterior of your house? If so, you need to make sure that you prep it properly.
This can be a daunting task if you've never done it before. That's why we've put together this guide – to help make the process as easy as possible for you.
In this guide, we will discuss everything you need to do to prepare your house for painting.
We'll talk about how to choose the perfect color, wash the walls, how to remove old paint, and how to fix any damage that may have been caused by weather or pests.
We'll also explore the option to hire a local painting company to paint your home.
Choosing the perfect exterior color
With so many colors to choose from, how do you know which one is right for you?
Consider researching information on color trends and styles. Look into shades that are popular in similar homes within your neighborhood, or contemplate how the environment views the area when choosing a shade.
Furthermore, consider discussing a variety of different hues with any professional painters you may hire as part of the job.
They might have expertise on what looks best with certain materials or settings. Pick accent colors for trims and aesthetic details that stand out and look attractive overall.
Additionally, think about shade favorites from your family and make suggestions based on what fits into their vision most appropriately.
Ultimately, find solace in knowing there's no wrong choice if it reflects your personal style!
Prepping your Home for painting
To ensure a successful painting project, it's essential to keep lead paint safety on top of your mind.
For any structures built before 1979, the possibility of containing old lead-based paints is high – so make sure you have all the facts and resources necessary for taking precautionary steps before starting!
Cover anything near the walls
Start by moving any furniture away from the walls or laying down a plastic tarp if it can't be moved. Then cover all surfaces with plastic drop cloths or painter's tape.
For wall outlets and switches, turn off the power at the circuit breaker first and then cover each outlet and switch plate with tape or a plastic bag before painting.
Remove old paint
The first step in prepping your house for exterior painting is to remove any existing paint that is peeling, flaking, or chipping off.
This can be done with a putty knife and/or wire brush if there are only small areas of loose paint; however, if larger sections are damaged, it may be necessary to use a power washer.
Once all of the old paint has been removed, fill in any cracks or holes with caulk or spackle and sand them until they are smooth. 
Powerwash Exterior
Power washing a home exterior before painting is essential for ensuring the fresh paint job will look great and last for a longer period.
Power washing helps remove years of built-up dirt, dust, and even mildew, all of which can prevent proper adhesion of the new paint.
Start by holding the pressure washer nozzle approximately 6-10 inches away from the surface when spraying.
You may also need to use a detergent such as bleach to wash away the stains and mildew if water alone doesn't work.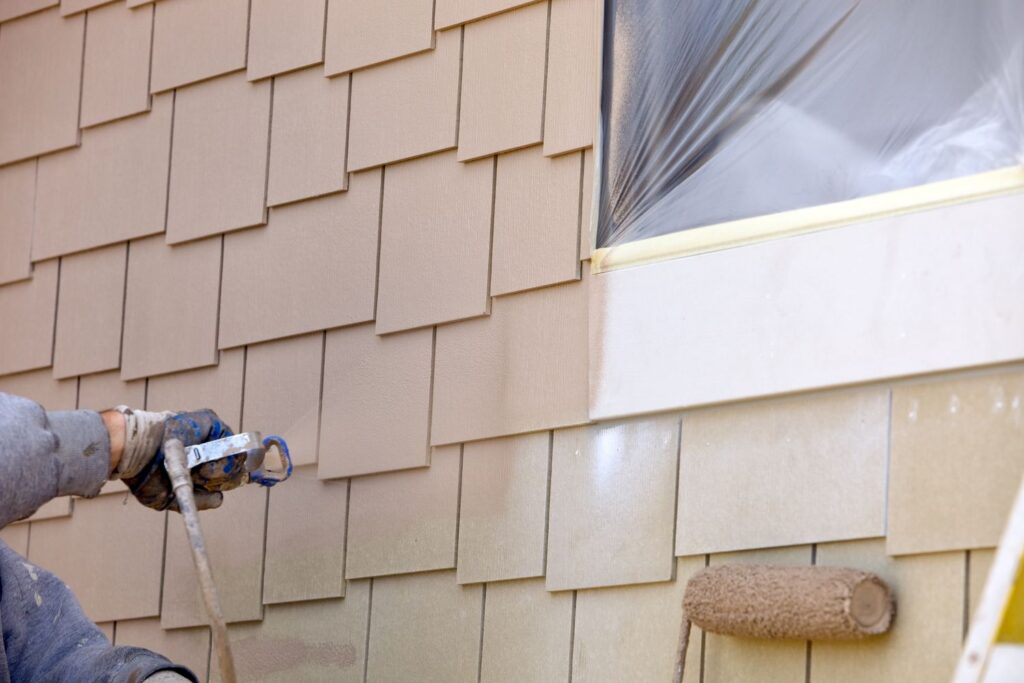 It's important to use the right pressure levels while power washing, as too much force can damage your home's siding or windows.
After completing the power wash, let the surface dry completely before moving on to painting the exterior.
Hiring Local Painting Professionals
When it comes to painting needs, choosing a professional painting company is the best way to ensure fantastic results.
Professional painters are experienced, reliable, and knowledgeable. They are equipped with the industry's best products and technology necessary for outstanding results.
Not only will hiring a professional painter save time, but the quality of work will exceed your expectations.
Furthermore, high-quality work yields better protection and longevity on the material applied onto any given surface.
Therefore, if you want to achieve an outstanding finish without worrying over minor details or spending too much energy, the advice is to get in touch with a certified professional painter.
Doing so will guarantee suitable coverage along with effects challenging to replicate by DIY projects.
Conclusion
By following these tips you can avoid many pitfalls and have a much smoother experience prepping your home's exterior for painting.
These steps may seem like a lot of work, but they will save you time and money in the long run. A successful paint job starts with proper prep work. So take the time to do it right, and you'll be rewarded with beautiful, lasting results!