A pool is a great investment for anyone looking to increase the price of their property significantly. Not only do they add value, but they can also be the designated no-stress place in the house. This simple word association itself can have a relaxing effect on the body.
But to keep your pool in tip-top shape, one will need a great pool skimmer that can take care of the pool. It is a must-have for a clean pool.
What does it do?
As part of the filtration system, the skimmer takes out the leaves, dirt, and debris from the filtering water and stops it from getting into the pool again. It sucks in the pool water, cleans it, and then pushes it back into the pool.
It can be found in both in-ground and above-ground pools, and it is usually the place where people are advised not to put their hands as seen in movies and ads. Although if you have doubts regarding how to clean a pool skimmer, you should call an expert to do it.
Must know things about a pool skimmer
What part does it play in filtration?
One must know that a skimmer is a vital part of the pool's filtration system and should be cleaned regularly. Its cleaning should be a part of your regular pool care, and not doing so can affect the filter's performance in the long run.
They are installed while the pool is being put into the ground, as it is not something you can buy and install yourself. The basket of the filtration system is where large contaminants get separated out. For example, all the dirt, debris, and leaves will be found here when you run the pool pump.
Most of the bigger-sized debris is collected here and you should make it a point to clean out the skimmer twice a week at least.
The mesh
The open hole structure also makes it possible for the skimmer to act like a sieve and block out the debris and contaminants. It is due to the mesh that the skimmer can act the way it is acting. This is why it is important to see which mesh type suits your needs. But be careful with it as a pool skimmer net is very easy to damage.
Water can flow freely through these holes, but anything bigger than the size of the hole will get stuck. This is why you should think about getting either a Polyester or a nylon mesh.
Polyester
This is a highly versatile material that can be found in a variety of things, as well as being water repellent by its nature and resisting a lot of damage. On top of that, it is much more resistant to chemicals and wear and tear in the long run.
It is also resistant to mold, mildew, and UV radiation, making it a great material for your skimmer's mesh. A polyester mesh will last you a long time and perform these duties day in and day out.
Nylon mesh
A nylon mesh can be manufactured in a variety of ways as well as a variety of thicknesses, which is why it has become so popular in recent times. The varying sizes of nylon can help make sieves of different sizes. It can also be large, like a polyester one, or finer like a sieve.
Its high strength and durability also add to its reputation and will provide greater longevity. But if ever in direct sunlight, nylon will disintegrate before polyester. So, if you live in a sunny area, this is something you will have to consider. Only get the nylon one if the skimmer is not exposed to direct sunlight.
Robotic Pool Skimmers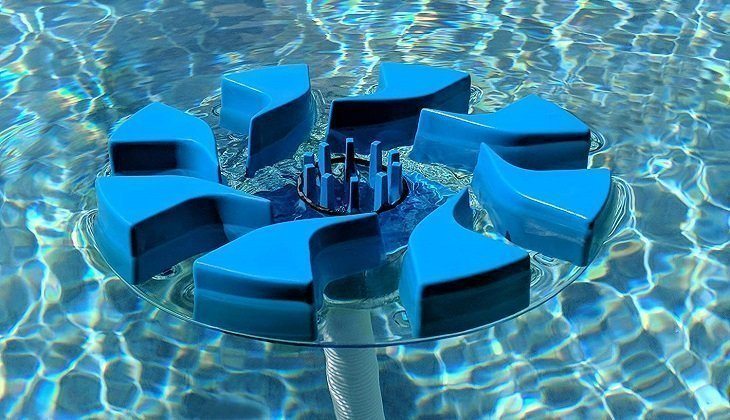 As technology advances, more and more manual labor will be replaced by robots. We already have robotic pool cleaners but also now have robotic pool skimmers. These are operated mostly by batteries or solar-powered and can be bought for very little money.
They float on the surface of the pool and clean it while collecting all the debris there. These are great for areas where there is a lot of wind or an abundance of trees. It will also be a good choice for places where there are a lot of insects.
Chlorine tablets – do they belong in the skimmer?
You may have seen many people suggesting putting a chlorine puck right in the middle of the skimmer to improve its efficiency. Chlorine is the disinfecting agent in the pool and is also responsible for killing all organic life in it.
It might sound like a neat idea to put chlorine pucks or tablets in the skimmer, but we highly advise against it. This is because the high concentration of acid in the skimmer might damage the mesh, which will, later on, render it useless.
Contact us for the best deals in the area. If you have doubts regarding pool skimmers, we are here to provide assistance. Our experts have years of expertise in pool-related services and will be more than happy to help you.