Up for SaleA lot in Old Westbury, Long Island, that contains the unfinished work of Steven Holl, decorated world-famous architect, is on the market again, selling for $4.9 million.
A Famous Architect and an Unfinished Masterpiece
The architect, Steven Holl, was originally hired by the property owner (Avi Telyas) to design and build this contemporary home, but the project was stopped in the middle of the build and sold. Obra Architects was hired as an associate architect for this project.
DLANDstudio (https://dlandstudio.com/Projects-1) developed a landscape and hardscape plan that was never implemented due to construction stoppage.
Architect Steven Holl is world-famous with projects representing his authentic architectural point of view in every corner of the globe, from New York City to Austria, the Czech Republic to Shenzhen, and Shanghai in the People's Republic of China. Steven Holl Architects is a 28-person architectural and urban design office located in three locations around the globe, including New York City, the Hudson Valley, New York, and Beijing, and is a leader in innovative architecture and urban design. The designs of Steven Holl Architects depend on innovative and imaginative site development and sustainable building practices.
Steven Holl Architects is well-known locally for designing the Queens Public Library at Hunters Point. The library sits in a very prominent position along the Long Island City waterfront on the East River. It is one of the most eye-catching structures seen from midtown east in Manhattan when looking back at Queens over the East River.
Steven Holl Architects was the architect of note for the unfinished structure meant to become a single-family home that still sits on one of several parcels that make up the 11 acres of land.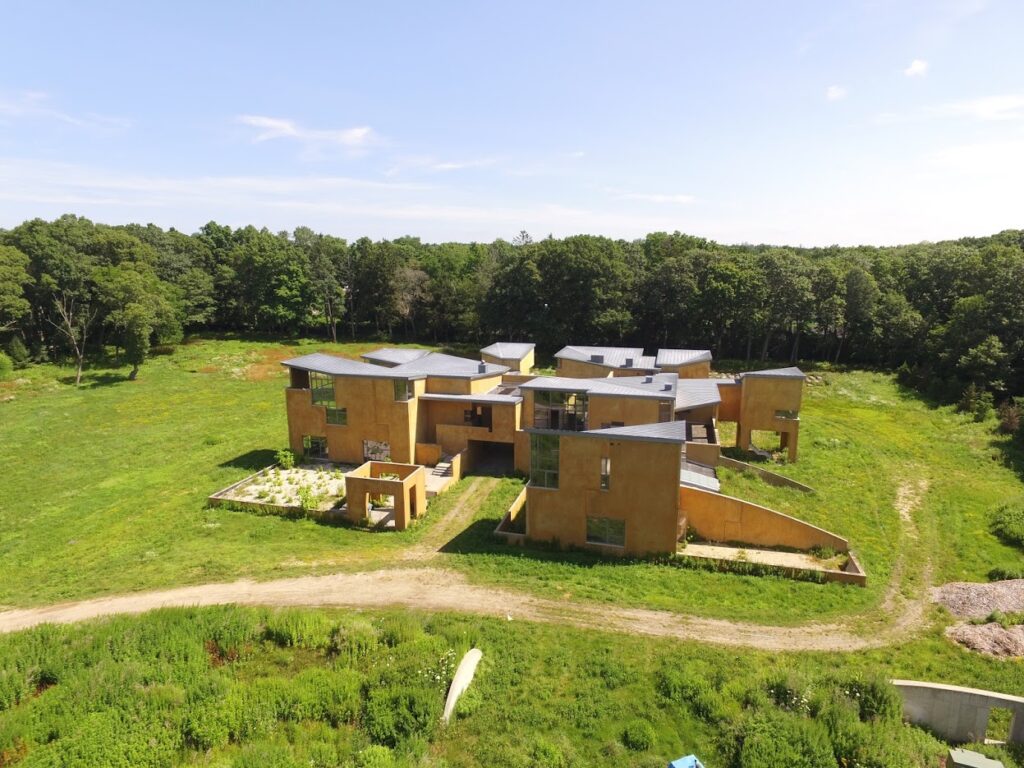 Steven Holl's Unfinished Work
The single-family contemporary mansion structure is approximately 17,450 sq. ft. The lot, in total, is about seven acres. The home design included six bedrooms and 10 bathrooms in total. The interior features also came equipped with a master bedroom downstairs, den/family room, eat-in kitchen, formal dining room, and home office. 
The home was designed as if it were a part of a village with numerous courtyards, pavilions, and large open spaces. The structure also contains a two-story art gallery, a home theater, a library, a gym, and so much more.
Steven Holl Architects is also world-famous for its sweeping landscape designs in and around some of the world's most historic, exciting, and traversed cities. The series of outdoor landscapes and interconnected courtyards that linked the various parts of the Old Westbury structure together would have been a sight to behold. 
Ilio Mavlyanov and Jasper Venture Group's Involvement
At some point, New York-based developer Ilio Mavlyanov and his company Jasper Venture Group acquired this property along with two other houses, a total of 11 acres (two two-acre plots and a seven-acre plot). Then Jasper Venture Group demolished two houses standing on the other parcels but decided to not tear down the structure designed by Steven Holl. Ilio Mavlyanov and Jasper Venture Group then sold the three parcels individually. Andrea Jablow, currently a listing agent on Long Island, handled all three sales for Jasper. Now, a few years later, this property is again on the market.
 Since COVID, the single-family housing market on Long Island has skyrocketed higher and higher, since houses offer more outdoor areas, greater space for kids to play, are more isolated from crowds, and have parking.