Roofing granules are an essential part of the roof. They add aesthetics to your house while protecting the integrity of the shingles from elements like UV rays and hail storms.
However, certain factors could make your asphalt roofing shingles start losing granules. If you come across granules in your gutters or on the ground, you should have your roof inspected right away to find out the cause of the loss. Once you identify the cause, you should either repair and replace the missing granules or replace the whole roof.
Here are some of the common causes of granule loss and how you can mitigate the loss.
Causes Of Granule Lose In Asphalt Roofing Shingles
1.   Improper Shingle Installation/New Roofing
It is very typical for new roofs to lose their granules. If your roofing shingles are not installed properly, then they start losing their granules prematurely.
A new roof comes with additional shingles, which it shades during installation or perhaps sometimes after installation. The granule loss should decrease after sometime from the time of installing your new roof.
However, if you notice a significant granule loss on your new asphalt shingles, you should address the problem immediately. It might be that your new roof was not installed properly.
2.   Aging Roof
You should expect granule loss from your asphalt roofing shingles when your roof starts aging. This is a normal thing, and it could be a sign that your asphalt roofing shingles have exhausted their lifespan.
If you experience granule loss on your old roofing shingles, you should contact a roofing professional to have the shingles replaced.
Alternatively, you can have all the roofing replaced to avoid further granule loss.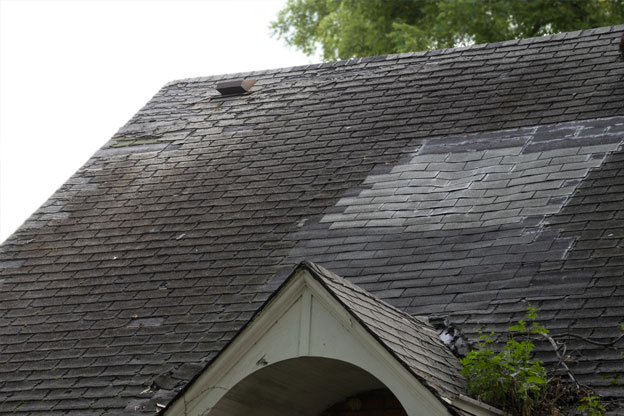 3.   Foot traffic
If you walk on your roof shingles more frequently, you'll be subjecting it to granule loss. This can happen during installation, especially if you are working with inexperienced roofing contractors. It may also occur when you're repairing your roof or installing things like antennas on your roof.
Therefore, you should be careful when stepping on your asphalt roofing shingles, or rather avoid walking on it completely to protect and prevent it from granule loss.
4.   Blistering
Granule losses on your asphalt roofing shingles can result from manufacturing defects. Also, foot traffic, and wear and tear can cause blistering on your asphalt shingles, making it susceptible to granule loss.
To avoid this, you should make sure you inspect your roofing materials well before buying them. If you live in Florida, make sure you buy the best shingles for Florida. Also, you should avoid walking on your asphalt roofing shingles. If you have to walk on your roof, do it cautiously, or let an experienced roofing contractor do the work for you.
5.   Extreme weather conditions
Hail storms are among the primary causes of granule loss in asphalt roofing shingles. Your roof might already be susceptible to granule loss but, they may not have come off yet. Once a hail storm strikes, your gutters will be full of granules.
Apart from granule loss, a hail storm may also cause pitting on your roof. Therefore, once you experience a hail storm or any other extreme weather condition in your region, you should have a roofing contractor inspect your roof for damages and address the damages before they escalate.
You can avoid or prevent hail damage on your asphalt roofing shingles by ensuring that your gutters are functioning properly, using the right roofing materials, and maintaining your roof well.
Granule loss on asphalt roofing shingles is a normal thing that should not spike alarm to homeowners. It is caused by various factors such as aging roofs, improper installation, roof traffics, blistering, and hail damage. However, if you experience more granule loss, you should have your roof inspected and repairs or replacements done before the situation gets out of control.