The children's room should be safe, bright, and versatile because kids grow up quickly. And to make it so you can. Here are interesting solutions, useful tips, and photos.
Do not spare the colors
Usually, children's rooms are decorated colorfully: bright plaids and mats, walls with drawings, curtains with large prints. But sometimes parents forget that colors affect the child's psyche. Some shades soothe, others, on the contrary, give the body a jolt.
The rules are as follows:
Avoid heavy colors that make you feel sad and depressed. We're talking about purple, purple, black, dark brown.

If a child is inactive, choose yellow, orange, and even red. The latter, however, very sparingly, in the form of interior elements.

If the baby can't calm down and sleep for a long time, lighter shades of green, blue and pink are ideal.

Ask your child what color he likes, and be sure to consider this choice.
Up to three colors can be used in the design of a nursery. The main background should ideally be calm, neutral. And the interior elements – a variety of shades, chosen with the child's temperament in mind.
On light walls, you can make drawings with the help of stencils, diversify them with all kinds of stickers, use bright decor.
The children's room, if the area allows, is best zoned. In the sleeping part, calm, pastel colors are appropriate. And in the play area – bright colors enhance development. When the baby grows up, equip another learning zone: for mental activity is good yellow.
And remember: if you spend money on a princess room with a castle and a pink bed, in a couple of years my daughter may require to remove it all and replace it with something more appropriate to her age and desires. Be prepared for that.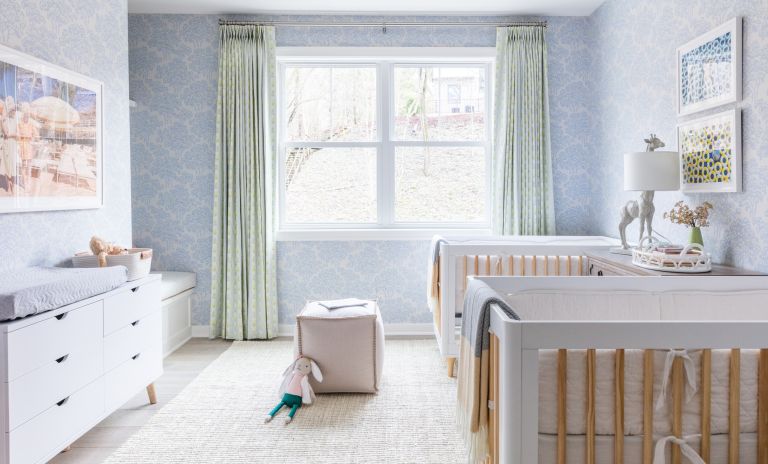 Help her draw
All children try themselves as an artist. And often not in albums, but on the walls – it's more interesting and comfortable. That's why it is better to paint (not with oil, but with water-based emulsion paint), but not to wallpaper the walls: after the art period is over, it will be easier to put the interior in order.
A good option is to allocate an entire wall (or part of it) specifically for the art. Nail a large slate board to it, on which you can draw with chalk.
Don't skimp on the light
Bright, sunny rooms are ideal for a child's room. But if there is no opportunity to arrange the room, the windows of which look to the south, there is only one way out: choose curtains wisely and add artificial lighting.
A child's room should have at least three sources of light located at different levels: a large bright chandelier, a night light over the bed, additional lights in the play and study areas. The ideal option is floor lamps with adjustable brightness.
Curtains in a child's room should let in as much light and air as possible. Avoid thick blinds, dark, heavy (albeit beautiful) curtains. Fortify the curtain rods, taking into consideration that the child may pull the curtains and drop them: the construction must be able to support his weight.
Choose "growing" furniture
The best furniture for a child's room is universal, "growing" with the child. The main principle – no sharp corners and easily broken elements.
The bed can be sliding. For older children, a good choice is a bunk design. It saves space (on the first floor you can put a table or arrange a play area) and is interesting for a child who likes to climb somewhere.
Furniture in the nursery should not be a lot. Replace bulky racks for toys with bags or small boxes that can be stacked on top of each other. Add to this a small closet for things, a table with a chair for activities, a few wall shelves for little things, souvenirs and treasures of the child, and a large mirror. This set will be enough.
If space allows, you can arrange a mini gym in the room, hang a swing, install a small slide. But all this should be done taking into account that over time, when the baby grows up, these elements will become unnecessary and they will have to be removed.
Remember about the safety
All the materials for the nursery must be environmentally friendly. For the floor, if possible, choose a covering that makes it warm and non-slip (cork, laminate). In the play area, put a rug with a short pile and a base of natural material (jute).
Everything that the child uses, he must get by himself, without any help.
Be creative
Make a secluded corner where your child can hide. It can be a tent, a teepee, a corner partitioned with a curtain, with pillows on the floor. All children need a "secret" space.
Arrange a cozy place for reading: a soft sack chair or a hanging chair, a wide window sill behind a curtain.
Create spare storage spaces. The number of things in a child's room – toys, souvenirs, fun little things, awards, and other things – will always grow. You need to consider where to store it all. One simple and affordable option is to make a "growing" rack of drawers.
Turn the bed into something unusual. If your little one has trouble going to bed, make an art object out of his sleeping space. For example, house beds for kids where they feel like a fairy tale hero.
Create a gallery of your child's work. To do this, you can pull thin strings along the wall and use clothespins to attach new pictures, crafts, and other masterpieces.
Do not forget the growth meter. Keeping track of how the baby grows is interesting for him and his parents.
Make toys out of cardboard boxes from household appliances. Locks, refrigerators, kitchens, washing machines are easy to create with scissors and glue. Cheap and cheap. And it also teaches your child to give a second life to old things.
Conclusion
The main thing to remember: children must love their room and spend time in it with pleasure: to sleep, rest, study and play. Therefore, you should take into account their tastes and preferences in the arrangement of the nursery. Functionality is important for this room, so zoning is an integral part of the interior of the nursery for two.