Both of these flagstone and wall stone can we used while decorating your house wall stones are used for flooring while the wall stones are for the walls
Flagstone
There are several uses of flagstones you can use these stones in creating the outdoor pathway of your garden, patio, roofing, and flooring inside your home. People are preparing flagstone over marble as it is cheaper and durable than marble. It is also very easy to clean flagstone flooring.
Benefits of Flagstone Patio or surface
Flagstone giving a natural look to a surface is very obvious, it enhances the beauty of the floor as it is natural and it is made up of natural rocks.
Is we compare it with other flooring stones or tiles it is way more durable than other options you can have.
Rich color with natural variants
It provides you a very natural look, unlike other flooring materials, because the color variants it provides are natural and authentic.
Flagstone patio and layouts
You can use flat stones for creating formal and informal looks whichever you want you just have to adjust the stones irregularly to get the informal look, it is also called crazy paving
Irregular pattern or crazy paving
If you love casual and organic appearance then you should try irregular patterns as it will make your force look rough. Kittens use small stones to fill the gap left between flagstones. If you don't have to move your furniture over this surface then you should try the irregular patterns.
Veneers
It is designed to replicate the look of natural stones, you can find different shapes, sizes, and textures, all these look authentic and natural you can use winners to decorate the walls of your home it can be used both indoors and outdoors.
Uses for Flagstone thin veneers around the home.
You can use Veneers for interior decoration as well. You can frame your doorways with natural and rustic looking Veneers, this can change the whole look of your gateway or room, you just have to make sure that the texture/ pattern and color you are going for should complement the color of your door and you're otherwise it would give a very odd and off look to your room and door.
Subtle Sophisticated Spaces
You can use Veneers to give a natural and rustic look to a wall in subtitles sophisticated spaces. If your room is larger than normal whether it is your bedroom or living room, I don't want to have that feeling of large space then you can use natural textured Veneers, it will not change the space of your room but it can give you a feel of the quite small room and it will give you a vibrant feel, even if you are bored of that regular wall you can opt for Veneers
A lot of people love to relax whether in the bathroom or in the garden if you are also one of them then you should give your bathroom a natural relaxing look for that you can use natural textured Veneers, it will not only give a natural relaxing look to your bathroom but it will also give you a rustic and vibrant feel.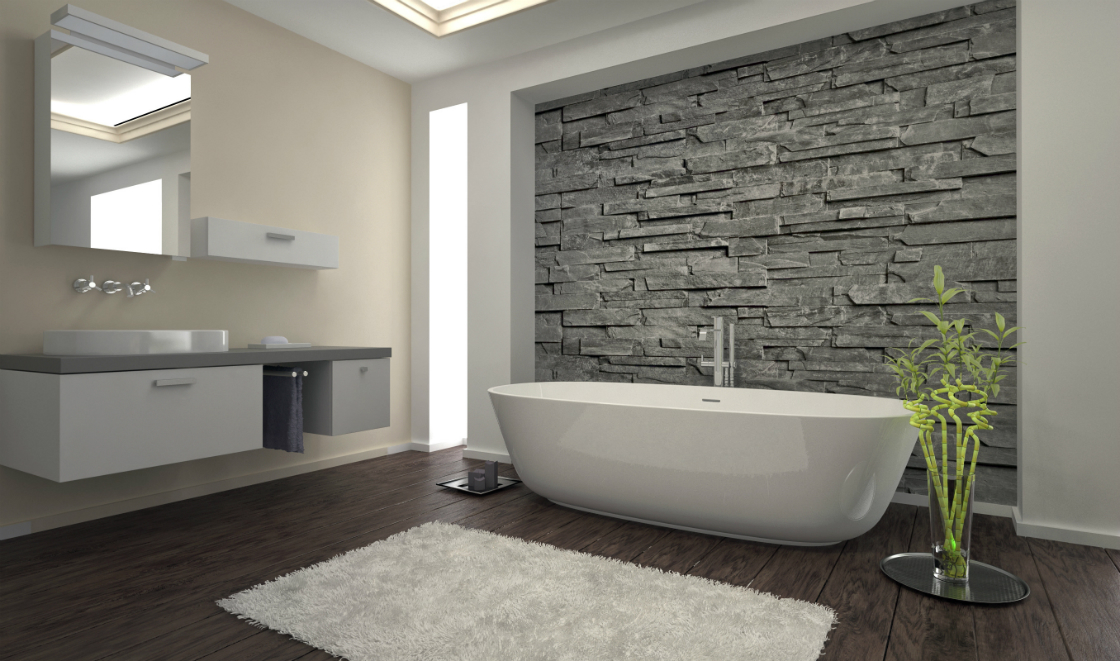 Whenever there is any discussion about the decoration of fireplaces, the most commonly used idea is to decorate them with stones so that they look natural. A fireplace only looks good when it gives you a natural vibe. You can turn your old ugly looking fireplace into a vibrant and good looking fireplace where you would love to have a cup of coffee while relaxing and read your favorite novel.
Using Veneers to the exterior of the home gives a classy and elegant look to the house and It also gives a sense of stability and solidity to the house. Thin veneers give a very artistic and rustic look to the walls. It can make your walls look like a castle wall.
Final words
If you love nature and want your surroundings to give you that natural vibe then you should add flagstones/wall stones/Veneers or any other item which gives you a natural vibe in your home. The only thing you have to keep in mind that you don't pick up any random stone-based decorative item for your house, make sure you purchase that from a trusted source so that you can have a good quality product.