Home smoke detectors are more than just important. Whether yours are correctly installed and kept up to code could turn out to be a matter of life and death for you or a loved one. According to the National Fire Protection Association, over 40 percent of residential fire-related deaths occur in homes where the smoke detectors were either defective or non-existent.
That adds up to quite a few deaths and even more injuries that easily could have been prevented. Smoke detectors aren't just one of the most effective ways to become aware of a fire on the premises at home. They're also inexpensive and relatively easy to maintain. Here's a closer look at some of the biggest benefits of making smoke detectors a priority in your home.
It's an effective way to monitor your home for fire
Even the simplest smoke detectors will dramatically increase your chances of reacting quickly enough to protect yourself, your family, and possibly even your property. But housing and building codes exist for a reason – to keep people safe – so it's important to ensure the options you choose are fully up to code.
Some states (like Ohio, to name just one) require smoke detectors to include specific features designed to make them more effective – like photoelectric technology, for example. And many features (like real-time property monitoring) can offer improved protection, even if they're not required by local codes or laws.
So, definitely research current codes in your area, and implement solutions to ensure you're in compliance. Professional smoke detector replacement services can help you take the guesswork out of things.
It's important for insurance reasons
Most insurance providers across the country already require property owners to keep the requisite number of smoke detectors installed, so simply having one may not necessarily help you save on your policy premiums. However, some insurance companies do offer discounts if certain criteria are met, so you may wish to check with your provider.
It's also crucial to keep your smoke detectors up to code in the event you ever do have to file a claim. It's the property owner's responsibility to properly maintain the detectors and ensure they meet all the standards they should. Failing to do so could compromise your ability to collect on a future claim.
You'll enjoy true peace of mind
If you're one of the many people who fear losing their home to an incident like a fire, then you're in excellent company. You're also justified in that fear, as this is definitely something that can conceivably happen.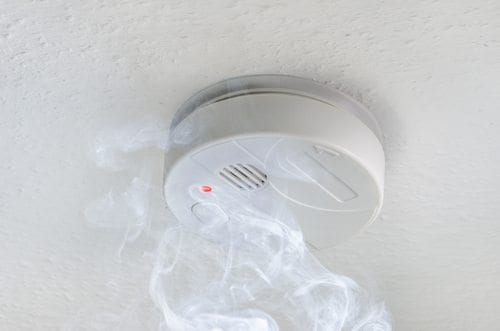 Structural fires strike 

roughly 358,500 homes every single year

Over 3,000 people actually die in fires like those

One child dies in a house fire every day
And fires can burn way out of control a lot more quickly than you probably think. According to the Department of Homeland Security, a tiny flame or spark can escalate to bona fide house fire status in just 30 seconds.
Good, functional smoke detectors that you know are entirely up to code can bring you the peace of mind that comes with knowing you're doing everything you can to safeguard the beautiful life you've built for yourself.
Smoke detector maintenance is key
Don't simply upgrade your smoke detector and forget about it. Being a responsible homeowner means staying on top of smoke detector maintenance, so you can keep counting on yours to protect you as they should. Here are some tips to keep in mind:
Like other electronic devices, smoke detectors should be kept free of dust, dirt, and grime in order to stay functional, so include yours in your regular house cleaning routine.

Place smoke detectors up high for best results. On the ceiling is best, but high up on a wall is also acceptable.

Smoke detector batteries don't last forever. Test them often, and replace them altogether every year. Replace the entire detector every ten years.
You should also teach your entire family about fire safety, as well as come up with an action plan to follow in case of fire. Hopefully, you'll never need to put it into play, but if you do, you'll be forever grateful that you took that step.