Introduction
There's an unspoken joy in walking into a clean, fresh-smelling home after a tiring day. Most of us have our daily cleaning rituals, whether it's sweeping the floors or tidying up the living area. But does that truly qualify as clean? While our regular efforts maintain the appearance of cleanliness, there's another level of cleaning, known as deep cleaning, that dives deeper into the unseen layers of grime and germs. Not familiar with it? Let's delve into the world of deep cleaning and explore why hiring professionals like Endeavor Cleaning can make a profound difference to your living space.
Understanding Deep Cleaning
The term "deep cleaning" may sound self-explanatory, but its depth (pun intended!) goes beyond the surface level of standard cleaning. So, what exactly does it encompass?
Definition and What It Entails:


Deep cleaning is a meticulous and thorough cleaning process that focuses on eliminating dirt, grime, and build-up that isn't addressed in daily or weekly cleaning routines. It involves reaching the nooks and crannies, the spaces behind appliances, under furniture, and even the grout lines in your tiles.

The Difference between Standard Cleaning and Deep Cleaning:


Imagine your home as a book. Standard cleaning is akin to dusting the cover and flipping through pages occasionally, ensuring they're free of visible dirt. In contrast, deep cleaning is a detailed examination of every page, edge, and binding – ensuring there's no hidden mark or speck of dust.
Standard Cleaning:

Sweeping and mopping floors.

Wiping down surfaces.

Clearing out trash.

Light tidying up.

Deep Cleaning:

Cleaning behind heavy furniture and appliances.

Washing walls and ceilings.

Sanitizing door handles and light switches.

Cleaning window frames and patio doors.

Grout cleaning and tile scrubbing.
As we can see, while standard cleaning ensures your home looks good, deep cleaning ensures your home feels good, smells fresh, and most importantly, is truly clean from the inside out.
Benefits of Professional Deep Cleaning
Diving into the deep end (of cleaning) has more perks than just a spotless space. When executed by trained professionals, the advantages are multifaceted. Let's unravel the layers:
Health Advantages


Cleanliness and health have always been intertwined, but the association runs even deeper in the domain of deep cleaning.
Elimination of Allergens:

Dust mites, pet dander, and pollen can accumulate in corners and fabrics over time. Deep cleaning aims at uprooting these allergens, significantly reducing respiratory issues and allergies.

Removal of Deep-seated Mold and Mildew:

Bathrooms, basements, and areas with moisture can be breeding grounds for mold and mildew. Their spores can impact indoor air quality. A thorough cleaning prevents their growth, safeguarding your family's health.

Decrease in the Spread of Germs and Bacteria:

A sanitized home isn't just about cleaning visible dirt. It's about targeting unseen germs and bacteria, especially on frequently touched surfaces like doorknobs and remotes.
Aesthetic Appeal


A house isn't just a place to reside; it's an extension of our personality. Its appearance can influence our mood and comfort.
Renewed Look and Feel:

Surfaces can become dull due to accumulated dirt. Deep cleaning rejuvenates them, bringing back their original shine and texture.

Elimination of Stubborn Stains and Scuffs:

Those annoying spots that resist regular cleaning? They meet their match in a professional deep clean.
Prolonged Lifespan of Home Items


Your home and its contents are investments. Protecting them makes financial and emotional sense.
Extends the Life of Carpets and Furniture:

Embedded dirt and particles can be abrasive. By extracting them, you not only refresh the look but also extend the life of these items.

Prevents Wear and Tear:

Regular removal of abrasive dirt particles helps maintain surfaces in their prime condition.
Mental Well-being


The cleanliness of our surroundings has a direct impact on our mental health.
Psychological Benefits:

Studies have indicated that a cleaner environment reduces stress, anxiety, and even depression.

Increased Productivity:

A decluttered and sanitized space can boost focus and creativity.
In essence, while the immediate results of deep cleaning can be visually appreciated, the long-term gains – from health to happiness – are profound and deeply impactful.
Reasons Why DIY Might Not Be Enough
Rolling up your sleeves and taking on the challenge of deep cleaning your home is commendable. However, there are several reasons why doing it yourself might not yield the desired results, especially when compared to what professional services can offer.
Lack of Appropriate Equipment
Specialized Tools:

Professional cleaning services come equipped with state-of-the-art cleaning machines and tools tailored for specific tasks – from high-power vacuums to steam cleaners. These aren't typically found in the average household.

Effective Cleaning Agents:

Pros have access to a range of cleaning solutions, including eco-friendly ones, which might be more effective than over-the-counter products.
Insufficient Knowledge of Deep Cleaning Techniques
Potential Damage:

Using the wrong technique or solution on delicate surfaces could lead to unintentional damage. Professionals, with their training, can prevent such mishaps.

Missed Spots:

Deep cleaning is comprehensive, and without a systematic approach, it's easy to overlook areas that need attention.
Time-Consuming
Efficiency:

Professionals not only do it right but also do it fast, thanks to their expertise and equipment. For homeowners, the process can stretch over days, making it a massive time investment.

Physical Exertion:

Deep cleaning requires a significant amount of physical effort, which can be taxing without the right tools and know-how.
Potential for Overlooking Areas
Thoroughness:

Professionals come with checklists and systematic plans, ensuring they don't miss out on any cleaning zone, be it under the bed or the inner recesses of a cupboard.
In conclusion, while there's a certain satisfaction in doing things yourself, the nuances of deep cleaning demand a level of proficiency and equipment that most of us might not possess. Sometimes, it's best to leave it to the experts and ensure our homes receive the thorough cleanse they deserve.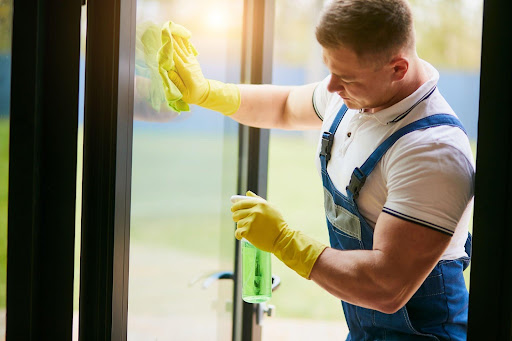 What to Expect from a Professional Deep Cleaning Service
Embarking on the journey of hiring professionals to deep clean your home can feel like a leap of faith, especially if it's your first time. However, knowing what to expect can alleviate any anxieties and prepare you for a smooth, hassle-free experience.
Inspection and Assessment
Preliminary Walk-through:

Before the actual cleaning begins, professionals typically conduct a walk-through to assess the size of the area, identify specific needs, and any areas of concern you might have.

Customized Plan:

Based on the initial assessment, a tailored cleaning plan is drawn up to address your home's unique requirements.
Use of High-Grade Equipment and Safe Cleaning Solutions
Best in Class Tools:

Expect to see equipment that you might not recognize – these advanced tools ensure deep cleaning is both thorough and efficient.

Safety First:

Professionals often prioritize the use of non-toxic, eco-friendly cleaning agents that are safe for both your family and the environment.
Trained and Experienced Personnel
Skill at Work:

The team sent to your home has undergone training sessions and has the experience to handle a variety of surfaces and materials delicately.

Professional Behavior:

Punctuality, respect for your belongings, and clear communication are hallmarks of seasoned cleaning professionals.
Flexibility and Customization
Adaptable Schedules:

Many services offer flexible scheduling options to ensure minimal disruption to your daily routine.

Special Requests:

If you have specific cleaning preferences or areas you want them to focus on or avoid, professionals are usually more than willing to accommodate.
In a nutshell, opting for a professional deep cleaning service translates to a blend of expertise, efficiency, and customization, ensuring your home is treated with the care and thoroughness it deserves.
Choosing the Right Deep Cleaning Service
With a plethora of cleaning services available in the market, finding the right fit for your home might seem like finding a needle in a haystack. Fear not, for we've compiled a comprehensive guide to steer you in the right direction.
Research and Recommendations
Word of Mouth:

Often, the most reliable suggestions come from friends or family who have had firsthand experience with a cleaning service. Their feedback can be invaluable.

Online Reviews:

Platforms like Yelp, Google Reviews, and Angie's List offer a treasure trove of customer experiences. While one or two negative reviews might be outliers, consistent complaints or praises can provide insights.
Credentials and Certifications
License to Operate:

Ensure the company is licensed to operate in your region, adding a layer of legitimacy to their operations.

Insurance and Bonding:

This protects you from potential damages or theft during the cleaning process.
Transparency in Pricing
Clear Estimates:

A reputable company will provide a clear and detailed quote based on the size of your home and the services required. Beware of those with hidden fees or too-good-to-be-true offers.

Flexible Packages:

Some companies offer customizable packages that allow you to choose specific services, catering to both your needs and budget.
Environmentally Friendly Options
Eco-friendly Products:

In the era of sustainability, many services have green cleaning options that are safe for both your home and the planet.

Waste Management:

Check if the company disposes of waste responsibly.
Customer Service and Communication
Easy Accessibility:

A responsive customer service team can address your queries and concerns efficiently.

Open Communication:

Whether it's discussing your requirements or providing feedback post-cleaning, open channels of communication ensure a smoother experience.
In conclusion, selecting the right deep cleaning service is an amalgamation of research, recommendations, and recognizing your home's unique needs. By paying heed to the above pointers, you're well on your way to inviting a team that'll rejuvenate your home and enhance its intrinsic beauty.
Conclusion
The place we call home is not just a physical structure but a sanctuary. It witnesses our highs and lows, celebrations and quiet moments, laughter, and tears. It's only fair that we give back by ensuring it remains a pristine and healthy environment. While daily cleaning routines maintain its surface gleam, deep cleaning ensures the heart of our home remains untarnished and pure.
Opting for professional deep cleaning is like treating your home to a spa day. Beyond the visible cleanliness, the real reward lies in the fresh air, the absence of harmful allergens, and the peace of mind that every corner has been touched and sanitized. Professionals, with their expertise, tools, and passion, don't just clean; they rejuvenate and restore.
So, the next time you spot a stubborn stain, feel a sneeze coming on a bit too frequently, or just long for a refreshing change, remember that there's a deep cleaning solution waiting to revitalize your space. After all, if our homes offer us unwavering comfort and shelter, they deserve nothing less than the best care in return.
Thank you for joining us on this exploration of deep cleaning. We hope this guide offers clarity, encouragement, and the nudge you might need to take the step towards a cleaner, healthier living space.