Want to update or organize your DIY home workshop but on a tight budget? We've got you covered! Whether you use your workshop for furniture restoration projects or appliances and auto repairs, it helps to be frugal. So instead of buying that taller work desk or convenient tool organizer, use these 10 affordable update ideas for your DIY home workshop.
1. Create Color-Coded Toolboxes
One easy and affordable update for your workshop is to use electrical tape to color-code your tools with their corresponding toolboxes. This way, when you make a trip to the workshop in an emergency, you know that you're grabbing all the tools you need to complete the job. Color-code the toolbox handle, along with the handles of the corresponding tools that belong inside. The next time you make home repairs, tightening screws around your home's door knobs or touching up the bathroom tile's grout, you will have your "Home" toolbox ready to go.
2. Line Up Your Caulk Tubes
Got a lot of caulk tubes scattered around your workshop? Line them up neatly with a scrap wood caulk tube storage. Simply take a piece of 2×4 scrap wood (or whatever wood you have lying around) and drill a series of two-inch holes to hold each tube of caulk upright. You could use this easy DIY trick for just about anything with a tube-like dispenser, like wood glues or other adhesives.
3. Replace Screw and Nail Storage Cans with Bottles
For a long time, coffee cans have been a staple in many home workshops, keeping nails, screws, bolts and other loose workshop items. However, if you've ever plunged your hand into a deep, dark container of screws, you know it smarts. Instead of going in blindly, here's a clever alternative: Use a clear water bottle or container. By pouring the screws into the bottle with a funnel, you can shake them out one by one – without getting pricked!
4. Give Workstation Tables Temporary Height
Bending over a workshop table for hours on end is not exactly ergonomic. But neither is sitting on a stool. So why not create a standing desk workstation? The best part is you don't have to buy a new table. All you have to do is give your existing one height with a sturdy PVC pipe, slipping the legs inside. And should you need the table to be standard height again, all you have to do is slip them out!
5. Start a Sandpaper Filing System
Instead of leaving your sandpaper lying around your home workshop, protect your grits with a filing system. Whether you choose to use a compact, expanding file folder or a larger metal file cabinet, it will help you keep your sandpaper stash free from damage or creases. Also, check scrapbook and art supply shops for paper organizers. You could even use a magazine holder or rack.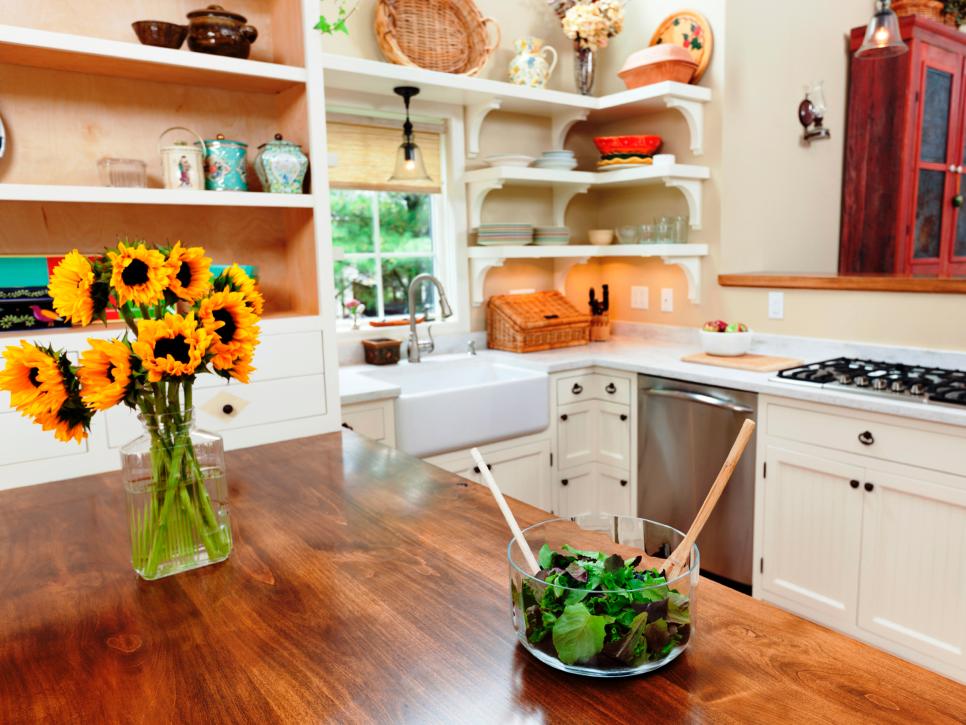 Whatever you choose, make sure to sort and label the sandpaper by grit rating so they're easy to find and readily available. With a sandpaper filing system, buying and storing sandpaper in bulk (which makes it more affordable!) has never been easier.
6. Install Hands-Free Lighting
Avoid balancing a flashlight between your teeth when working in the dark. Instead, with only some bound electrical cable, you can create your versatile light stand to hold the flashlight for you. All you have to do is take two feet of 12-gauge or 14-gauge electrical cable and bend it into a U-shape, duct-taping the flashlight to the ends. Once it's secure, you can bend the wires any way you desire, standing it on your workstation or hanging it from a shelf above.
7. Organize Your DIY Magazines and Articles
If you have stacks of annual subscriptions from magazines like This Old House or The Family Handyman, keep them organized with magazine holders or a small filing cabinet. Once you read your monthly magazine, add a sticker to the cover and note the articles inside you would love to one day accomplish and store them away.
If you are a bit more meticulous and would prefer to sort them neatly and chronologically, consider making digital notes of the DIY articles in a spreadsheet, listing each issue's month and year. This way, you can still search for a specific word like "tile" or "paint" to find that one DIY project you had in mind.
8. Designate a Spot for All Your Safety Gear
If your clear safety glasses seem to blend into the surroundings and disappear from time to time, it might be worth creating a designated spot for all your safety gear. This way, you make sure you never get too deep into a project without taking proper precautions. Whether you hang hooks on a pegboard or keep everything in a secure toolbox on your workshop bench, keep them within eyesight and reach so there are no excuses!
9. Attach Pegboard to Walls and Desks
Pegboards offer an extremely affordable and versatile way to add shelves, hooks and more to your DIY home workshop. Whether you choose to hang them on a large wall or cut a custom size panel to mount to the side of your table saw, pegboards can keep tools organized and within reach.
10. Create a Drill Dock Holster
Are you constantly losing track of your cordless power drills, chargers and spare batteries? Create a drill dock to keep them organized. With simple materials like wood and PVC pipes, you can keep them all together in one place.
Use a clamp to measure the tool handle's width, transferring it to the PVP pipe to make guide marks. Make the marks ¼-inch wider so the tool can nestle snug but not too tight and about 5 inches deep. Next, cut out the slot with a fine-tooth jigsaw blade or metal-cutting blade, sanding down any sharp edges. Lastly, drill holes into the pipes and attach the drill holsters beneath an existing shelf.