Upgrading your kitchen cabinets with glass is an excellent way to update your kitchen and transform the look of the essential room in the home. Glass cabinets are great not because they only serve as a great way to showcase your kitchenware, but also because they make your kitchen look big. They give your kitchen a bright ambiance.
TYPES OF CABINET GLASS USED TO DISPLAY KITCHENWARE
The following are the cabinet glass types that you can use to update your kitchen cabinets and transform the look of your kitchen from the everyday look to a sleek and elegant one.
Textured Glass: imprinted with amazing designs on the glass surface
Textured glass for cabinets is a glass type that is available in different textured patterns. This type of glass is imprinted with designs on the glass surface at extreme temperatures while the glass is still in a malleable state. The patterning process can be done through ribbing, pebbling, pleating, or just plain pattern.
It is regarded as a decorative glass because of the visual interest and aesthetic appeal that it adds to the kitchen space. Textured glass is almost opaque, but it allows light to filter through the glass while obscuring visibility.
Leaded Glass: composed of different pieces that combined to appear like crystal
Leaded glass is also referred to commonly as lead crystal. People can mistake leaded glass for standard glass if they are not familiar with how it looks and feel. This crystal-like glass is composed of all other components of manufactured glass but with the extra ingredient – lead oxide.
Lead oxide is a quality enhancement ingredient used during firing in the manufacturing process, and the result is more detailed and exquisite glassware.
Leaded glass for kitchen cabinets is excellent for making your kitchen stylish and updating your kitchen's interior. They are also unique cabinet glassoptions for displaying cookware and other items you would like to showcase in the kitchen.
Sumiglass: multiple materials into different layers to form stylish look
Sumiglass is a type of glass that is certified safe, is a laminated glass type, and is recommended for internal applications. They are ideal glass types for kitchen cabinets because of their safety certification. Sumiglass is produced by bringing together multiple materials into different layers. The ornate layers comprise adhesive materials in combination with a pair or more glass panes.
Different glass and colors can be used to produce high-quality designs of sumiglass for kitchen cabinets.
This is a glass type that makes use of a specific technique. This technique entails making custom engravings of the glass to make it a decorative glass for kitchen cabinets. The designs engraved on the surface of the glass will transform the look of your kitchen to an elegant one and also adds increased visual appeal to the kitchen space.
THE RECOMMENDED LEADED GLASS CABINET TO SHOWCASE YOUR STYLE
One of the primary reasons for glass cabinets in the kitchen apart from extra storage space and making the kitchen look organized is to display items and kitchenware for everyone to see.
Looking at the above glass types, it is evident that the best cabinet glass that elegantly makes this possible is leaded glass for kitchen cabinets.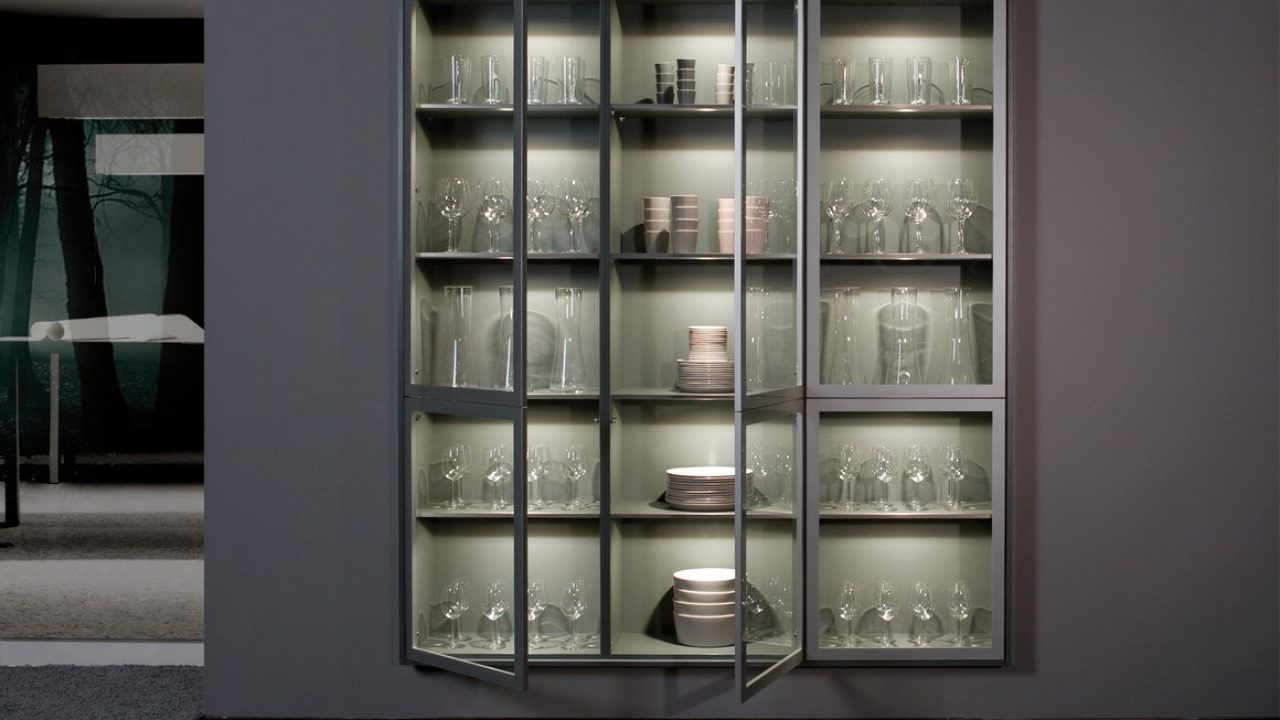 Leaded glass is a high-quality glass type with exquisite cuts and an elegant feel. It is see-through and is an excellent option for creative kitchen displays.
Selecting nine different designs of your choice
At Fab Glass and Mirror, leaded glass for kitchen cabinets is available in the following designs.
Colonial glass.
Prairie glass.
Tudor glass
Queen Anne glass
Queen Anne II glass
Heritage glass
Traditional glass
Traditional II glass
Square border glass
HOW TO ORGANIZE KITCHEN GLASSWARE INSIDE CABINET GLASS?
There is no one way to display your glassware in your glass cabinets, but we will be providing you with helpful tips that will make the process a smooth and easy one. Let's dive in.
Put only glassware that you make use of regularly in your kitchen cabinets. This helps you maximize space and ensures you have what you need at hand. If there are more, you can store them in the pantry.
Store your wine glasses and other glassware upsides down in the cabinets. That's the best way to store delicate glassware. The delicate part of the glass is the rim. Ensure you keep the insides dry to prevent moisture from getting trapped in them.
To prevent wine glasses from cracking or breaking after being moved around occasionally, install hanging racks in your cabinet to store them properly. You can also use this with other glassware with stems while keeping them protected.
If you have lots of small-sized juice glasses and tumblers, insert a riser in the cabinet to maximize the use of space and provide maximum space for storage of glassware.
Install clip-on mug hanger for coffee mugs. You can use it for mule mugs or any mug that features a handle. It slides into your cabinet panels; as a result, it does not need any particular installation. It is a great way to maximize space use in your kitchen cabinet.