The color gray is often times described as dull and boring. And if you plan on painting your walls gray, there will be a host of opinions that will tell you that it's not the greatest of ideas. Some of the complaints you will hear will be about how it makes the room dark, how unconventional it is and how difficult it is to find matching carpets, drapes and furnishings that go with that color. And you will be wrong to dismiss those complaints. To put it nicely, gray is a difficult color to work with.
What makes a room really stand out is the contrast between different colors you can bring about. This is where the color gray becomes difficult to work with as gray is a very neutral color and it is very difficult to bring out a contrasting combination with this color.
That does not mean that gray is not a good choice for walls. On the contrary, the color gray is an absolutely stunning choice for your walls if you can make it work. Gray walls are the epitome of sophistication when it comes to walls especially because of this difficulty.
One way to make gray walls look good is to have carpets that will match well with your walls. There are many ways you can go about this, and we will now show you 11 amazing carpet colors with gray walls that will give your living room or bedroom a sophisticated look that will drive your guests with envy.
A lighter shade of gray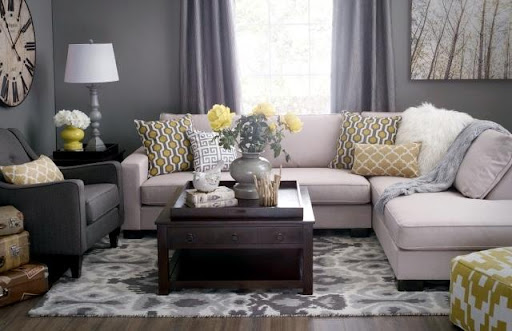 Let's start this list off with something simple. Even though it was mentioned above that your target here is to bring out a contrast between colors, a light gray carpet color with gray walls may not look like the best idea. But let's look at this another way, no matter what you put in a room with gray walls and gray flooring, it is definitely going to stand out. And that right there is the contrast you are looking for. As far as carpet colors with gray walls are concerned, this is one of the biggest achievement there is and for this reason, this color takes the top position in this list.
Do make sure that the carpet is a few shades lighter than the walls if you want to make the best use of this effect as the closer the carpet color is to the wall, the more monotonous it will look and that is something you should avoid here.
Now that you have a clear idea of what to look for, you will have an easier time getting inspired by the other carpet colors with gray walls we have on offer.
Go for white for a classic match-up
As far as carpet colors with gray walls go, you can never go with the classic combination of gray and white. There are very few colors out there that can match so well with the color gray like white. The effect here is very similar to the one above, the difference being that it can even be used with light gray walls as well.
One other difference is that the color white does contrast with the color gray, giving you more options to go for a minimalist look without opting for more colorful drapes or furnishings. A fluffy white carpet color with gray walls will give you a wintery feel which might be more in tune with what you are going for when you actually chose to go for a gray wall.
A standard beige carpet
The color beige is the most standard carpet color in the United States. It has high adaptability to bring the best out of any color it is matched with without looking out of place. Therefore, it is no wonder that beige carpet color with gray walls will be a great combination for a room.
Unlike the above two carpet colors with gray walls, you have two different ways you can go about implementing this color. You can either go for a carpet that is of a lighter shade than your wall or like the picture above, you can have a carpet that is a few shades darker than your walls. Both options have different effects, and you can have a lot of fun deciding which one you would want in the room.
Beige is also an ideal color for your bedroom and living room as it matches well with wooden furniture and white bed covers and couches.
It is also a good option if you have different colored walls as this color can act as a neutral ground for each color on the wall.
Cool it with some blues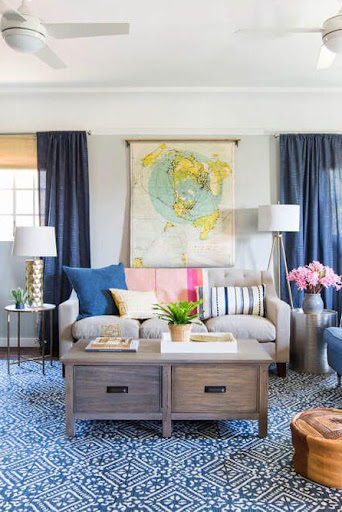 When you talk about carpet colors with gray walls, blue is not one of the colors that will immediately come into your mind. Gray as a color is always known to lack any warmth and adding the color blue, which is the eponymous color for cool and you are looking at a room that will struggle to give you any semblance of warmth. Not the ideal matchup for a home. Or is it?
If you live in areas where it's warm in the winter and downright scorching in the summer, a little bit of cool can do a lot of good. Match the room with a set of blue colored drapes and you have the ideal set up for a summer home. And once you have enough blue in the mix, you can introduce more summer colors to make the room feel even more vibrant.
A grounded look with brown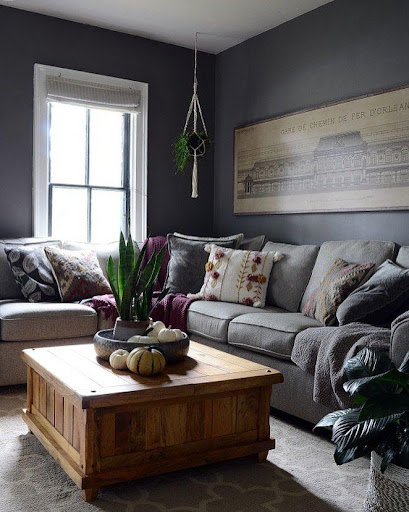 People say that the sky is blue but the feeling you get when you look at a vast expanse of gray is nothing other than the bleakness of open skies on a stormy day. Your gray walls can bring that same bleak feeling to your room as well if you are not careful enough. Then why not introduce some earthly brown to the mix and make the whole thing a theme?
The thing about brown carpet colors with gray walls is that it can make your wooden furniture look like it has blended into the floor, giving your walls a vast open feel. It is just the perfect mix if you want your room to feel much bigger than it really is and don't like to feel cramped for space.
Brown carpets are also a good choice if you plan to keep a lot of indoor plants as brown is a good match with the dark green of plants. This gives brown carpet an edge over other colors when it comes to living rooms as live plants are now more popular than ever.
Sandy look with sandstone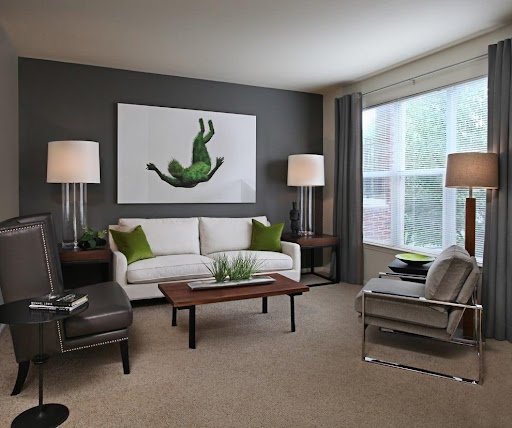 Now that we've already covered two different shades of brown, let's look at the final contender in that spectrum. The sandstone is a very common color often confused with beige and mostly seen in office buildings. This color gives off a very "official" and serious feel and is a good choice if you prefer your room to look that way.
One reason this color is so popular is that it goes well with expensive furniture like couches and armchairs made with leather, as well as wood, black and steel. If you chose the color gray for your walls to get a sophisticated look and plan on achieving that with the help of expensive furniture, the choice of sandstone carpet color with gray walls is one you can't go wrong with. Beware that this color reminds people about office rooms and may not be the ideal color for your living room and especially not for your bedroom.
Bring some richness with gold
This may sound ostentatious to some, but golden colored carpets are not that bad. We're not talking about the bright golden color that blinds your eye when you look at it but a more subdued pale gold color that speaks about understated luxury instead of overstated gaudiness. The thing that makes this color very rare is not the simple wariness people have towards anything golden colored, but the fact that there are very few colors that match well with this color.
This color makes an entry on this list for the very special reason that dark gray is one of the few colors that matches well with this color and brings the best out of both. You won't find many colors that go this well with gold, and it is worth taking advantage of this if you want a unique look for your room. A pale gold carpet color with gray walls is not a combination that many will forget and your room will always be something your people will talk about with their friends when they discuss unforgettable color combinations.
Yellow for fun and joy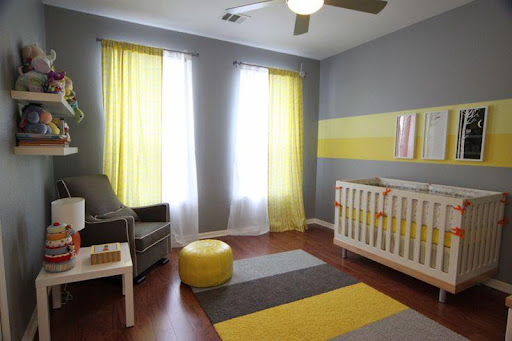 When people think of the word bright, the first color they will always think about is the color yellow, which is always associated with the sun and the vibrancy of spring. It is no wonder that it offers the best contrast to the color gray which is often associated with the rainy autumn and cloudy days before a storm.
The perfect contrast of a yellow carpet color with gray walls makes for a fun combination you can try out in any of your rooms, and will match well with bright yellow colored furniture that reminds you of a summer in Tuscany.
The only real risk with this combination is getting the right carpet as yellow is not the go to color for carpet enthusiasts, so you most probably will have to settle for a carpet that comes in a combination of either yellow and gray, or yellow and black, even all three if that's your luck. Always go any of these combinations if the only other option available is a yellow rug worthy of making it to the top of a list of ugliest carpets in the world. We can guarantee that any such list out there will definitely have one entry in yellow.
Dull green with light gray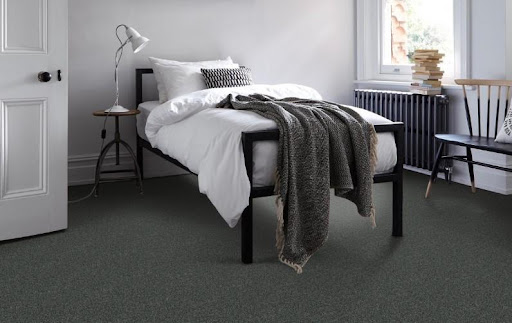 A dull green color that pretty much looks gray to anyone without perfect 20/20 vision is perhaps not the choicest of colors you can choose if you want a color that contrasts well with gray colored walls. Actually, this carpet color is rarely used nowadays as it is known to give a room a dull and boring feel reminiscent of cramped apartments from depression era New York.
But if you pair this carpet with light gray walls and some really good furniture, you might just end up getting a real surprise. This carpet color with gray walls is very easy on the eyes and will be perfect for a minimalist bedroom with a subdued tone. This color was traditionally paired with either beige or white colored walls but light gray turned out to be the winner when you talk about the perfect combination among them.
The only downside to this combination is that you will rarely find this combination where the carpet is not a full length carpet that spans the entire floor, unlike other color combinations here where a simple rug will do the job. That does not mean that it is not a feasible combination, just that it is only used a certain way by most people. If you can find the right rug, you can go for it.
Bright green with dark gray
Just like dull green is a good match for light gray, bright green is also a good match for dark gray. Though it is a good match, it still ranks low on our list of the best combinations as out of all the bright colors that go well with the color gray, bright green is rarely used. But that does not mean that this combination does not work.
Bright green carpet color with gray walls may not be a popular combination in the least, but the contrast it offers is perfect for introducing other items or colors to the mix, like potted plants, paintings or some combination with the color white. As white is a color that goes really well with both green and gray, you can come up with some stylish designs that will look cheery and full of life.
Yes, that's the main reason this combination is on this list. Bright green can never appear without looking like it's full of life, which is a perfect answer to people who say that gray walls lack any warmth and life. You combine these two colors and end up with the sophistication of gray and the liveliness of green, the best of both worlds.
Look like royalty with purple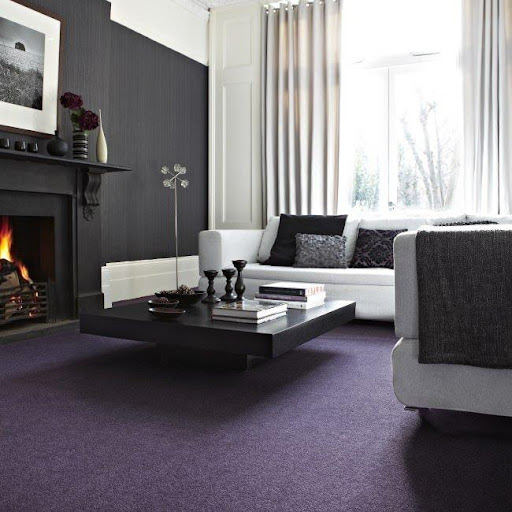 To top off this list, we have a very unique combination of two very dark colors. A purple carpet color with gray walls may seem like a very sinister combination to many, especially if both of them are using some of the darker shades available. That feeling does nothing to take away from this combination the effect of looking like the pinnacle of luxury.
Purple has always been seen as the ultimate color when it comes to luxury, with actual kingdoms in the past setting up laws to limit its usage to royalty. This trend has traversed centuries and still continues its reign now in the 21st century when brands use this color in some way to tell the crowd that they are selling a luxury product.
Combine this luxury carpet color with gray walls and you have one of the finest combinations on this list, with every inch looking more expensive than the rest. Now that we live in the 21st century, the old limits on the color are not present anymore, making the color cost just as much as any other, meaning you can combine it with a dark gray wall to set up a room deserving of a place in a period fantasy movie.
Do note that this combination limits the options you have to add different furniture and drapes as only the colors of black and white can match well with this combination, along with darker shades of wood if you're planning on using wooden furniture. This limitation may sound too strict but it is what it is. Other colors will only look out of place when they become part of this combination.
And that concludes our list of 11 amazing carpet colors with gray walls for the best color combination for your room. As you can see, there are more than enough ways you can rock a gray colored wall but it all depends on your vision. Gray walls as they are may look dull and boring but with the help of the right carpet, you can use a combination of both colors to bring a cool, sophisticated and sexy look to your room.