Wine barrel tables have these days become one of the most popular ideas when it comes to quirky furniture ideas. Gone are the days when people who cannot afford a table on their own beg the local bar to spare a used barrel for their family. No, these days people pay extra to get their hands on finely crafted wine barrels or build wine barrels of their own to make a wine barrel table for their home.
And why wouldn't they? Wine barrel tables are classy in a way only old school furniture and vintage cars can be. They have a special charm of their own, with a dash from the past and a pinch of medieval fantasy. They also have a very natural look to them because of the entirely wooden covering, making them a good fit for both outdoor and indoor use.
Take a look at these 2* wine barrel tables to know why they are so popular these days and how you can use some of those for inspiration to make one for yourself.
A classic wine barrel table
Let us start of this list with the classic table made from a wine barrel. You can find these in many of the quirky pubs you find in the city, especially ones with their own brewery. You can also find these in some open air restaurants where this wine barrel table just fits in with no issues. This is the most standard way to use a wine barrel as a table and the simplicity makes them so popular.
All you need to do is just get a table-top made of wood, preferable in a circular shape and put in on top of the barrel. That is all, no extra handiwork needed. Pro-tip: make sure to glue the top in so that you don't accidentally spill everything on top when you bump into it.
Glass top for a smooth experience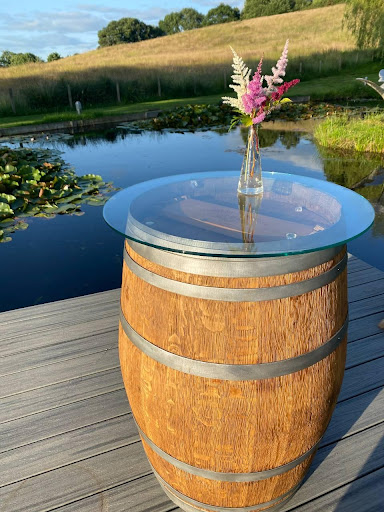 Just like any other table, if you can have a top made of wood, you can have the same made of glass. This wine barrel table is another model which is very popular, with some added advantages compared to the classic wooden top.
Since this is made from glass, it is spill-proof and very easy to clean. There is also less of a chance for lasting damage to occur due to stains and accidentally spilled liquids. One more advantage is that it will last longer and will not experience any natural degeneration like shrinkage or termites. You can also add beautiful fillings or artwork underneath the top to make the table look even better.
All of these make glass top wine barrels look even better than the wooden top alternative but do know that glass is much fragile than wood, and it will be very difficult to get the classic look you are looking for if you replace the wood with glass. It will also make the table look cheaper since wood is more expensive than glass.
The real classic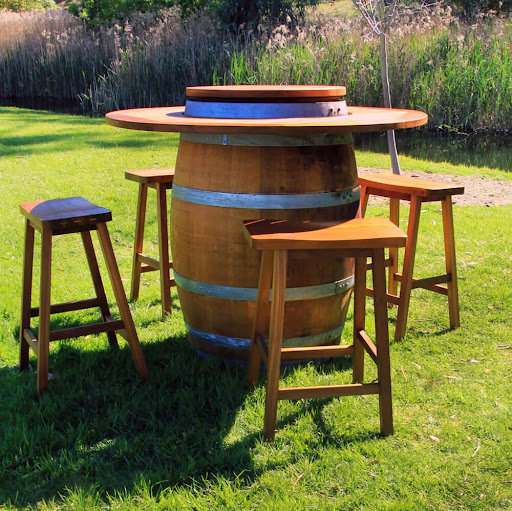 Wine barrel tables, for all its looks and charm are still more popular in pubs and bars than in restaurants, cafes, or homes. A kind of guilt by association if you will. What is common in all of those places is that there is an added emphasis on drinks than on a plate full of pasta and salad on the side.
In most of those places, wine barrel tables are just a quirky table for friends to sit around on and share a drink, meaning they do not need a complete table top, especially one that can be overturned by a drunk idiot. The solution is a circular top with an opening in the middle where the top of the barrel goes.
This retains the shape of the barrel, which adds to the charm, and also gives you a center platform to keep the shared bottle or snacks. A very good choice if you have friends who hog all the snacks or want to keep a handle on the alcohol consumption. There are even more advantages available depending on the other features you add to the wine barrel table.
A little bit more space
Sometimes you just want to mark your own plate for sides and don't want anyone's grubby hands going for a grab. Or you want to separate similar looking dishes with different ingredients so that your vegan friend does not accidentally end up using your egg based mayonnaise as a dip. Or maybe you just want this for purely aesthetic reasons.
Whatever seasons you may have, this flower top design is something you should keep an eye out if you are going for a wine barrel table and want to know all the different options you have. It may look like you are wasting a lot of potential space but the central platform and the barrel itself has enough space for you to use if you go about it smartly.
Not just a table for two
One often said complaint about wine barrel tables is that the usable area is too small for more than two people to use comfortably. There are a few ways to fix this but at the end of the day, a single wine barrel table can only host so many people. Yes, a single wine barrel table has limited capacity. So why not go for more wine barrels?
Just get two wine barrels and an appropriately sized slab of wood for the top and you can come away with a long table that can seat more than six people. You can always store an extra barrel and a long slab of wood in the storage so that you can instantly transform your quaint little table in the backyard into a decently sized table whenever your extended family comes for a visit.
Or you can just use the setting permanently as well if you feel that a single wine barrel table may not be enough for your home and you have the space for it. There are so many ways you can use wine barrels as a table, the lack of any need for any actual carpentry work giving you enough leeway to get a table of any size depending on each situation.
The perfect party table
As said above, wine barrel tables give you a lot of options. One of those options is setting up the ultimate party table. If you are hosting a party in your backyard and think it's a waste to buy an entire party sized table for the event, this is a good option to choose.
Just rent a few barrels and get the right sized top and you can have a wine barrel table of any size you want. The thick barrels will give you a steady table that can handle any and all party needs. Sometimes you just need a really big table and the ones you can buy or rent may not be the right big enough for your needs.
With wine barrels, no size is too large as long as you can find a top for the table that can cover all the barrels, It's the perfect solution to your party needs provided you can rent some barrels where you live.
Also comes in small sizes
It's not just the upper limit on size that a wine barrel table can ignore. If you think that a single wine barrel table is still a size too big, you can always cut it down by half and use it as a counter style table attached to a wall.
It's the perfect table for a couple who just wants to sit next to each other drinking wine while they watch something on the TV. These wine barrel tables are very popular in pubs that cater to couples and offer live stage shows they can watch together while also sharing a table and it is surprisingly a nice fit for a tiny apartment with limited space as well.
You can also set it up as a breakfast table in your kitchen as it takes up very little space and gives you a lot of space to move around. All in all, it's not just a brilliant solution for a room with limited space, but also a genuine option for a half-table if that's something you want in your room. Either way, it is guaranteed to look aesthetically pleasing to anyone who looks.
Everything at your fingertips
If you are going through the extra trouble of getting a wine barrel as a base for your table, why not make full use of the hollow space of the barrel and turn it into a storage compartment? One of the big reasons why wine barrel tables are getting popular in a home setting is that it also doubles as a storage space.
You will probably need professional help here as you have to not just fix up a shelf inside but also set up an opening mechanism as well, with hinges in the right places. If you are a DIY enthusiast, you can take it up as a new project if you are inclined.
Whatever route you choose, once it is completed, you can have a little space right underneath the table, perfect for making a glass of whiskey after dinner. There is enough space to keep all your hard liquor bottles and a few glasses, so it can take up the position as the permanent liquor cabinet in your home.
A complete wine barrel table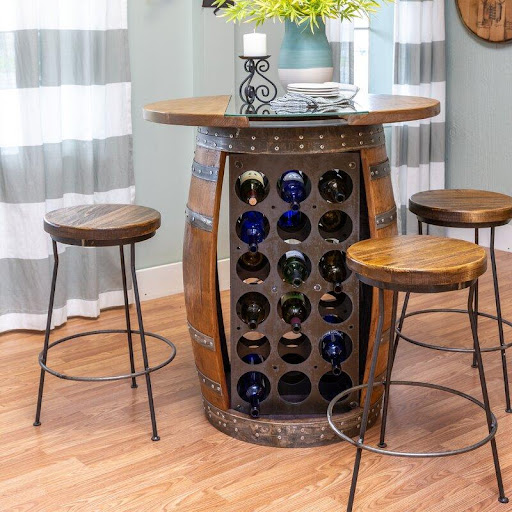 How can a wine barrel table be complete without actual wine inside? Using an actual wine barrel filled with wine as a table may sound like a good idea but wine on tap is not something a wine enthusiast will ever try. A wine needs to be kept in a bottle and a wine bottle needs to be stored appropriately in a wine rack. The second may be for purely aesthetic reasons, but it is what it is.
Thankfully, a wine barrel table offers the perfect space to set up a wine rack. All you need to do is clear up the hollow space inside the barrel and put an appropriately sized wine rack inside. If you are using the wine barrel table only for drinks, this might just be the most perfect idea for you.
Waste no space
Speaking of storage, there is an obvious spot you may overlook if all the pictures you see have large tops. If you are comfortable with a table size not too larger than the barrel itself, you can go for a raised top and use the space between the top and the barrel for some storage space.
This is a good area to store napkins and some cutlery if you want to serve some side dishes to go with the wine. If you used the entire space inside the barrel as a wine rack, you can also use this space to store your wine glasses as long as there is enough space to take them out without hitting anywhere.
This space is typically hard to clean as it is both open to the elements and covered enough to make it hard to spot accumulated dust. So, if you are going for this, make sure that there is enough space for you to clean the area properly.
Bare bones table
You've seen a lot of options for storage but here's a completely different take. You can go for a bare bones version of the barrel with an open area underneath. There isn't any particular advantage for this, but it may be aesthetically pleasing to some.
The point being, you don't always need to keep the barrel whole if you want a wine barrel table.
Built in cooler
Now that you've decided to butcher the barrel, here is one awesome idea you can use. Just keep the base of the barrel as it is when you take out the planks and you can use the barrel as both a table as well as a cooler for your drinks.
It's a pretty neat trick you can use and will look just right in a party where everyone is having a few beers and nobody wants to go all the way inside the house just to get a cold one. Even without using as a cooler, the entire structure will give you unobstructed access to the inside cavity if you want to store often used items in the space and find a closed space inconvenient.
Sometimes half is twice as good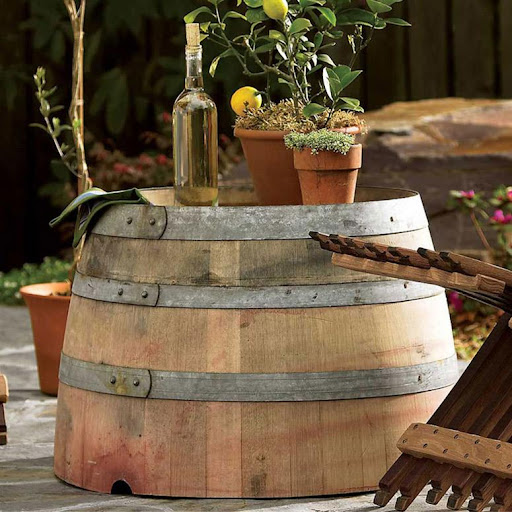 As said before, you don't always need the whole barrel. Sometimes only half is necessary. Especially if you are looking for a coffee table. This wine barrel table is just the right size to use as one and will not look out of place in your backyard or living room as long as the accompanying furniture matches well with it.
The best part about this is that you can use the other half as an additional table somewhere else in your home for some other purpose.
The other half
One other way to use wine barrels as a coffee table after cutting it is to use a glass or wooden top. This time you are not using the base of the barrel as the table top, meaning you can either use half of a barrel and keep it upright or use the middle part of the barrel like the picture above. Either way, doing this will give you more freedom to design it to suit your living room instead of matching the rest of the room with the wine barrel table.
Half, but sideways
The only way to cut a wine barrel is not horizontal. You can cut it vertically in half and lay it on the side to use the open half as a table. This one will require you to get wooden pegs to keep the table upright along with a separate top to cover the open half. Expense wise, this one will require the most materials but looks charming enough to be worth the cost.
Unlike the other halves, this one will fit right in your living room as it looks like any other rectangular coffee table except for the base.
And there you have it, 2* amazing wine barrel table ideas to raise the charm in your house and bring a touch of class along with it. As you've seen, wine barrel tables are not just aesthetically pleasing but also offer practical solutions to a lot of problems you may have, making them an ideal option when you are choosing for some home décor ideas.