Won't you like to enjoy your shower time accompanied by some refreshing new gadgets? We have compiled a list of some fascinating bathroom gadgets that can add luxury and utility to your bath. Read on and find out which are the ones you'd love to bring home.
Motion sensor toilet light
This gadget is pure bliss for a middle-of-the-night toilet trip. When you step out of the bed to do your business, you don't need to fumble with the switches in the bathroom. The lights sense motion from a wide range of six feet and stays on for about a couple of minutes.
Digital shower interface
Tired of turning the levers of the shower panel when you want to make a switch between the showerhead and hand shower? With a digital shower interface, you don't have to bother about clumsy levels and knobs. You can simply press a button to set your preference. It also works for controlling water temperature.
Rain showerhead
Have you always wondered "why is your shower pressure low?"? Or ever fancied a shower that feels like standing under a high-pressure waterfall? This could be a reality for you with a powerful high-pressure shower head for your bath.
Shower speaker
Whether you prefer listening to jazz or bass, Bluetooth enabled speakers for the bathroom would be the perfect companion for your shower. These speakers are water-proof and also come with a mic-function and double up as a speakerphone.
Toilet paper holder with phone tray
It is safe to assume that most of us take our phones to the toilet. After all, it's almost impossible to part with our smartphones for that long. This toilet-paper holder comes with a tray for safely resting your phone when you decide it's time to let go.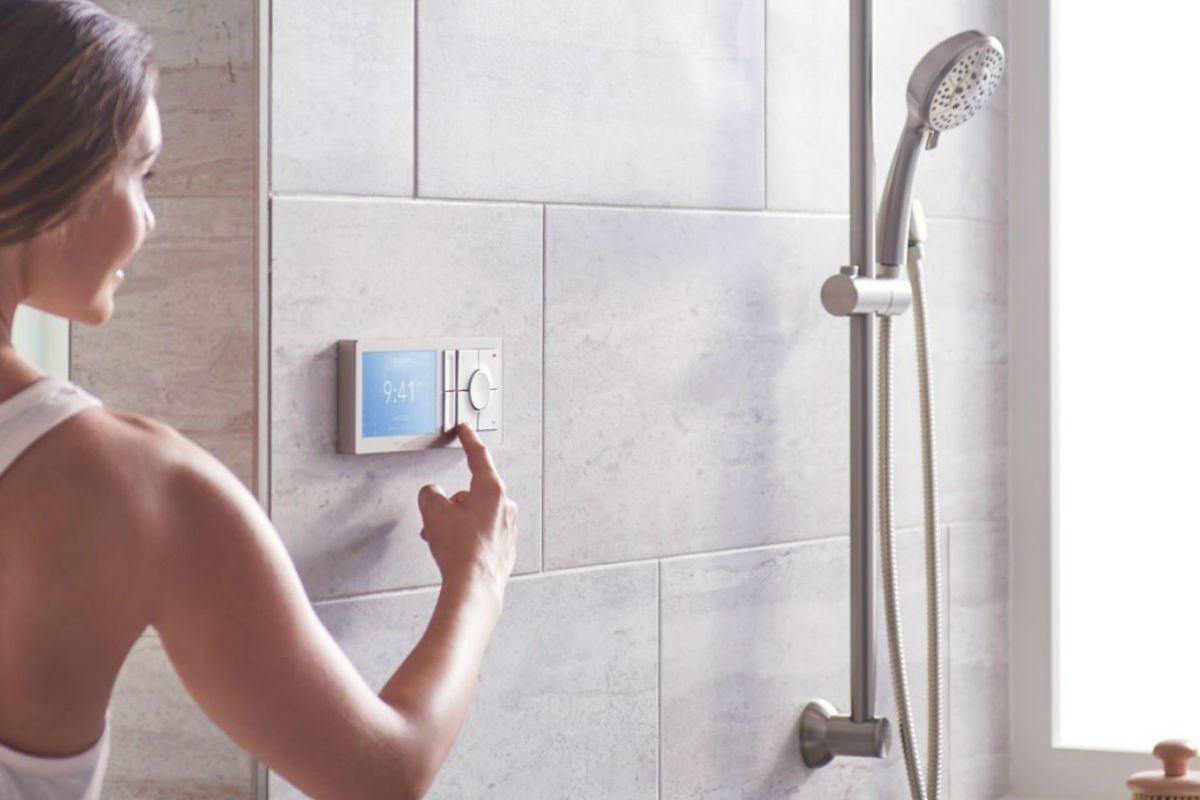 Waterproof notepad
"Eureka!" exclaimed Archimedes when he was struck by a scientific discovery in the middle of his bath. If someone had invented the waterproof notepad back then, he wouldn't have to rush out of the bathroom to record his genius idea. If you often hit your genius potential while in the shower, you shouldn't miss out on this very useful gadget too!
Toothpaste squeezer
Reaching the end of the toothpaste tube is quite a struggle. If you're one of those people who wouldn't like even the last speck of the paste to go waste, this gadget is just the thing you need. It's super convenient and effective!
Hands-free soap dispenser
The current pandemic situation has led to another revolutionary innovation targeted at personal health and hygiene. This innovative soap dispenser allows you to pump liquid soap without using your fingers. All you need to do is to keep your hands below the soap dispenser.
Shaving pedestal
Balancing the foot while attempting to shave in the shower or bath, is quite a tricky business. This simple foot rest, allows you to comfortably station your leg and carry on with the shave. You'll absolutely love this incredibly useful bathroom gadget!
Towel warmer
Wouldn't you love to wrap yourself with a warm towel straight out of the shower? Why not spoil yourself with this pure luxury albeit a bit extravagant bathroom gadget?
Water Monitor
As an environmentally cautious human being, you should always be watchful of your water consumption. Unfortunately, merely regretting a high water bill is not the right way to go about this. It would be much better if you install a smart water monitor that updates you regarding your real-time water use. The dedicated phone app also gives you timely and personalized suggestions for curtailing water wastage.