When we think of renovating our house, we probably think of every small item placed in the corners of the home: be it furniture, lights, plants, curtains, the color of the walls, the texture and color of the vaulted ceiling, and many more. Selecting a color for the wall seems like a cakewalk, but it's a tedious process as wall color helps us decide on shades of other items, especially curtains.
Amidst other colors, green is preferred for interiors by many due to its warmth, energizing effect, and visual impact on the eyes. The green shade looks bold and refreshing, with a natural ambiance keeping you virtually close to nature. Opting for fresh green is a fantastic choice as it enlivens the room. Still, the challenge is adjusting the other colors in the house; especially items clutched directly against the green walls and the right shade of curtain for green walls.
It will help if you have an eye for fine detailing. Home decor appears to be an exciting and fun-filled activity, but when it comes to fine detailing, you need to be cautious because once the wall painting is over, there's no turning back. Multiple shades of green go well with walls. If you are looking for tips on selecting the perfect curtain color for green walls, we are here to guide you through the process. Here we go.
Simple pattern curtain
Suppose you have painted the walls with bold green, and your windows lie in the middle of the wall. In that case, green walls get the maximum attention, so selecting a light hue curtain with a minimalist pattern may enhance the room's look, diverting the attention. A white curtain with a small black design may seek some focus, keeping the prime focal point of the wall intact.
White transparent curtain
Opting for a plain transparent white curtain for a dark green palette wall adds style and fashion to the room without overwhelming it. There are a variety of fabrics to choose from, such as linen, cotton, silk, polyester, velvet, brocade, lace, rayon, acrylic, etc. The choice of fabric depends on wall color, an identified room where the curtain is to be hung, and the color of the furniture. It also depends on your preference. To avoid the simple look of the room, add a few rustic pieces here and there.
Fine patterned white curtain
The easiest choice for a dark green color room is going for a simple patterned white curtain that looks a perfect match extending an elegant yet grounded ambiance to the room. It adds an aesthetic element. The white curtain makes the room look bright and warm. White patterned curtains are a simple decor idea without overcrowding the space.
Light hue cotton curtain
Coloring the wall green and pairing it with a light shade cotton curtain, especially for the living area, elevates the space's aesthetic. White cotton curtain maintains the perfect balance of a modern as well as natural surrounding to the living room. With this match, you can expect some praise from the guests! Enjoy the positivity.
All over green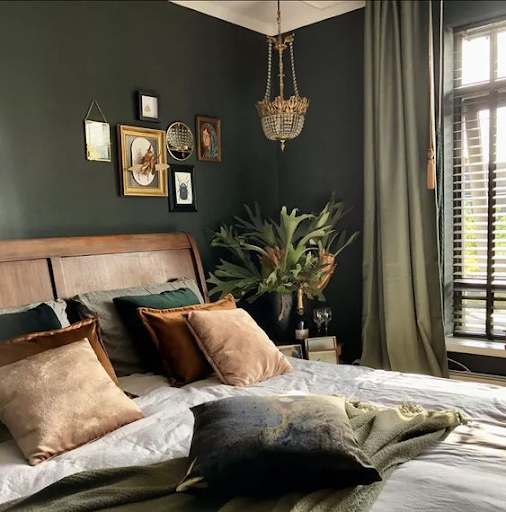 How about trying a green curtain with a green wall, but in a different shade? Pairing a green curtain in a contrasting green hue with green walls may add a unique classical look. Opt for dark green curtains with light shade green walls and light shade curtains for dark green walls. It suits the best when the height from the ceiling to the floor is relatively high, making the window look tall. After the makeover, you still feel like adding a few things or fixing the wooden floor for a perfect look. You will feel like you are sitting in the living room of a palace.
Do it up with brown.
Brown is a good option for a bedroom. It adds warmth and coziness, giving a classic look to the space without much hassle and makeover. With brown, you may skip the hit and trial with other color combinations because brown looks good with almost all the wall shades, including green. Shop brown curtains irrespective of the shade and texture of the wall.
Bright red
The red color is one of the most powerful colors in the world and is known for its bold and emotional quotient. Pairing a red curtain with green walls, especially dark green, looks impressive. You may go for a red color if the space is ample because a red hue curtain with green walls might be a little overwhelming for smaller areas. If you prefer muted shades, red is not your color. Opt for some other combination.
Creamy pastel
Pastel is a visually comfortable color with a minimalist touch to the space and a soothing impact on the ambiance. One advantage to going for pastel is that you can decide on a pastel shade, which goes well with almost all green shades. With little thinking about the color combination, pair any shade of green wall with a pastel curtain to add an element of class and beauty to the room.
Navy blue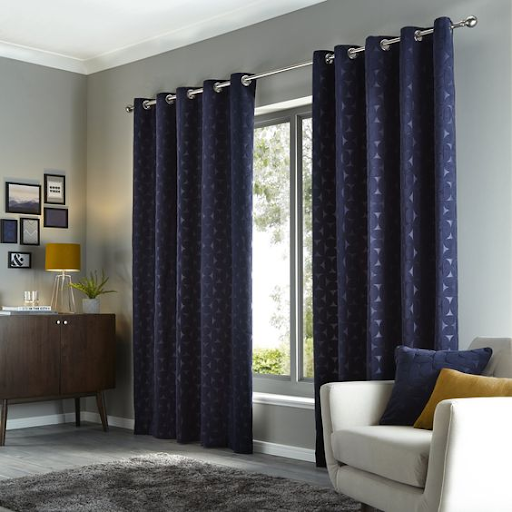 Navy blue is a perfect color tone to match calm and mild sage color walls. If you are thinking of what colors go with sage green wall, the answer is navy blue curtain, that will add a unique element to the subtle sage green wall. It's not easy to overshadow navy blue, so a blue curtain always gets attention. It becomes the focal point of that particular space. Sage green is a naive color that allows other hues to dominate it and steal the limelight. Colors that go with sage green walls are fortunate as sage green is a soft color, ready to mingle with all other colors. You can also give a thought of hanging sage green curtains with green walls, though with some patterned ones.
Mauve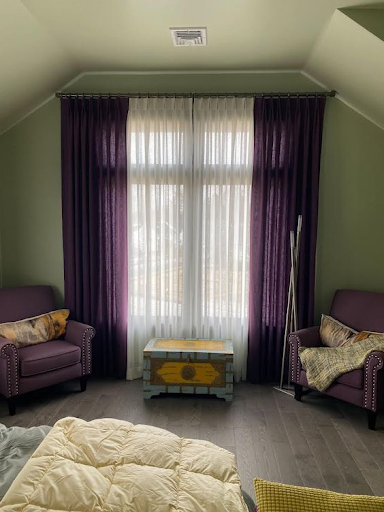 Opting for pastel on pastel is made in heaven types. Colors that compliment sage green walls are many, but you can blend it with mauve curtains- what an amalgamation of color! This combination keeps the room bright, glowing, and energizing, so it is considered for the living room or sunroom to enjoy the natural light. It's a refreshing site for sore eyes. However, you may also select this for your bedroom, but with a blackout curtain in a similar color. To complete the serene effect of the fancy mixture of this color, you may add a few rustic pieces of furniture.
Plain curtain for leafy wallpaper pattern
What do you do if you already have your wall decked with leafy green wallpaper? No worries. Let's begin with the thumb rule: avoid solid with solid and pattern-on-pattern. Always select a plain curtain to complement the patterned wall and enhance the green effect of the room. Opting for ivory, white, and eggshell is a wise choice. Try it!
Pale olive wall with pale curtain
Fixing a dark-hued curtain with pale olive walls seems arduous because of the weird combination. To avoid all confusion and make it easy, buy some pale curtains for pale walls as it matches pretty well with adding an aesthetic element to the space without much hard thinking. It looks graceful and elegant.
Pattern curtain with plain wall
One of the most challenging tasks of home decor is selecting a curtain for a light green wall. Usually, a pattern or a floral print works best for light green walls. Pair your walls with floral or design curtains to uphold the beauty for a complete look. For a more comprehensive ambiance, place some statement pieces alongside for a visual connection between the statement pieces and curtains.
Retro visual effect
Why not try retro floral curtains with floral walls? This unconventional route for home decor was in practice in the past, especially for those who desired a vintage impact. However, this style has a comeback in the modern decor world. For a vintage approach, pair a floral curtain with a floral wall accent and match it with a few floral hangings or showpieces.
Geometric pattern with dark green walls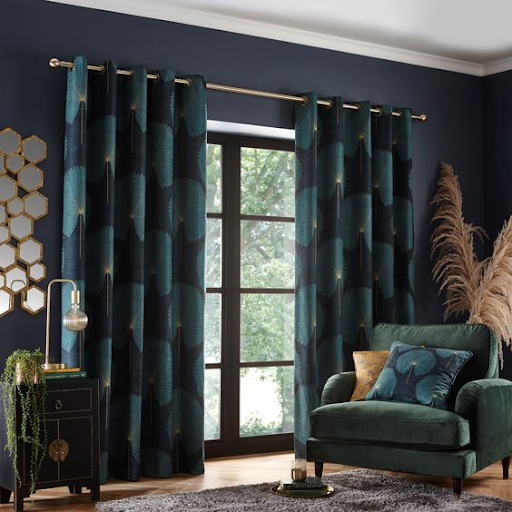 If you want a modern way for your dark green four walls, think out of the box and pair it with some simple geometric pattern curtains in light shade. Keep the base of the curtain in a more golden hue with some dark geometry over it. It blends well with the wall shade with a bold impact on the surrounding.
Dark green curtain with light hue wall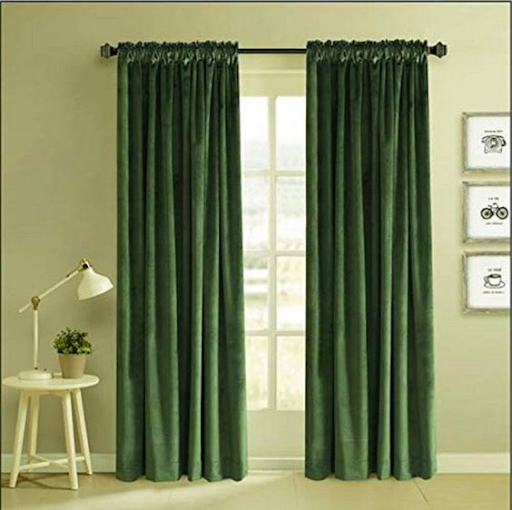 Think of the visual impact of fixing a green curtain with walls. Well, it is a risky and tedious option. However, there is no risk if you select and match a contrasting shade. A perfect contrast match of the curtain for a light green wall can prove to be an excellent choice you will never regret. It would help better if you have clarity on shades and have mastered the art of combining colors.
Conclusion
I hope this article helped you select a suitable curtain for a green color wall. Green is a natural and bold color, though it goes well with most colors depending on your preference and the surrounding you prefer for the place. Always remember one basic rule of color combination.
Only match solid with solid and pattern with a pattern if you are an expert in achieving any desired combination.
Try avoiding solid curtain color with the concrete wall color.
A part from hanging matching curtains, consider placing some contrasting items of furniture and statement pieces here and there, as it enhances the overall look of the space without overwhelming it.
The Interior of any bedroom or living room encompasses innumerable items placed. The room's ambiance demands thoughtfulness in everything you select, be it the color of the walls, lectures of the ceiling, curtains, or some unique showpieces.
FAQ
What color curtain for the green wall
If you have painted the walls green and are stuck while selecting the perfect color for curtains, don't worry, as green is a natural environment color, and a contrast color for curtains might look good. For dark green walls, pair them up with a light palette and vice-versa. Above all, it depends on your choice and personality. For an elegant look, buy a lace curtain in a white shade, and to revitalize the space go for a dark shade curtain.
What is the best color curtain for a pale olive green paint wall?
You have many options with a pale olive green wall, but usually, a lighter shade looks perfect. White transparent curtains for pale olive walls enhance the beauty with a lively atmosphere full of energy and brightness. You may choose a dark color if you like dark shades. Red, gray, purple, and green may be a suitable match for olive walls, but it depends on the size of the room, the amount of brightness you prefer, and the size of the space identified for makeover-it all matters.