Displaying artwork is a great way to update a room without having to redecorate. Instead of just adding one piece of art, why not an entire wall? Not only do gallery walls fill a blank space, but they also inject colour, personality, and creativity into a room. Research from My Job Quote dubbed gallery walls as Instagram's most popular home accessory trend for 2020.
If you admire this interior feature but don't know where to start, here are five tips on how to design an inspiring gallery wall that'll transform your home.
1. Layout design
Before choosing your artwork:
Measure the wall to see how many pieces you need to fit the proportions.
Consider whether you want to display art from floor-to-ceiling or just a few pieces.
Decide on the layout style. You may want to create a symmetrical shape of four A4 sized frames or a scattered arrangement of different sized frames.
When forming an asymmetrical layout, always display an odd number of pieces and pick one large frame for the focal point, then choose around three other sizes for the surrounding pictures. To elevate this relaxed aesthetic, mix and match frame styles.
For a uniformed aesthetic, you could display the frames in a grid, row, or column. While the frames need to be the same size, they don't necessarily all need to be the same colour if the overall look is symmetrical.
2. Themes
If you don't necessarily have an eye for art, it can be easier to group pieces under a theme such as nature, music, or travel. A cohesive theme can showcase a topic that you're passionate about and tell a story if it includes memorabilia such as souvenirs from holidays and lyrics from your favourite song.
3. Mix and match
If you don't want to be restricted by a theme, use the 'anything goes' approach for a more eclectic style. Fill this display with anything that makes you happy, which may include typography prints, geometric art, and illustrations. A mismatched gallery display also makes it easier to change art pieces in the future if you want to update the room again.
For added interest, use different forms of media such as photography, canvas paintings, fabric hangings, or even customizable neon light art.
Finding the right art for your home can often be the tricky part, but the online gallery Bleur Art offers a range of artwork from numerous independent artists. The collections include abstract paintings, sculptures, prints, and collages, making it the perfect source for designing a striking gallery wall.
4. Colour palette
To connect your gallery wall art together, pick a colour scheme of two or three shades. You could choose the same colour palette as the room, to complement the existing interior design or if you want it to stand out, use contrasting colours such as pink, blue, and yellow against a black background.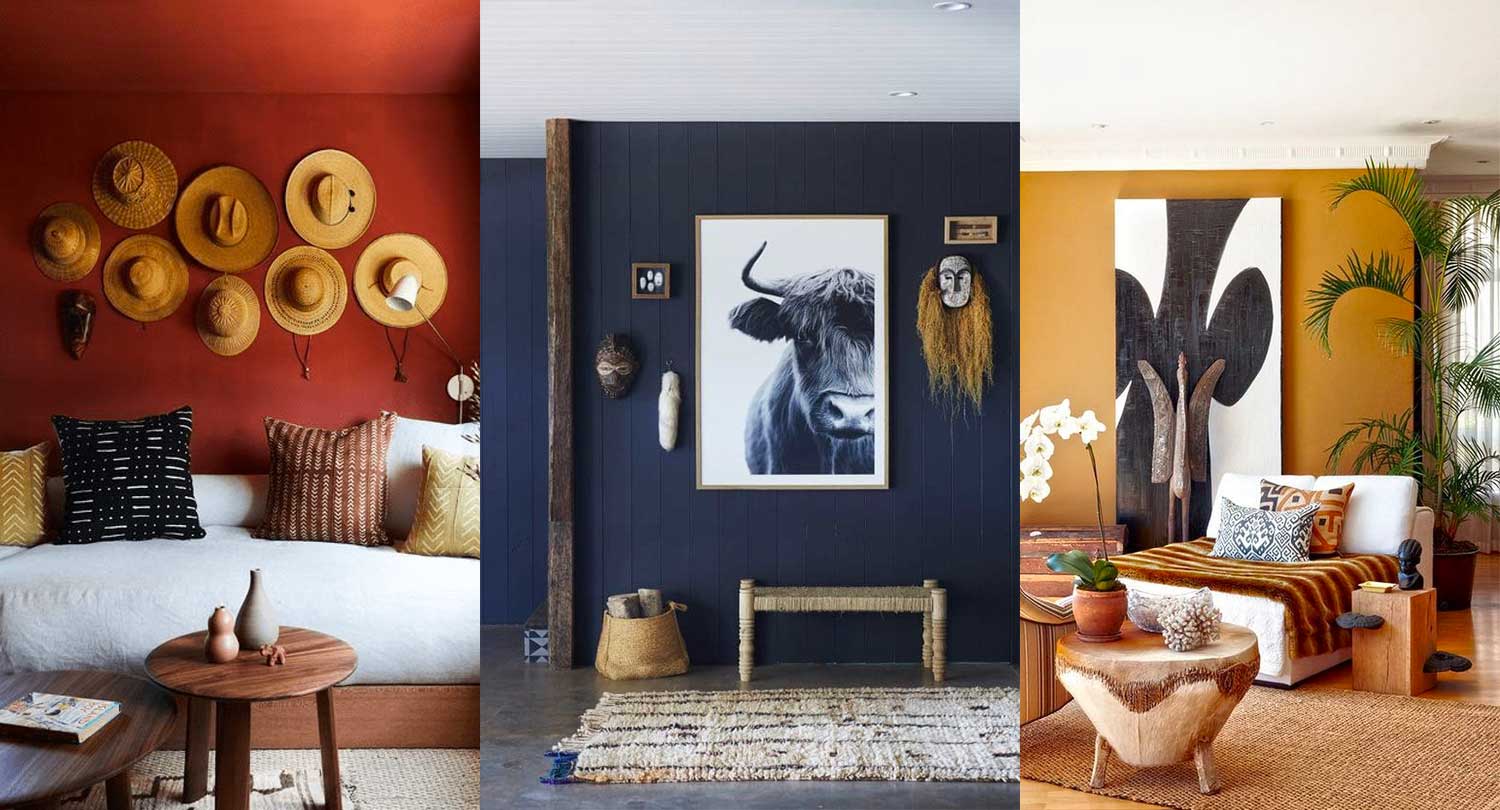 However, you don't need to use lots of colour for a gallery wall to pop. Alternatively, you could use one colour across all pieces for a striking effect or stick to a monochrome theme to suit a minimalist aesthetic.
5. Constructing the gallery wall
Use an online tool or place the art on the floor to create a mock-up layout before hammering into the wall. Work from the inside out when designing a scattered look and ensure you leave a consistent gap between each piece. Experiment with a few different arrangements until you're completely happy with it and then photograph the final layout for your reference.
Make precise measurements of the frame onto the wall and mark with a pencil where to hammer the nail. Ensure the pictures are straight using a spirit level, which is especially important when forming a uniformed design. If you live in rented accommodation or don't want to leave a permanent mark, use command picture strips to apply your frames to the wall easily.
Gallery walls are so popular because they're incredibly versatile. When you curate it to match your taste, it can suit any interior design style including Scandinavian, industrial, and shabby chic. This feature can also fit and add life to any area of a home, whether it's the stairway or living room.