When it comes to home improvement, there's a common misconception that you must spend a lot of money to see any real results. But that's simply not true! There are plenty of inexpensive DIY jobs you can do that will not only improve the look and feel of your home but also increase its value. Here are five of our favorites:
1. Paint Your Front Door 
Painting your front door is a simple but effective way to enhance your home's curb appeal. Not only does it give your home a fresh look, but it can also increase its value. 
When choosing a paint color, consider the overall style and color scheme of your home's exterior. For example, if you have a traditional-style house with neutral tones, a classic black, white, or red door can add elegance and sophistication. On the other hand, if you have a more modern home with bold colors, a bright blue, green, or yellow door can create a striking look.
In addition to the color, you should also consider the type of paint you use. A high-quality paint will ensure your door looks great for years and can withstand the elements. Perhaps add some new hardware, such as a stylish door handle or a knocker, to complete the look.
Before you start painting, make sure to clean and prepare the surface of the door properly. This will ensure the paint adheres well and provides a smooth finish. Also, add a primer to ensure the best possible coverage and durability.
Overall, painting your front door is a quick and easy project that can significantly impact the appearance of your home. With just a few hours of work and some affordable tools and hardware, you can transform your home's entrance and create a warm and welcoming atmosphere for your family, guests, and potential buyers.
2. Landscape Your Front Garden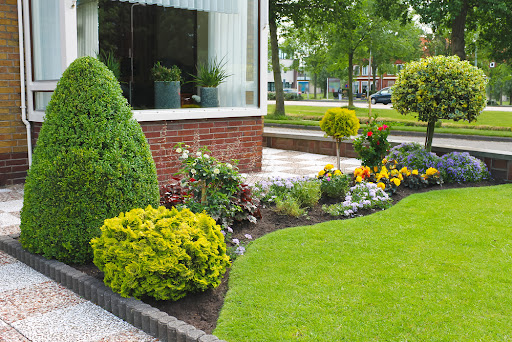 First impressions are everything, so ensure your home's entrance area is up to par. A well-landscaped yard will make your home look more inviting and increase its value. According to Post Office Money, landscaping can add up to 77% to the value of a property. So not only will you enjoy the benefits of a beautiful front garden, but you'll also be making a wise investment in your home.
Think about the style and theme you want to create for your front garden. Consider the size and shape of the space, the amount of sunlight it receives, and the types of plants that will thrive in the area. Plan out the layout of your garden, including the placement of trees, shrubs, flowers, and other landscaping elements. 
If you don't have a front yard space, you can consider window boxes or plants on either side of your front door to make your home look more welcoming.
3. Add a Fresh Coat of Paint to Your Walls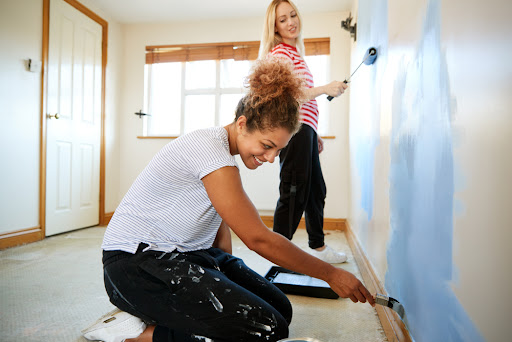 A fresh coat of paint can brighten up any room and make it feel more spacious. If you plan on selling your home, it's best to stick with neutral colors like white, light grey, or magnolia, as this will make your home more appealing to a wider range of potential buyers. However, if you don't plan on selling anytime soon, feel free to experiment with bolder hues. A pop of color can add personality and character to a room and make it feel more inviting.
Before you start painting, make sure to prepare the walls properly. This includes filling in holes or cracks, sanding down rough spots, and cleaning the walls to remove dirt or dust.
Look for high-quality paint in a color that is durable, easy to clean, and provides good coverage. And make sure you use the right tools for the job, including brushes, rollers, and painter's tape. 
Just adding a new lick of paint could increase the value of your property by £4k; that's a massive 107% ROI, so definitely worth putting the effort in.
4. Update Your Light Fixtures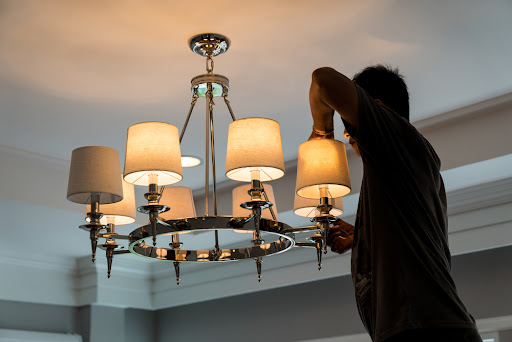 Old, outdated light fixtures can make even the most beautiful rooms feel dated. Replacing them is a quick and easy way to add a touch of luxury to your home without breaking the bank. Just make sure to choose fixtures that complement your home's style. 
Your light fixtures should complement the style of your home. Opt for classic fixtures with ornate detail if you have a traditional property. If you have a modern home, choose sleek and minimalistic designs. Make sure to consider the finishes of your other hardware, like door knobs, faucets, and cabinetry pulls, so the light fixtures match.
When choosing your light fixtures, look for energy-efficient options. LED lighting is a great choice because it uses less energy than traditional bulbs and lasts longer, saving you money on your energy bills in the long run.
But before you start, if you're not experienced in electrical work, it's best to hire a professional electrician to install your new light fixtures. This will ensure the job is done safely and correctly.
5. Refinish Your Hardwood Floors
Hardwood floors are always in style and can really help increase the value of your property — but they can be expensive to install from scratch. A much cheaper alternative is to refinish the hardwood floors you already have. But assess their condition first. If the wood is severely damaged, replacing it may be better than refinishing it.
If they are salvageable, there are a variety of finishes available for hardwood floors, including oil-based and water-based finishes. Consider factors like durability, sheen level, and ease of maintenance when choosing the right finish for your floors.
Before you begin, clean them thoroughly and remove any furniture or rugs. If there are any gaps or cracks in the floorboards, fill them with wood filler.
Use a floor sander to remove the existing finish and smooth out any imperfections in the wood. This is a dusty process, so wear protective gear and seal off the room from the rest of the house. Once the floors are sanded, apply the finish using a brush, roller, or sprayer. Make sure to follow the manufacturer's instructions for application and drying times.
Refinishing your hardwood floors is a cost-effective way to update the look of your home and increase its value. It's a project that can be done over a weekend with the right tools and some elbow grease. By choosing the right finish and properly preparing the floors, you can achieve beautiful, long-lasting results that will make your home feel fresh and new.
Roll Up Your Sleeves and Get Started
These five DIY home improvement projects are an excellent way to enhance the look and feel of your home without breaking the bank. By investing a little bit of time and effort, you can significantly increase your property value and make your home more appealing to potential buyers. So roll up your sleeves and get started on your next home improvement project.