Don't know how to decorate your entrance walls or foyer ceilings? Here are some easy-to-implement entryway ideas. 
Your entryways should reflect your personality and leave a great first impression. There aren't limited ideas for entryways; you can have a sparkling chandelier installed on your ceiling, a human-sized artwork of your pet on a wall, or a round mirror above a sleekly designed side table. 
The plan is to make a foyer look spectacular on a tight budget with minimal effort. Here's what you need to know to make it elegantly welcoming!
Funky Chairs
Have a set of funky chairs nearby the main door, which will help you take off your shoes while you head out. Funky chairs against a gray wall, with some arrangements, can go well with them. Perfect pairs of funky chairs make the best ideas for your entryway; they seemingly complement your home decor, and display your welcoming nature. 
Mid Century Furniture
There's nothing more beautiful than stepping onto a rug in the entrance; it's welcoming and sets the tone for your entryways. Have mid-century modern furniture, an oversized round mirror on the wall, reflecting paintings, and fancy objects laying on the opposite wall. It's swoon-worthy to have a rug and a rusty wooden bench that complement your entryway decor. 
Black & White Combination
The B/W effect—an affordable and sustainable entryway idea—can make the space gorgeous and happening. Everything you place, mount, or design brims with this style. The notable feature is going to be framed art, where a slight switch can't break the styles, as you can see golden frames being used on the left wall. A minimalistic chandelier, a dark teak wooden bench, a geometric rug, and a wreath can make the entryway look spectacular. Here, the rug is the only decorative piece that doesn't belong to b/w but evidently goes well with the theme, which is why it will not only decorate your entryway but also adorn your living space.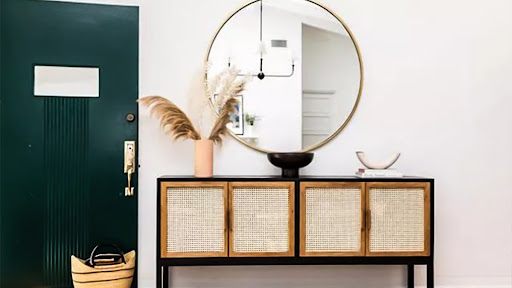 Entryway covered in tiles
It could be pink, navy blue, or off-white. You can have the entryway covered in tiles exactly as shown in the image. Covering walls and floors makes your foyer look aesthetically pleasing. It's minimalistic, convenient, and affordable. The perk of having patterned tiles in your entryways is that you won't be splurging on expensive entryway decor items. 
Wood pegboard in entryways
Have you moved to a new place lately and wish to spruce up your entryway? Try considering wood pegboard, a multifunctional, stylish, and extremely appealing arrangement. It's the safest and most unique way to store your entryway items. In the coming days, shelves, side tables, and cabinets will be replaced by wooden pegboard, which creates more space for other activities.  
Farmhouse Entryway
Too many multi-functional objects in one place might make your entryway look cluttered. But in reality, it won't. There are natural colors, sconces, a wooden shelf that matches the door, and a beautiful rug that goes well with the flooring. This is the perfect setting for your farmhouse entryways, which go well with small or large apartments. 
Wallpaper on the ceiling
When nothing goes your way, go ahead with wallpaper; this is an excellent entryway idea that'll never disappoint you. Having a wallpapered entryway gives it a statement, a welcoming and refreshing vibe. On top of that, an open space gets its attention without any electrical appliances or sleeky pieces of furniture. 
Artworks in entrance
Make your foyer royal and magnificent with replicas of renowned paintings and framed art. Whoever steps into your house will get the feeling of walking into an art gallery. The surrounding area will evoke great moments of ancient history, art movements, and styles. Not only will it add a statement to your wall, but it will also display your love for art and history. 
Final Words
The entryway is supposed to be neat, aesthetically beautiful, and welcoming, as it's the way to your abode. The above-mentioned entryway ideas can help you achieve the foyer look you desire. These are probably the most affordable ideas for entryways, which can glam up the space and make it serene, stunning, and welcoming.