Living alone is an exciting journey filled with self-discovery. This new chapter brings with it a sense of freedom and independence unlike any other. You may have concerns about loneliness or safety, but it's also an opportunity to create a personalized living space. Imagine curling up in your cozy bedroom, outfitted with the most comfortable mattress and plush bedding pillows you handpicked for yourself. Or kitting out the kitchen to whip up your favorite meals at your own pace. This guide will navigate you through the joys and challenges of living alone and offer some tips to make your solo living journey comfortable and rewarding.
1) Create Your Personal Sanctuary
Living alone allows you the freedom to create your own personal sanctuary — a place where every corner resonates with your individual taste. You get to choose your color schemes, pick your favorite decor and select the type of comfort items you want in your space. For instance, an extra-long twin mattress can be the perfect addition to your guest bedroom area (especially for small spaces), while a comfy queen mattress makes your own bed a dreamy retreat. Whether you're an art lover, a bookworm or a plant enthusiast, this is your chance to let your creativity run wild. Create a welcoming, cozy, personalized environment where each day feels like a journey into your universe.
2) Invest in a Fun Kitchen
Cooking for one doesn't have to be a chore. In fact, having a well-equipped and fun kitchen can make solo dining an absolute delight. Consider investing in fun kitchen tools like popcorn makers or soda machines to spice up your meal times. Feel free to experiment, get creative and try out new recipes whenever you want — you're the chef here! And how about setting up your own coffee or tea station? That perfect brew in the morning or a calming cup in the evening can become a comforting routine, turning your kitchen into your very own bistro.
3) Develop a Routine That You Love
One of the biggest perks of living alone is the freedom to develop a routine you truly love. You control your schedule and can structure your day to promote productivity and well-being. Maybe you love starting your day with an energizing workout, or you find peace in winding down the evening with a good book. Remember to include healthy habits like regular exercise, a balanced diet and a good sleep schedule. But don't forget to also set aside time for leisure and relaxation — after all, it's your routine and should be something you truly enjoy.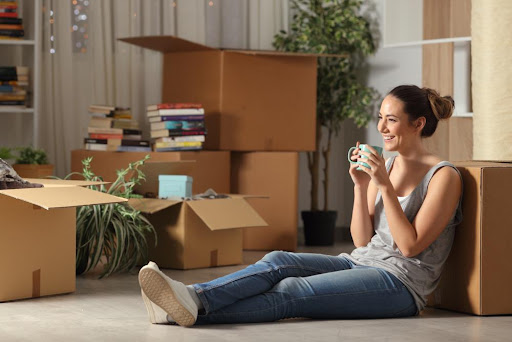 4) Master the Art of Self-Care
When you're living alone, making self-care a priority is essential. This is a time to indulge in the routines that nourish your body, mind and soul. Why not set a weekly spa day at home, engage in meditation or take up yoga? Consider investing in relaxation tools, like a yoga sleep sound machine, that can aid in creating a soothing atmosphere for your self-care sessions. Remember, self-care goes beyond just physical well-being — it's about taking care of your mental health too. Regular self-care can help mitigate feelings of loneliness and keep you upbeat and positive about your solitary living situation.
5) Discover DIY Maintenance
Living alone means you're in charge, including taking care of basic home maintenance. Sure, it might seem daunting initially, but learning to fix minor issues like a clogged drain or a broken light bulb can be empowering. There are countless online tutorials and workshops that can equip you with these skills. So, roll up your sleeves and embrace the DIY spirit. Not only will it save you from waiting for the handyman, but it'll also give you a gratifying sense of accomplishment and self-reliance.
6) Adopt a Plant Baby
There's something incredibly rewarding about caring for a living organism and adopting a plant can be a wonderful way to experience this. Having plants in your home improves air quality and adds to your personal space's aesthetics. Choose indoor plants suitable for your home's light conditions and learn the basics of plant care. You'd be surprised how therapeutic and fulfilling it can be to watch your green babies grow and thrive. So why not add a touch of nature to your living space? It's not just decoration — it's a living, breathing companion.
7) Start a Solo Tradition
Living alone doesn't mean life has to be monotonous. In fact, it's an opportunity to create your own traditions, adding structure, anticipation and joy to your solo living experience. It could be something as simple as "Movie Mondays" or a tasty "Breakfast for Dinner" night. These activities, curated to your taste, can become the highlight of your week. Moreover, your personal traditions can be a great way to involve your friends and family in your solo living journey, making them feel part of your new rhythm of life.
8) Embrace the Freedom of Dancing Alone
Now, here's something you can't usually do when you share your space: dance like nobody's watching — because, well, nobody is! Dancing alone lets you express yourself freely, and it's a fantastic mood booster with incredible health benefits. Consider setting up a small dance area or installing a full-length mirror for your private dance sessions. There's something incredibly liberating and fun about dancing alone. And if dancing isn't your thing, find something that brings you joy and do it without any reservations (although we still recommend giving dancing a try because it's hella fun).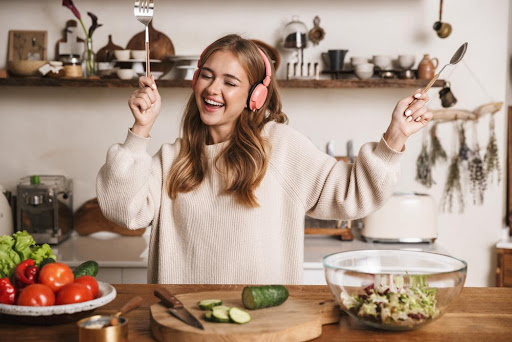 9) Prioritize Safety
While living alone offers many freedoms, it also comes with the responsibility of ensuring your safety. Practical measures like installing a security system, getting to know your neighbors and keeping emergency numbers at hand can help you feel secure. But, remember, safety isn't just physical — it's about mental health too. Ensure you're taking care of your emotional well-being, whether it's setting aside me-time or reaching out to friends when you need company. After all, feeling safe and secure is key to enjoying your solo living journey.
Final Thoughts: Celebrate the Solo Adventure
Living alone is not just about solitude — it's an exciting, fulfilling journey that involves discovering new aspects of yourself and embracing personal growth. The balance between fun ideas and practical advice we've shared can serve as a roadmap to your own solo living adventure. Whether creating a personal sanctuary, embracing the art of self-care or adopting a plant baby, every step you take toward embracing your solo life can be rewarding in ways you never imagined. So, take the leap, celebrate the freedom and revel in the joy of solo living. After all, it's not just about living alone — it's about living on your own terms and finding joy in every moment of it.