A water-damaged property is devastating. It leaves you with questions about what to do and where to start. You might also not understand where the water's coming from, making the situation worse. However, you shouldn't panic. In such a situation, you must prepare and act immediately to stop further damage to the property. If you think the matter might be out of hand and require a professional assessment, contact the nearest water damage restoration team for help.
However, while you might not be the one to handle the water damage restoration process, it's always right to understand a thing or two concerning the same. Here is some important information you might want to know regarding Winter Garden water damage restoration.
What Is Water Damage Restoration?
Water damage restorations refer to returning the property to its previous condition before the water invasion. The water damage restoration process comprises inspection, extraction, dehumidification, sanitation, and reconstruction, if necessary. Though this process might not require certification, it's best handled by a professional water damage restoration team equipped with the correct tools and knowledge. When undertaking water damage restoration, it's essential to understand its root cause. That said, it's vital to incorporate specialists since they're familiar with significant water damage and can easily and quickly locate the water source through inspection.
What Are Signs Of Water Damage?
Water damage doesn't go unnoticed. Usually, it shows the following signs:
Cracks on the ceiling

Mold

and mildew

Swollen or warped materials

Musty odors

Peeling paint

Puddles of water

Water stains

Structural damage
What Causes Water Damage?
Water damage can occur from the inside or outside the property. Therefore, it can be caused by various reasons. For instance, the water damage inside the house might result from leaky appliances and systems. On the other hand, the water damage from the outside is caused by floods entering your home through damaged structures such as unsealed siding, clogged gutters, damaged chimneys, or leaky windows and doors.
While several factors can cause water damage to your property, they rarely go unnoticed. Once you notice any sign of manageable water damage without professional touch, it's advisable to correct the issue before it gets out of hand. Otherwise, reach out to water damage restoration professionals as soon as possible.
Categories Of Water Damage
Before beginning the water damage restoration process, it's vital to understand the category of water damage. To make the process easier, the Institute of International Cleaning and Restoration Certificate (ICCRC) came up with three categories of water damage, namely:
Category 1 – Fresh Water: This category consists of water that comes from water sources that might not be harmful to one's health. Category 1 water sources include broken water lines, overflowing tubs and sinks, broken appliances, melting snow or ice, broken toilet tanks that don't contain contaminants, and falling rain. Nevertheless, while Category 1 water damage might not be hazardous for human health, it's essential to note that once it has left the exit point, it might not remain clean after contacting other surfaces.
Category 2 – Gray Water: Category 2 refers to water contaminated with biological and chemical elements. This type of water can cause sickness and discomfort. Category 2 water sources include hand basins, washing machines, tubs, and showers.
Category 3 – Black Water: This type of water damage comprises highly contaminated water with toxigenic and pathogenic agents that harm human health.
Ideally, these categories were developed to determine the extent of water contamination concerning specific water damage. Understanding each category ensures a speedy cleanup, repair, and water mitigation. Thus, it's vital to know that the water damage category can escalate to a higher one if necessary actions aren't taken immediately.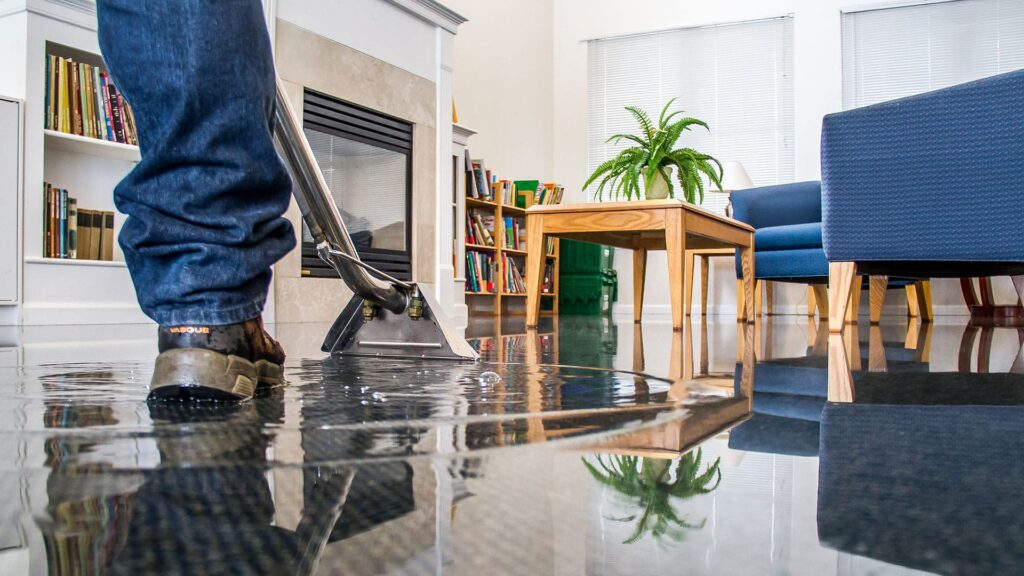 How Does Water Damage Restoration Work?
Primarily, water damage restoration is a five-step procedure. These steps include:
Conducting Water Damage Inspection –

Water damage assessment determines the water source, contamination category, and damage class. While water sources are the primary cause of water damage, sometimes it's challenging to identify the water source even after determining the cause.
Once the water source is identified and the flow is stopped, the next step is identifying the water contamination category. Identifying contamination categories helps water damage restoration specialists to understand the extent of contamination and the decontamination required later in the process.
Removing Stagnant Water Through Extraction – After conducting a water damage inspection and the water is no longer flowing, what follows is extracting stagnant water. This process is done using extractors like vacuums and submersible pumps. After getting rid of all standing water, surface water can be removed using portable wet or dry vacuums. Also, a moisture meter might be used to uncover hidden moisture behind walls or under floorboards. 
Drying And Dehumidifying Affected Areas –

Like water extraction, heavy-duty equipment is used to dry and

dehumidify

water-damaged areas. Also, windows and doors are opened to increase air circulation and additional ventilation. Nevertheless, the drying and the dehumidifying process takes longer than water extraction, especially if the water damage is rated as class three or four, and the removal of wall and floor parts is necessary.

Cleaning And Sanitizing Each Surface –

Before commencing the cleaning process, one must be in personal protective equipment (PPE) like a face mask, gloves, rubber boots, and goggles. This procedure uses an air scrubber and other cleaning equipment to make the process easy and quick. The entire property is cleaned using an antimicrobial solution if the water damage falls under category three.

Repairing And Reconstructing –

The final step of water damage restoration involves repairing and reconstructing if necessary. In some cases, the water damage is so severe that parts of the property require reconstruction to be habitable. For instance, if the wooden features of a property are highly destroyed by water, they'll have to be replaced. However, if the damage is minimal, the affected areas might only require repairing to return to normal nature.
Conclusion
No one would wish to wake up to a property invaded by water. Regardless of the source, the effect is never better. However, when it happens, you need to act fast to try to salvage the property from further damage. At this point, all there is to do is perform a water damage restoration. Depending on the damage's severity, you can leave the process to experts or do it yourself. Remember, whoever does the procedure must understand everything concerning the water damage restoration to avoid further damage.