If you own a home, you may someday want to do some renovations to it. Perhaps you're building your dream home currently and starting to think about what great finishes you can add to the property. Light switches can be a great way to add character to your home.   
It provides intricate, subtle details that can elevate your property as a whole. They can come in various designs, so it may seem overwhelming to pick the best one for your home. However, following the tips listed in this guide, you can pick the best light switches for your home.   
What Is A Light Switch?
A light switch is usually found against a wall, but there are many different styles and types of switches, and you can find them at cablepro.net.au. A light switch can directly control electric lights. You can find a light switch in almost any commercial or residential building. Some lamps also come with light switches for convenience. So, now that you know what a light switch is, how do you pick the best one?   
Consider The Installation Regulations  
When installing light switches in your home, ensure you understand your country's installation guidelines. Every country enforces its regulations and rules concerning installing light switches. 
These regulations cover factors like how far the switch should be from the floor and how many switches can occupy an area like a corridor. If you're planning on putting light switches in areas that may get wet daily, like the bathroom, observe regulations such as how far a switch can be from the shower, toilet, sink, or bathtub.   
If the switch in question is for an outdoor space, ensure it is water-resistant or placed in an area that won't be affected by the weather.   
Choose Between Three-Way Or Four-Way Switches  
Once you have understood the installation regulations for light switches in your country, you can decide if you want a three-way or four-way switch. A three-way switch is a light switch that consists of three terminals, while a four-way switch has four terminals. Four-way switches are designed to control lighting from three or more locations.   
They can be used in collaboration with Three-Way switches. On the other hand, three-way switches can control lighting from two or more locations. It can either be a stairway or a hallway in the house. An example is a switch on both ends of the corridor that you can turn in and off as you walk through.   
You should choose the light switch that can bring the most convenience to your day-to-day activities.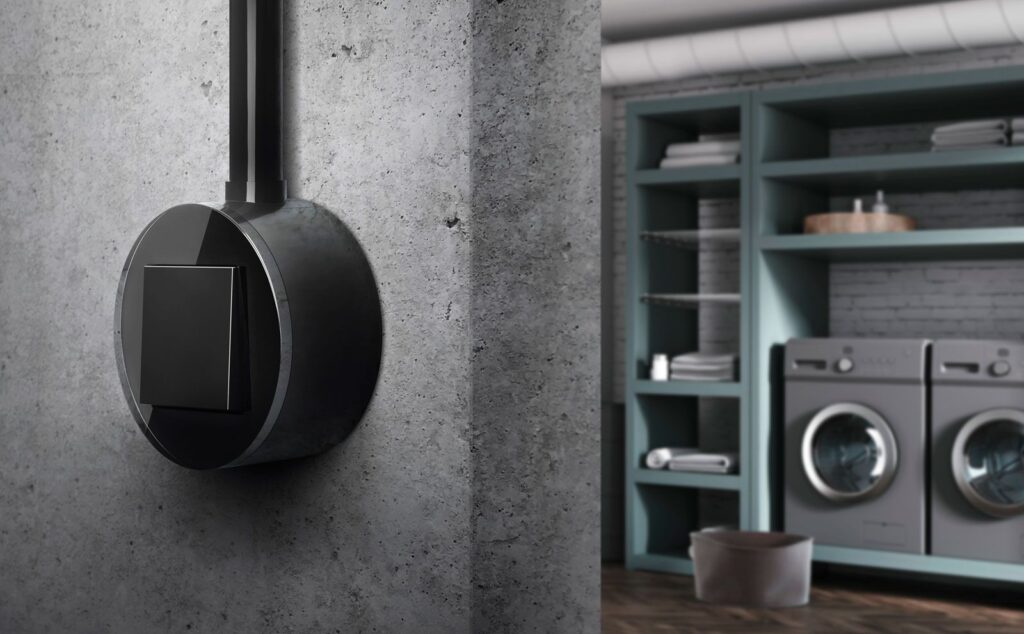 Always Think About The Safety Measures  
Before installing your new light switch, ensure the power is turned off to prevent accidents. You wouldn't want to get shocked accidentally during the installation process. As mentioned earlier, ensure the light switch complies with your country's regulations.   
You can find a professional to install the lift switch. The electrician will already know the country's regulations and can install the light switch without hassle. Take note of where your fuse boxes are located and your circuit breakers. You will have to operate them before and after installation to see if it was successful.   
Wear safety tools like gloves, goggles, and a hard hat for extra security, especially if the home is under renovation.   
Decide On The Material, Finish, And Style
Light switches can come in various materials, styles, and finishes. To make your choice a little easier, make sure you choose a light switch that suits the aesthetic of your home. You should also set a budget before choosing as some options are more on the pricey end.   
Some light switches are made from materials such as porcelain, metal, stone, or even plastic, to name a few. The switches are also available in various colors and finishes, like a full chrome look or wooden finish. If you can't decide on one, make sure you talk to the clerk in the local home supply store. They can help you with your decision and steer you to any specials or discounts the store is running.   
You don't have to play it safe; you can pick the most out-of-the-box concept for your light switch. It can add some great character to the interior of your home and can be a great conversation starter.   
Observe The Trends  
With the advancement of technology, some light switches can be controlled wirelessly as well as smart switches. A wireless switch can be installed in any house room and is compatible with most fixtures. It has a transmitter that resides inside the switch and a receiver that can be connected to the light.   
This innovation allows you to control the lights from anywhere in the house, and you won't need any wiring. Bespoke light switches have also become popular amongst homeowners. By observing the trends, you will know which styles are popular, giving you a foundation to build from if you want a custom piece made for your home.   
There are also smart switches that can be controlled with an app you download to your phone. You can integrate this app with the digital assistant you have on your smartphone. It gives you the power to control the lights in your house with just your voice, which is a very innovative method to apply to your place.   
Think About The Configuration Process   
Light switches can have two types of configurations. It can either be single or multiple configurations. And a light switch that has a single configuration can only control one light in the house. And if it has been designed for multiple configurations, it has two or more switches in its base. It means that this switch can control multiple lights in your home.  
Find The Difference Between Surface-Mounted And Recessed Light Switches  
Another factor you can consider when choosing a light switch is whether you want a recessed light switch or a mounted light switch. It can help you during the installation process. A recessed light switch is a light switch that can be installed in a hollow opening. This opening can be installed in the wall and is connected with cables and wiring that run through an integrated conduit.   
On the other hand, a surface-mounted switch can be extended out from any wall in your home. This type of switch is more prevalent in outdoor spaces as well as some commercial buildings.   
Decide On The Type Of Light Switch You Want  
There are many different types of light switches available on the market, so consider factors like the style, the function, and the light switches' ease of use. Below are the different types of lights available, and they can be either: 
Rotary light switches – these light switches work on a rotation due to a mechanism configured into its design. As it turns, you may hear a click sound when it activates.   

Push-button light switches – This light switch has a simple design and can be made from either metal or plastic.   

Pull light switch – This is a classic design, and the light is activated by the user pulling a chain or string connected to the light source.   
Talk to a professional electrician or visit your local Home Depot to learn more about the other types of light switches.   
Conclusion
By following this guide and coupling it with your research, you will be able to find the best light switch for your home. You will also ensure your safety during the installation process and be within the regulations of your country. And if you are not comfortable with the, Do It Yourself (DIY) way, you can contact your local electrician. The electrician will be able to tell you where to get parts for a discount as well as make the entire installation process easier.