Buying a home can be a magical time, and it's hard not to get excited about things like picking out furniture and painting rooms. But before all that, you need to make sure the fundamentals are sound, and it's hard to get more fundamental to your safety and well-being than electricity.
Moving in is often a good time to have major electrical work done, as it helps minimize (or at least consolidate) the disruption to your home life. If you're preparing to take possession of your new home, read up on these six common electrical and wiring tasks. They'll ensure your home is set up for success, from the wiring to the junction boxes to the circuit breaker.
Full Electrical Inspection
When you purchase a home, it's important the home receives a full inspection (whether it's you paying for it or the seller). In some cases, such as homes more than 40 to 50 years old or have had major renovations, it's recommended to get an additional full electrical inspection by a qualified electrician.
During the inspection, the electrician will do a full checkup of your home's electrical systems to verify their compliance with the National Electrical Code (NEC). The inspector will look for problems, such as:
Lack of ground fault circuit interrupters (GFCIs)
Non-grounded outlets
Outdated wiring systems
Damage from rodents
Inadequate power service
Exposed wiring
Double-tapped circuit breakers
Spotting these problems ahead of time is one of the most important things you can do to protect your property, your life and your loved ones' lives. The cost of an electrical inspection is relatively low—usually just over $100—and the risk reduction benefits are profound.
2. Changing Outlets
Outlet changes and upgrades are among the most common modifications homeowners make to their electrical systems. Common outlet modifications for new homeowners include:
Installing new outlets in rooms without enough of them
Adding GFCIs to outlets in areas like kitchens and bathrooms
Adding child proof covers to outlets
Grounding ungrounded (two-pronged) outlets
These relatively simple operations can add up, with an average project cost of approximately $100-$300, but most homeowners should still trust them to a professional rather than attempting a DIY job. An improperly installed outlet can be a major health and safety hazard in your home.
3. Adding a Dedicated Circuit
Overloading an electrical circuit with too many power-hungry devices can result in major safety hazards. That's why it's common for homes to have dedicated circuits that provide power specifically for one appliance. They're already a pretty standard feature in areas like kitchens with high concentrations of appliances, but they're increasingly showing up in home offices and media rooms, too—not to mention the garage, where electric car chargers are becoming a new must-have.
Talk to your inspector and/or your electrician about your power needs. They'll be able to tell you about the dedicated circuits your home already has and what it might take to add one. The home contractor review site Angi estimates the cost of installing a dedicated circuit at $300-$500.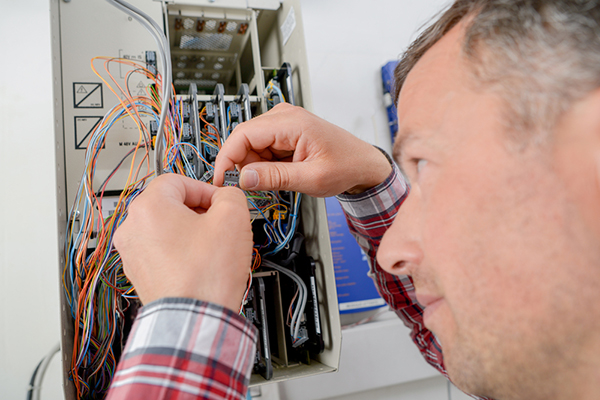 4. Replacing Outdated Wiring
Love old houses? So do a lot of people! But old houses often come with a caveat: old wiring. Electrical engineering techniques have improved a lot in the past century-plus, and older homes often feature various types of outdated electrical systems, such as knob and tube wiring and aluminum wiring.
The cost of rewiring a house varies widely with the home's age, size, condition, accessibility and a lot of other factors. But it's not going to be cheap—a so-called whole house rewire starts around $1,600 and can go well north of $10,000. Some types of older wiring can remain in a home and be used safely so long as they're maintained, so it ultimately depends on what your inspector (and your insurance company) says about the specifics of your system.
5. Adding Outdoor Wiring
Increasingly, people need a safe and reliable supply of electricity outdoors. Whether it's powering a security system, garden lighting or something else, we depend on outdoor electronic devices for many things in our lives. It makes sense to assess your outdoor electrical needs and pay an electrician to add things like outdoor outlets if necessary.
Of course, electrical safety is more important than ever when you're outside. Make sure you're taking precautions to harden your outdoor electrical system, such as using a NEMA rated outdoor enclosure for electronic devices. Because of the need to take these precautions and the general challenges of outdoor electrical work, adding outdoor electricity can cost as much as $400 per outlet or more.
6. Electrical Panel Work
Your home's electrical panel is its electrical "command center" and one of its most critical safety features. The panel prevents dangerous fault conditions in your home's electrical system. Thus, it's easy to see why you should make sure it's in good working order before moving in.
"Double-tapping" an electrical panel is among the most common panel problems homeowners encounter. It happens when multiple wires are connected to a breaker only rated to accept a single wire. The lack of space can lead to loose connections in the breaker which can be a serious fire hazard. Fortunately, a double-tapped breaker is usually a pretty easy fix, with a typical repair cost of around $200.
Some older panels also have fuses rather than circuit breaker switches. Although these aren't necessarily unsafe, many homeowners like to replace them with a modern breaker panel so they don't have to worry about replacing fuses. The cost of a replacement panel can be anywhere from $1,500-$4,000.