Are you a tenant looking forward to vacating your rental property soon? Then, end of tenancy cleaning should be your top priority if you want to ensure you get your deposit from the property owner. End of tenancy cleaning can be a very tedious task to do, but it must be done regardless; the choice of how to get it done depends on what you choose. For instance, if you reside in the British capital, you can either get it done yourself or get the service of a professional by searching online for end of tenancy cleaners London.
As a tenant, when you are planning to move out of your rental apartment, you must ensure you leave it in the best possible condition and doing this is for your benefit. Ensuring the property is thoroughly clean and tidy, and replacing damages incurred by you as written in your tenancy agreement helps to get your full deposit back.
It would be best if you planned for your end of tenancy cleaning earlier before it gets too close to ensure a thorough and neat cleaning without the impromptu rush to meet your rent deadline. Late preparation can lead to a substandard cleaning which will cost you; the property owner might deduct a large percentage of money from your deposit to do the cleaning again.
This post will share tips for effectively conducting your end of tenancy cleaning to guarantee your entire deposit.
Tips on how to get your end of tenancy cleaning done 
Before you start your end tenancy cleaning, ensure you contact the property agent and request the final inspection checklist and check-in report; the checklist will guide you on all that needs to be cleaned and also helps you to check whether your cleaning meets the standard level stipulated in the check-in report.
Hiring the service of a professional end of tenancy cleaning company would save you a lot of stress and time. But, if you don't mind, here's a list of the places to pay attention to and clean thoroughly if you must meet the final inspection standard.
Thoroughly clean the kitchen
Deep cleaning of the kitchen during your end of tenancy cleaning can be very tedious; as expected, there is much work to be done there due to the activities that take place in the kitchen. A thorough kitchen cleaning is essential because it raises the standard of the entire building. So, expect the property owner to be keen on this part.
You can start with clearing everything from the shelves and cupboards, ensure you remove the crumbs and pull out all appliances. Thoroughly wash the entire kitchen floor, scrub every angle, and ensure the cabinets, window sills, walls, and every other appliance are clean and sparkling.
Clean the tiles and windows
Make use of hot water and soap to clean the entire house floor and ensure that no part is left untouched, especially corners that abhor dirt, like underneath furniture and behind radiators. Cleaning the grout lines also gives it a professional touch which is also essential, and where the stains are difficult to remove, use vinegar and baking soda to clear them.
Also, you should ensure proper cleaning of the windows too. Before cleaning the window, dust the dirt on it with a brush or vacuum cleaner. Cleaning products like vinegar can help get rid of hard stains and dirt.
If the check-in record requires that you fix all broken panes, ensure you do so. The window seems to be the first contact that can be used to weigh the general hygiene of the house. Hence, ensure it is as best cleaned as possible.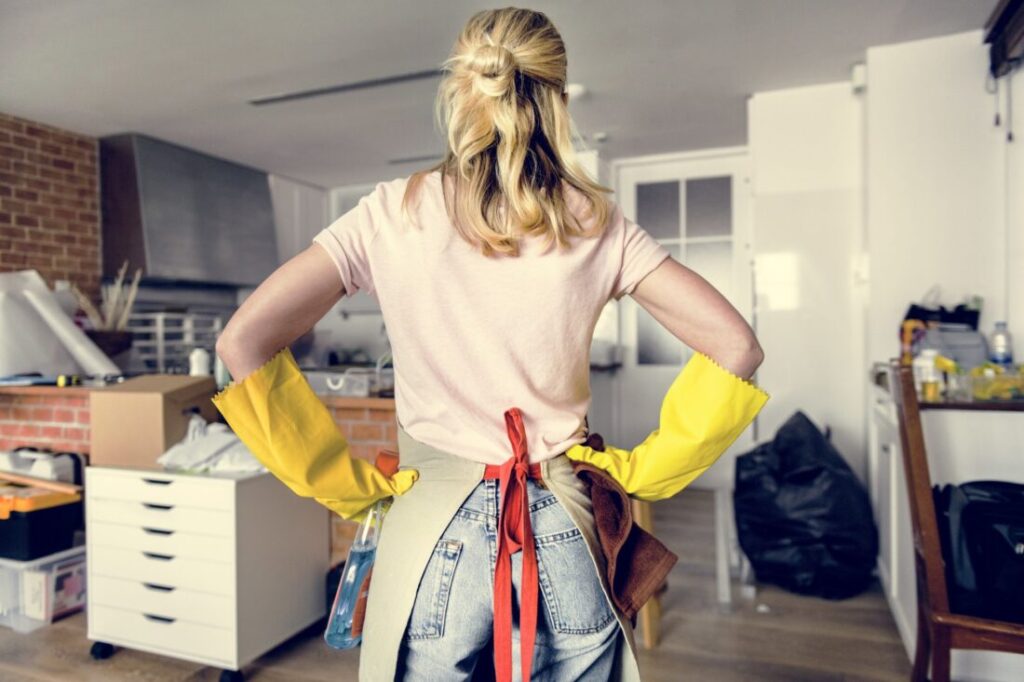 Clean the Oven and hob
Before starting, carefully remove the detachable parts and ensure they are clean to ensure you touch every part; the burners, racks, baking tray, and other surfaces must be kept clean. When conducting your end of tenancy cleaning, You should also ensure that your oven is thoroughly cleaned, both the inward and outward parts. 
An unkept oven will have grease and burnt food deposits, household dust, e.t.c. Cleaning this can be daunting and require extra effort, yet it must be done perfectly. The state of the oven is one of the significant appliances a property manager would watch out for. So, ensure you remove every rack in your oven and thoroughly wash and let it dry before placing them back.
Clean the Living room 
A dirty living room would give a wrong impression; cleaning the living room can be very time-consuming. It requires cleaning the window sills and curtains and thoroughly vacuuming the entire carpets and floor. You can use a damp cloth to clean marked spots, not to destroy your vacuum cleaner. 
The living room requires extensive clearing and dusting off the shelves and cabinets. Cleaning the furniture and dusting them well. Also, please take note of the ceiling and ensure you have it clean.
Polish the Bathroom and clean the Toilet 
Start your bathroom cleaning with vinegar and water. Pay attention to your bathtubs and showers, and clean thoroughly. Clean the outer part of the shower using a damp cloth. Ensure the drains and plug holes are not blocked and permit easy water run-off. The property owner would check how well you maintained the bathroom surfaces, so cleaning them well is essential. 
Cleaning the toilet surface and interior using vinegar is a great cleanser, after which you deodorize the toilet.
Hire a professional!
Getting the service of professional cleaners like Skycleaners to do your end of tenancy cleaning is the safest and most guaranteed way of ensuring you secure your entire deposit from the property owner. Aside from the use of special equipment that you might not have access to, and the expertise you benefit from when you get the help of professional cleaners, it also saves you the stress that comes with end of tenancy cleaning. You can get in touch with Skycleaners at 83 Drapers Rd, London E15 2AZ, United Kingdom or by calling +44 7879 101049 for a free quote.
Doing your rental property end of tenancy cleaning demands time, energy and a lot of extra effort from you, and your best can still end up substandard based on the property owner analysis. Allowing professional cleaners to do the job for you gives you less worry and more confidence knowing a professional job will be done.
Conclusion
Diligently apply the tips compiled above and save yourself from the unnecessary stress of uncertainty about getting your deposit money back. These are effective methods you can easily use, don't take chances when it comes to ensuring you get your deposit money paid by your property owners.
However, it's advisable that you get the service of a professional company to do the work for you.  You can get the help of end of tenancy cleaners London to get a professional cleaning done for your rental property if you don't have the luxury of time and energy to conduct the end of tenancy cleaning for your rental property by yourself.