If you're planning a major home renovation, you likely know there's a lot to consider, from finding the right contractor to figuring out how to go about your day-to-day life during the renovation. Keep reading for some tips to help ensure your home renovation is successful.
The success of renovation projects begins even before the work starts. In other words, it is all about how well you plan for the same. The more detailed your plan, the better will be the execution. It will also help you preplan for any problems that might or might not arise as far as the renovation work is concerned.
Create a Detailed Plan for Your Renovation
The initial step in any remodeling project is creating a plan that outlines the goal for the renovation. This includes design inspiration and an outline of the work that needs to be done. Some of the things to add to your plan include:
Sketches or blueprints for the finished project

Needs and wants for the project

Steps for the project
You need to consider local zoning regulations and what permits are required. Be sure the neighborhood is zoned for the remodel. For example, some renovations, such as a garage conversion, aren't permitted in all locations. If you plan on using dumpster rental services, you may need a permit for that as well. Experts recommend starting the planning of your home renovation six to 12 months before starting.
Determine Your Renovation Budget
Sticking to a budget is essential during any large renovation project. It's a good idea to create a contingency fund for any unexpected costs or unplanned repairs.
You should also plan on indirect renovation costs that may arise during the renovation process, such as dining out, staying in a hotel for a few nights, or other necessities. If you work with a reputable contractor, they will have a system in place to keep costs in line with the estimates they give you.
Find and Hire a Contractor
The next step in planning your home renovation is to hire a contractor and other professionals. Don't choose contractors based on the estimates on their own. When you interview different contractors, you should also consider:
Years of experience

Contracting license

Payment schedule

Certificate of insurance

References
If you plan on handling the project yourself, make sure you have the support and expertise needed to handle the job. You should also confirm that your family and friends can help when the project begins.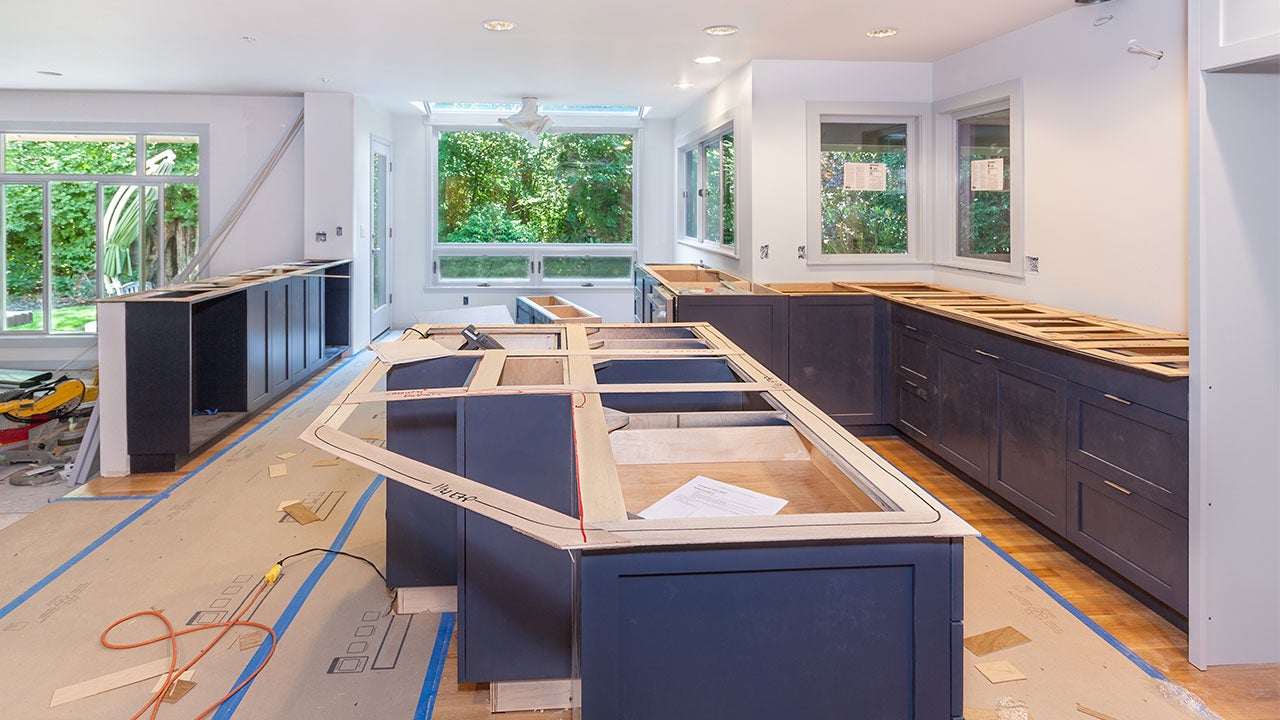 Create a Timeline
When creating your renovation timeline, be sure to consider upcoming events and holidays you want your home to be finished by. It is good to set the end date and then plan backward. Be realistic about the timeline and plan for extra time if you can. This will be beneficial when there is a delay or if more repairs are needed. The contractor you hire can guide how the season may impact your plans.
Get Rid of Clutter 
Packing and decluttering the area to be renovated is a crucial tip. Not only will this help you protect your possessions from damage, but the team you hire can work more efficiently when your things aren't in the way. If the renovation spans your whole house, think about an offsite storage unit. Putting your items in this will help ensure they stay safe and damage free.
Don't Focus On the Latest Trends
While you can gather some inspiration from trendy design ideas, they may not stand the test of time. When you are planning a home renovation, it's important to make sure you will love the finished product for a long time; you should choose timeless designs and use décor that is simple to update and change as time passes.
Plan for Your Life During the Renovation
Many homeowners want to stay at home if possible; however, it can be challenging to get through it. Sometimes, living in a home that's being renovated is uncomfortable. You must deal with dust, loud noises, and more, all in your home. Be sure to think about your routine and work with the contractor you hire to ensure a smooth transition. If you do plan to stay, create a renovation-free zone where you can go for some peace and quiet.
Endnote
There are more than a few factors to consider when it comes to a home renovation. Be sure to use the tips and information above to ensure your renovation is successful.