If you're interested in taking your passion for welding to the next level, you may want to consider a career as a welder. There are a variety of industries with roles available for those with expertise in this craft, from pipeline work for an energy company to aerospace construction for the likes of Boeing and Lockheed Martin. To get started, you'll need to complete a specialized certification program to ensure you have the skills and expertise necessary for using all manner of welding equipment and supplies. From there, you'll usually have to complete an entry-level apprenticeship to gain hands-on experience in welding within a professional environment. But first, you'll need to decide if a career in welding is the right fit for you. 
What Industries Hire Welders?
Welding influences several key industries in the United States, which means there are plenty of work opportunities that merge your interests and passions with your trade skills. Welding influences the success of commercial and residential construction projects, plays a part in the industrial production process for many products, and ensures the successful delivery of essential energy resources. Roles in welding are available almost anywhere in the country, though they are often on offer in disproportionate numbers in Michigan and Texas. 
Natural Resources & Energy Companies
Pipeliners and welding engineers play an essential role in delivering energy and natural resources for the American economy. The pipelines and drilling projects associated with this industry require professional welding support, offering stable yet versatile positions for well-trained individuals. Ensuring an energy company's pipelines are well-maintained and secure can also help to reduce the chances of an environmental disaster, such as an oil spill. 
You'll also need to weld support structures for these pipelines, perform hot-tapping procedures, and may be responsible for overseeing welding processes on land or at sea within this industry. You'll need a close understanding of how to maintain and safely execute all manner of welding projects, many of which may occur underwater. Experienced welders can earn more than $100,000 per year, though the median pay for welding at an energy company is usually closer to $65,000 per year.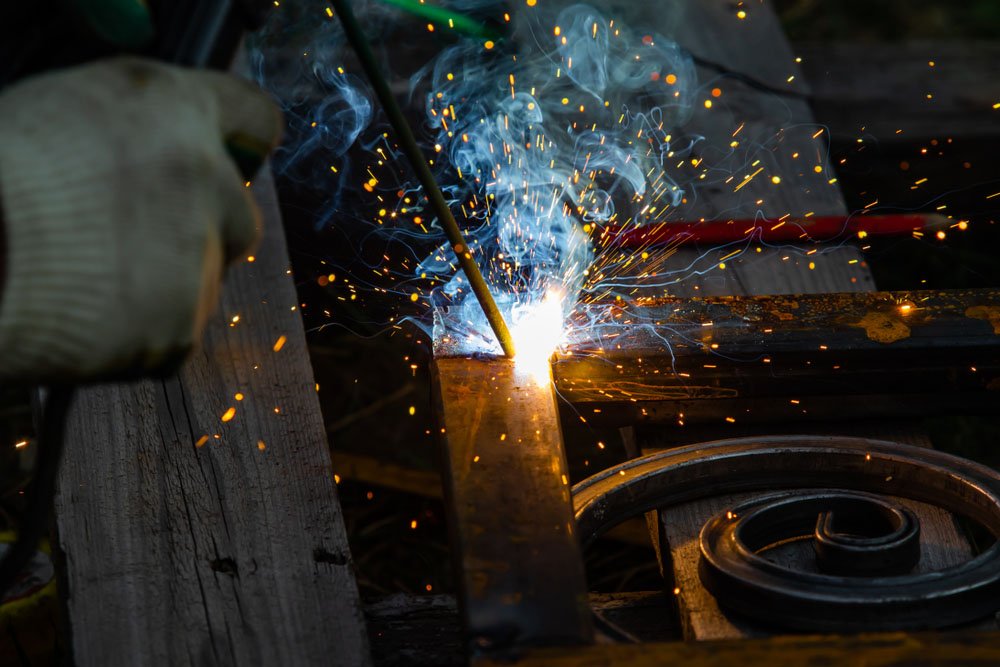 Automotive Production
Welding is a crucial process for combining automotive parts, and as such, there are many careers available that use welding for the construction and maintenance of cars. Auto body technicians may use welding to perform repairs for the car's structure to ensure that it's safe to drive, particularly after an accident. In an automotive factory setting, you may need to use welding to create metal components of the vehicle that serve both a functional and decorative purpose. You'll need close attention to detail for welding roles in this industry to ensure that you're complying with the manufacturer's blueprints and design specifications. 
Construction and Infrastructure Building
Welding together metal components is often an essential process for building new public and private infrastructure, from bridges to office buildings. The applications of welding vary significantly within this industry, so there's usually plenty of room for finding a career that suits your expertise and passion. Welding within the construction and infrastructure industry offers chances to work on all manner of government projects, to improve your local and national community. 
If you're looking for a higher-level role that still involves welding, you may want to consider searching for career opportunities as a welding engineer, welding supervisor, or welding inspector. Each of these roles is an essential part of the construction industry, ensuring quality in technical construction for all manner of buildings, bridges, and dams, from the smallest details to the larger design applications. 
Aerospace Welding
Building a commercial, military, and private airplane requires considerable welding expertise. The pressure changes and reliability requirements for aircraft make high-quality welding techniques essential to successful construction. The aerospace industry hires all manner of welders, including those specializing in MIG, TIG, and SMAW welding. Orbital welding is particularly important for airplane construction, from the smallest details to the largest engine components, particularly on the wings and tail fins of the vehicle.
Becoming a Professional Welder
Welding careers offer you the opportunity to turn your passion for creating welds into a reliable career. There are a variety of industries and large construction companies that prize highly-skilled welders who are a master of their craft. To become a professional welder, you'll first need to complete a comprehensive education and certification process. 
Selecting A Career Based on Your Expertise and Interests
Before you even begin searching for welding training and certification programs, you'll need to identify the industries you're interested in and the type of welding you'd feel comfortable doing on a daily basis. MIG and TIG welding might be something you like doing for creative purposes, but you'll need to make sure these are a good fit for you in terms of your career, not just as a hobby. A careful research process will yield plenty of insights into what a career in welding could look like for you.
Finding a Certification Program
Once you've selected a career pathway that matches your interests with your expertise, you can begin searching for a certification or education program that aligns with the work you're looking to obtain. Certification programs for aerospace welders and welding engineers will look completely different from underwater or pipeline welding. There are plenty of general welding certifications that can be useful in obtaining an entry-level job, but they often lack the specialization necessary for making welding a viable long-term career. 
Apprenticeships and Entry-Level Work
As a part of your welding education, you'll usually need to work in an apprenticeship or similar entry-level position before you can proceed to work in a full-time role. Apprenticeships allow new professional welders to get hands-on experience related to their recently acquired certifications, ensuring that they have the technical skills and proper attention to safety procedures necessary for working with plasma torches, welding machines, and other similar welding equipment.