Home staging can make all the difference when it comes to selling a house. It's essential to create an inviting, visually appealing space that captures the imagination of potential buyers and helps them envision themselves living there. To that end, we've compiled a list of some top tips to create the perfect atmosphere for selling your home.
Declutter and Depersonalize
First impressions are everything. So, before anything else, decluttering and depersonalizing are essential. Remove family photos, collectibles, and unnecessary items to create a clean, neutral space. This allows potential buyers to picture themselves in the home, rather than feeling like they're intruding on someone else's life.
Emphasize Functionality
Functionality is key when it comes to staging. Ensure every room has a clear purpose, and avoid cramming too much furniture in one space. Keep a dining room as a dining room, and a bedroom as a bedroom. Remove any items that don't align with the room's purpose to create a harmonious flow.
As you complete the staging process, you may be eager to list your property and sell it as soon as possible. If you're in the Fort Worth area and need to sell quickly, you can use services like Sell My House Fast Fort Worth to expedite the process and find potential buyers more efficiently.
Maximize Curb Appeal
The exterior of your home is just as important as the interior. Ensure your lawn is mowed, add mulch to flower beds, and plant seasonal flowers for added color. Paint or clean the front door, replacing any old or tarnished hardware. A warm and welcoming entryway goes a long way in setting the tone for the rest of the home.
Add a Touch of Nature
Bringing natural elements into the home creates a sense of warmth and comfort. Adding a few indoor plants or flowers can breathe life into your space. Pair this with opening windows during showings to allow fresh air and natural light to fill the room, creating an inviting atmosphere.
Refresh with Paint
A fresh coat of paint in a calming, neutral color can do wonders for a room. Choose colors like beige, light gray, or greige (a combination of gray and beige), which provide a clean backdrop for potential buyers to visualize their own furnishings and decorations in the space.
Update Lighting
Good lighting plays a major role in home staging. If needed, replace outdated light fixtures with modern ones and add floor lamps to brighten dim corners. Ensure all bulbs are working and use warmer, soft-white bulbs for a cozy feel.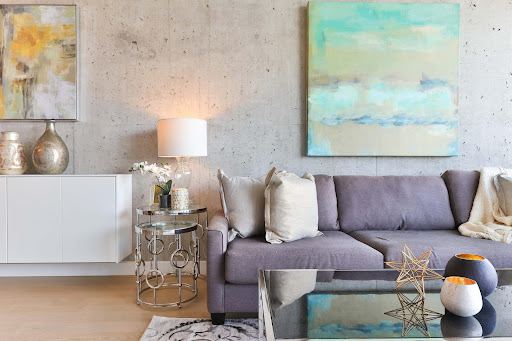 Optimize Bedroom Comfort
Create a relaxing bedroom environment by using crisp, clean linens and neutral bedding on all beds. Showcase comfortable, fluffy pillows, and consider adding a cozy throw blanket folded at the foot of the bed. Ensure everything looks inviting, allowing potential buyers to imagine themselves winding down and enjoying restful nights in their new home.
Organize Storage Spaces
Potential buyers often pay close attention to storage spaces, such as closets, pantries, and cabinets. Take time to organize these areas, removing excess items and ensuring everything looks neat and tidy. This will demonstrate that your home has ample storage and can accommodate the buyer's belongings as well. 
Set the Stage for Entertaining
Help buyers envision themselves hosting by setting the stage for entertaining. In the dining room, set the table with attractive place settings, a centerpiece, and fresh flowers. In the living room, arrange furniture to encourage conversation and include a few well-placed throw pillows and blankets for added coziness.
Enhance Outdoor Living Spaces
Don't forget to stage your outdoor living areas, such as patios, decks, and porches. Add comfortable, clean outdoor furniture and accents like outdoor rugs and cushions to create an inviting space for entertaining and relaxing. If possible, set up a dining or sitting area outside that showcases the potential for outdoor living at its best. 
Conclusion
Home staging can be instrumental in selling your home faster and possibly at a higher price. By decluttering, depersonalizing, and accentuating your home's best features, you can create an appealing and inviting atmosphere that wins over potential buyers. Remember, less is often more, and the ultimate goal is to make the buyer feel at home in your space.