Designing the perfect bedroom can be a daunting task, especially if you're on a budget. But fear not, with a little creativity and planning, you can create a beautiful and functional space without breaking the bank. In this article, we'll explore five key areas to focus on when designing your dream bedroom on a budget.
Let's discuss how to determine your budget and priorities for the room. This will help you make informed decisions about where to allocate your funds and what elements of the room are most important to you. Next, we'll look at how to assess your space and determine the best layout for your bedroom.
We'll also explore creative ways to save money on decor through repurposing and DIY projects. And, we'll provide tips on where to shop and what to look for when it comes to affordable bedding and linens. Finally, we'll discuss the importance of lighting and how to create ambiance while still saving money. By following these tips, you'll be on your way to designing the perfect bedroom on a budget.
Determine Your Budget And Priorities For The Room
The first step to achieving the perfect bedroom design on a budget is to determine your budget and priorities for the room. Examine your finances, be realistic, and create a detailed construction budget that includes all necessary expenses. This will help you avoid overspending and allow you to allocate funds appropriately.
To stay focused on your priorities, decide what's most important to you in terms of room functionality and comfort. For example, if you're someone who enjoys reading before bed, prioritize comfortable seating options or good lighting for reading.
When working with a limited budget, it's essential to afford quality pieces that will last. With a $5000 budget, consider investing in a high-quality mattress and bedding set that can help improve sleep quality. Upgrade pillowcases for an affordable shabby chic look but still prioritizing comfort.
Adding colorful accessories is another affordable way to update the look of your entire bedroom space without major renovations or huge expenses. Consider accent pillows, throw blankets or rugs with colors which match well with aesthetic elements of the room such as wall color or furniture choices.
Assess Your Space And Determine Your Layout
When designing your bedroom on a budget, it's important to assess the size of the room and identify through-ways and internal doors. This will help you determine the best layout for your space. Take into consideration where to position the bed as it will have a big impact on the flow of the room.
To improve safety and flow, make sure to keep areas clear of clutter. Refine your design by taking time to think about what is truly necessary in your bedroom. Use online design tools or customize your room's dimensions and furniture layout before making purchases.
Consider using inexpensive alternatives for storage solutions, such as recycling wooden pallets or crates for shelves. Switching up the current bedroom layout can also make a huge difference in creating a fresh look for free.
Repurpose And DIY: Creative Ways To Save Money On Decor
Decorating your bedroom on a budget can be challenging, but with a little creativity, it can also be fun and rewarding. One great way to save money is by repurposing and DIYing decor items. For instance, if your landlord doesn't allow you to paint your walls, consider using removable wallpaper that you can paint instead. This will give your room a new look without violating any rules.
Another idea is to hang something unconventional on your walls to add interest and personality. For example, you could use vintage plates or hats as wall decor or create a gallery wall with family photos or artwork. The key is to choose items that are unique and meaningful to you.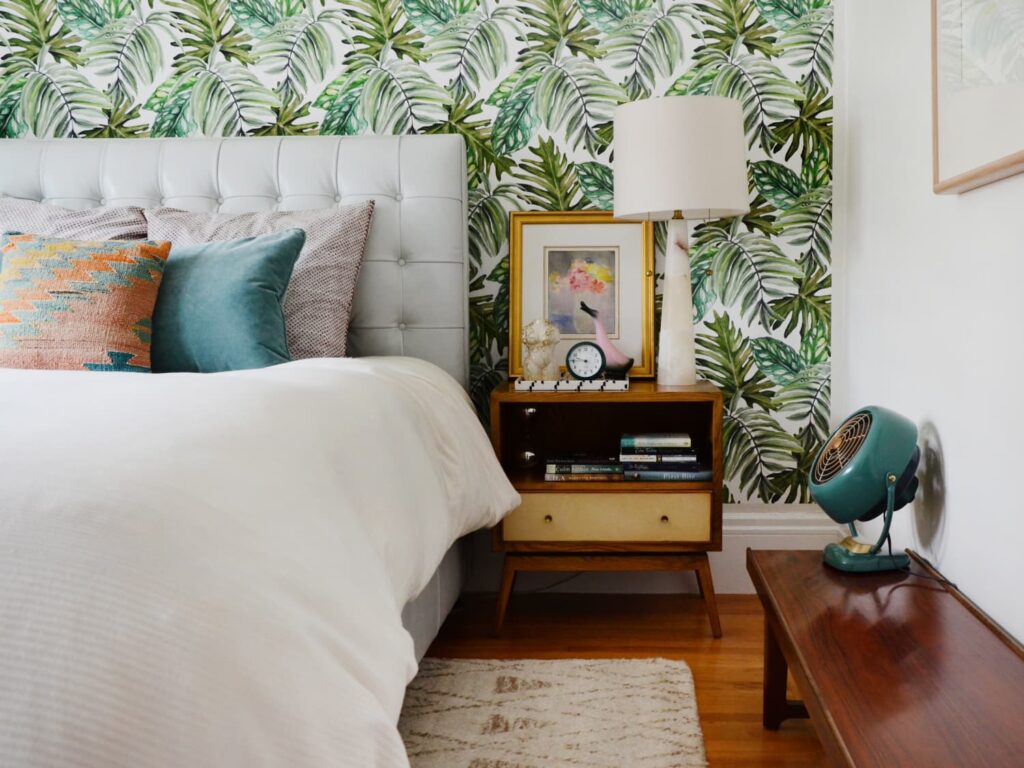 When it comes to the bed headboard, there are many creative ideas that won't break the bank. You could use an old door or window frame for a shabby-chic look or create a DIY headboard using fabric or wood panels. A simple and affordable option is to place decorative pillows against the wall instead of using a traditional headboard.
Affordable Bedding And Linens: Where To Shop And What To Look For
Creating a dream bedroom doesn't have to break the bank. One way to transform your space is by updating your bedding and linens. Neutral colors such as whites, grays and beiges can add ambiance to the room without overwhelming the space. Look for affordable options that won't sacrifice quality or ethical practices. This guide: orezon.co/blogs/home-decor/what-to-look-for-when-buying-organic-bedding-guide sheets covers options for bedding made with ethical and sustainable practices.
But if you're on an even tighter budget, consider painting your old furniture instead of buying new ones. Paint can refresh and update outdated pieces while still keeping within your budget. Clearing clutter and deep cleaning also provides a refreshing feel to free up some space in your bedroom.
When looking for affordable bedding options, don't forget to take into account the style of your current furniture. Choose linens that harmonize well with existing pieces for a cohesive look. Luckily, bedding doesn't have to be expensive – there are plenty of cheap but stylish sets out there that will make an impact on the overall aesthetic.
Lighting: How To Create Ambiance And Save Money
Lighting can play a crucial role in creating ambiance in your bedroom. Not only does it set the mood, but it can also highlight key pieces of decor and even save you some money on utilities. Start by considering the workhorse of your lighting – the nightstand lamp. Choose one that matches your overall style and provides ample light for reading or getting ready in the morning.
For a decorative touch, consider incorporating oversized lamps to make a statement piece in your room. These can add personality to an otherwise plain space while still serving their practical purpose. Mix and match different types of LED lights to achieve a unique look that reflects your personal taste.
If you're working on a budget, consider energy-saving options like Energy Star certified lighting. Not only will this help you save on electricity costs, but it's also better for the planet. For ceiling fixtures, try installing a flush-mount option which is both lovely and functional.
In summary, there are several ways to create ambiance through lighting while saving money at the same time. Whether through choosing statement pieces or energy-efficient options, upgrading your bedroom lighting can completely transform how you feel in this intimate space without breaking the bank.