Are you dreaming about outstanding design in your home or office? So let's figure out how to do it. Without any doubt, LED Profiles will help achieve your dreamed look. They are made of high-quality aluminium, which makes them perfect for mounting LED strips. Nothing can replace the way they create the ambience. Thanks to their availability in different shapes, they can be easily fitted practically everywhere you want. If you are not experienced enough to install LED Aluminium Profile, no worries. In this article, you will get helpful advice and after reading you will have no problems with the installation. Find out more!
What stands LED Profiles out?
LED Profiles, besides being an enormous protection for LED strip lights in your house, are also a perfect choice to create professional installations. By reducing the LED spotlight and diffusing the light, they provide a softer lighting effect. In addition, they play the role of a heat sink which helps to dissipate the heat generated by the LED strips. But these are not the only advantages of the LED panels, let's have a look at the others:
Fixed light line

– the continuous line of light effect results in LED strips being an excellent substitute for fluorescent lamps. Mainly due to the energy efficiency of LED lighting.

Diminished glare

– glare is hugely detrimental to the eyesight. By installing LED strips in an aluminium LED profile, it is possible to achieve a softer light and protect the eyes.

High protection

– protection of the strips with a LED profile with an opaque diffuser will protect the circuits from accidental impacts. It is particularly favoured in areas such as children's rooms or clubs. Having a profile will reduce damage and extend the lifespan of the lights.

Variety of possibilities

– LED profiles are widely accessible in a wide range of styles and applications. They can be surface-mounted practically anywhere, whether on ceilings, walls, floors, or anywhere else.

Compelling final result

– with these profiles, a professional finish is guaranteed, which would certainly be unlikely and unattainable with an ordinary light strip.
Most common places of installation
The range of installation's places is unlimited, however we would like to give you a full list of the best locations that for sure takes the breath away. The most popular ones, which will make you feel as if you were in a beautiful dream or fairy tale in any place you want, are:
kitchen cabinet or panels

glass shelves

shop windows

walls and ceilings

furniture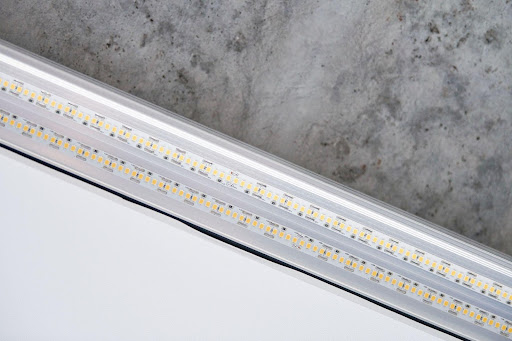 What does the installation look like?
LED profiles are mainly mounted on the ceiling. Not only do they act as main lighting, but also take your inside decoration to the next level. It's also worth highlighting that, thanks to being made of high quality anodized aluminium, they are perfectly resistant to scratch, extremely durable (which makes it a major advantage for your wallet) and exceptional design that will please your eye. What's more, a big variety of colours allow you to blend them in any place you want. No matter what the place and your preferences would be.
When it comes to the process of the installation itself, it is rather simple and there are neither obstacles nor problems while mounting. The profiles can be easily installed by attaching the strip to the aluminium plate with an adhesive backing on the strip. Then the profile can be fitted by screwing it onto the back or by using fixing clips. Mounting brackets and end caps are the best and solid security for these LED lights. Do you see how straightforward it is? You don't need to hire a professional company, you can do everything yourself in a way that is both effortless and comfortable for you, regardless of your skills.
Highly recommended LED strip profiles at your fingertips
Furniture LED Profile –

used especially for decorative lighting in offices or homes. Thanks to the small height and the flat cover, this profile makes the impression of a very discreet fixture for LED strips and tapes. In addition, this decorative element is perfectly suited for backlights in furniture and interior decorations.

Recessed LED Profile –

perfectly suited for lighting the kitchen, particularly to lighten shelves and countertops. Therefore, it is an ideal element of decorative backlights in furniture and interior decorations.

Glass LED Profile –

it is the best choice for lighting utility rooms and homes, especially spectacular when used for lighting niches and shelves. Undoubtedly, this LED profile is regarded as one of the most minimalist and modern designs, especially for its atypical structure and high-quality of execution.

Corners LED Profile –

this LED panel is mostly chosen for lighting kitchens, closets, and stairs. It can also be used for various lighting angles.
Summary
Nothing can provide you more professional finish in your bedroom, living room or kitchen than LED aluminium profiles. Bet on the energy efficiency, reliability, and magic that you get from this installation. Choose the aluminium LED profiles that best suit your requirements and can make the effects you want to achieve. As you already know, the installation itself is a piece of cake, which you can handle without the slightest problem. Browse through the full range of products and pick your favourite one!