As a homeowner, you have a lot of responsibilities in your hands. From plumbing, gardening, and even managing the bills—all these must be looked after. Neglecting the upkeep and maintenance of your property can quickly spiral into a variety of problems. The next thing you know, you might be dealing with pests, mold, or a crumbling roof.
If you're living in a country that experiences four seasons each year, you have to make preparations for each season. Extreme cold, for example, can bust your pipes. And whenever summer is around the corner, you might want to check your cooling system and ensure it's efficient in keeping your home cool and comfortable throughout the hot season.
As a homeowner, these changing seasons are only one of the many challenges you'll encounter down the road. Considering they influence your home's comfort level, staying on top of them must be a priority. 
With how demanding warm seasons can be, you must learn to keep your home cool—especially if you just moved into a new home. Below are some tips on how you can keep your new home cool and comfortable:
Invest In Smart Technology
Having a heating, ventilation, and air conditioning (HVAC) unit installed in your home is a must, especially when dealing with changing seasons throughout the year. Not only does it regulate indoor temperatures, but it also manages the air quality inside your home. Therefore, even in the middle of pollen season, everyone indoors won't be affected due to a high-quality HVAC unit overlooking everything. And with AC installation added to the mix, you're guaranteed to feel cool and refreshed even at the peak of summer.
However, leaving your AC working 24/7 might be the last thing you want to do. Admittedly, doing so would cool down the entire house. But on the other hand, there's no doubt that your electric bills will skyrocket at the end of the month. Unless you're utilizing renewable energy, powering a whole-house AC unit gets expensive fast. Fortunately, this doesn't mean you should cross out HVAC units as a solution.
Instead of managing the unit yourself, consider investing in smart technology. Since you're already familiar with smartphones, convenience is a quality smart technology put into practice. With the internet, you can access your HVAC, whether inside the house or while on the go. 
Furthermore, smart home technology helps you stay on top of everything, particularly the latest news about the weather. Through smart technology, your HVAC unit can automatically adjust according to the temperature outside. This way, you'll come home to cool air after staying out all day in the sun. Aside from that, this helps your unit to be more energy-efficient
Despite a smart home system, that doesn't mean you should not let in some fresh air inside. Instead of solely relying on technology, consider letting nature do its thing and pop open your windows. It's best to do this when the weather is clear, fine, and breezy. This is also the perfect time to let your HVAC unit and smart home system rest. Doing so allows you to be much more efficient on your electric bills. 
Install Blinds Or Curtains
Your home will be exposed to certain amounts of sunlight. If part of your home faces the east, where the sun usually rises, then that part will have to absorb more heat and sunlight. This is not much of a problem except during summer when the heat becomes unbearable. To keep your home cozy and comfortable, you can install blinds or curtains that can add style and function to your home.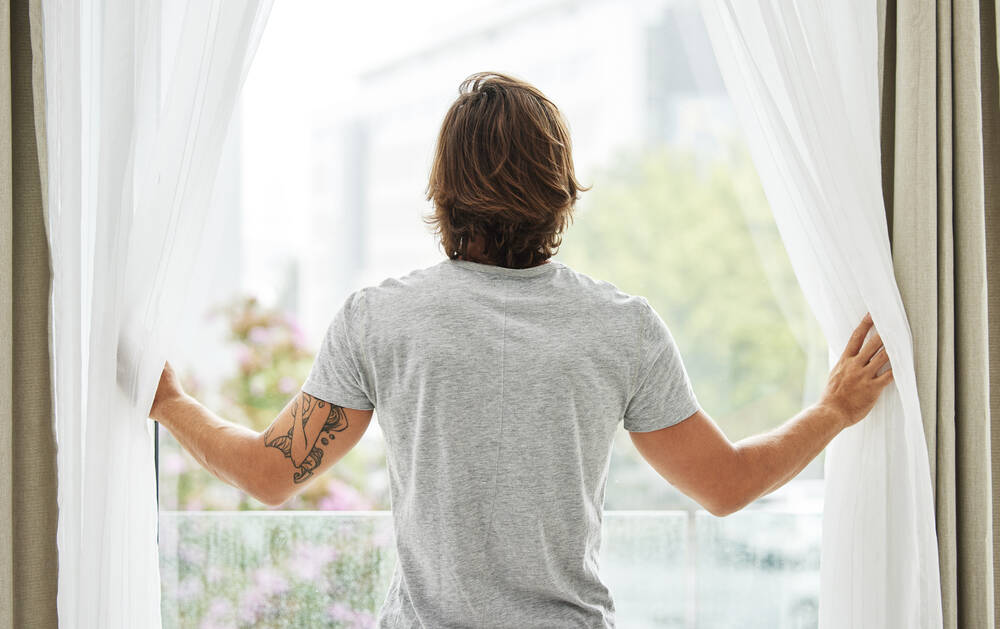 Blinds and curtains can help block sunlight and keep indoor temperature as low as possible. Even if the room is located at a lower level, you can still use blinds and adjust the coverage whenever needed. 
If you prefer something that can fully block sunlight and absorb heat, dark-colored curtains are the best option. But if you want to allow a bit of natural light into the room, then it's best to install window blinds instead.
Colors have a way of eliciting different types of moods, and they can also bring a certain vibe to any room. The color you choose for your new home will affect how it absorbs heat. For example, darker colors tend to absorb more light—making your home retain more heat. Lighter colors, on the other hand, don't absorb much heat. So, make sure to keep this in mind when you're choosing color schemes for your house. Choosing soft and neutral colors is best, especially if you live in a relatively warm area.
Add More Plants To Your Property
Having plants around the property is a great way to give your house more appeal. Best of all, plants can keep your home cool and comfortable—mainly because they can provide shade and absorb heat efficiently. 
Aside from that, plants can offer a better and more refreshing view of your property. If you have an interest in gardening, this is the perfect opportunity for you to try growing various types of plants that can offer more shade and absorb heat from the walls of your home. Some of the plants you could consider are Snake Plant, Ferns, and the Rubber Plant.
It's important to note that adding live plants to your home will require care and maintenance. Whether you're adding plants indoors or outdoors, each type of plant will require some level of care to grow and stay alive. So, before adding more plants to your property, make sure you can allot enough time and effort to grow them properly.
Takeaway
It can be challenging to keep your home cool and comfortable, especially during the warm season. It's also a big deal if you're living in a tropical area. After all, there's only so much your HVAC unit can do before it ends up getting overworked. 
Fortunately, many solutions are available to keep your home cool. These solutions can be as simple as installing curtains and blinds, or they may involve advanced technology such as smart home systems.