Every coffee enthusiast wants every cup of coffee they drink to be exactly the way they like it. That's why many want their own coffee machine — or, better yet, an entire coffee bar! Now that you're finally ready to add a coffee station to your home, here's a guide so you can start designing your fun caffeine-filled adventure.
Decide A Space
Are you thinking of setting up your coffee station in the kitchen? If you have the space and available cabinets, it's actually going to be pretty convenient as well as budget-friendly. But if the kitchen doesn't feel right, lots of people turn their spare closets or house nooks into coffee bars.
Don't worry if that's not an option for you, because first you need to find some empty space in your house. Starting from scratch gives a lot of room for creativity anyway. After all, if you set it up in your kitchen, you'll have to make sure that there's enough counter space and a power outlet nearby. Whatever place you choose for your home coffee station, make sure that it doesn't get too much sunlight since we don't want your coffee beans warming up.
2.  Here Comes The Furniture
While some people get a coffee cart for their station, it's recommended to opt for a sturdier option. You don't want spills or mugs falling over because of someone accidentally bumping into the cart. Try looking at new cabinets to store different coffee jars, mugs, and treats. You could even get a few floating shelves if you need to use up more space. You might also want to add a stool and a round table so you can sit there to read a book after you've made your coffee.
3.  Decorate The Wall
A coffee station is anything but boring, so why should the wall behind it be? A recurring decor theme that blends really well with a coffee station is chalkboard. You can turn the entire wall behind your station into chalkboard, or even just a part of it. This can easily be a fun DIY activity for you, maybe even ask your partner or kids to join along. Chalkboard walls are great for writing grocery lists, reminders, inspirational quotes and making cute doodles. But if that's too risky for you, you can always just purchase a chalkboard and hang it on the wall.
Wallpapers are also a great way to make your coffee bar more aesthetically pleasing. You can choose a brick wall design or some vintage ones to add a touch of period drama. Hanging a coffee-themed apron on the wall is also a cute look for a home coffee station. Not to mention, it makes it easy to find the apron when you really need it.
4.  Bring It To Life With Some Plants
Get some indoor plants, so you can enjoy the aroma of your coffee mixed with the freshness of nature. You could either place some pots on the shelves or on the floor beside the cabinet, cart or counter. Make sure your plants don't need much sunlight, because while it may be good for them, it's not for your coffee. If you're not sure about which plants to use, you could play around with vines and decorate them around your shelves or wall hangings.
If you're worried that you might not be able to tend to your plants, go for low maintenance ones like succulents, snake plants, and spider plants. Or if you just want the aesthetic, there's no shame in adding a few fake plants!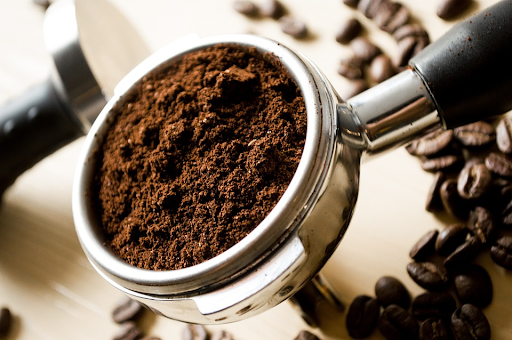 5.  Don't Forget To Stock It
Of course it can't be a coffee station without any coffee, but you'll need to stock up some more ingredients as well. Here's a list to make it easy for you when you go grocery shopping:
Coffee beans or grounds
Sugar (white/brown)
Tea bags
Tea leaves/powder
Decaf beans or grounds
Hot cocoa
Vanilla syrup
Caramel
Cinnamon
Creamer
You might also want to make your own syrups at home. If you do, don't forget to store    them in an air-tight container in your fridge.
6.  A Barista's Toolkit
You'll need a few tools to make that amazing coffee everyday, like a coffee machine. But if you're saving up for a really cool one, you could use a kettle instead. Keep a bowl so you can pour in the boiling water over your coffee. You might also need a coffee grinder if you're going to use coffee beans a lot. Getting coffee filters is a healthy decision since they get rid of the oily substances in coffee. You can also use paper towels or napkins if you ever run out of coffee filters.
You'll also need canisters for all the dry ingredients. This is where you can get creative and draw or print labels for each ingredient's canister. Let's not forget that you'll need a bunch of mugs. Try to choose mugs of different shapes, sizes and even colors to make your coffee station more exciting.
7.  Light The Ambience
Nothing sets the mood like proper lighting. If you have a floor lamp, try placing it beside your coffee bar and see how well it goes. Neon signs make for a popular choice when it comes to creating lively and personalized spaces. You can even get a high quality custom neon sign from Radikal Neon to match the rest of your home's look. Customize it with a coffee-related design or an iconic quote about your love of coffee. Whatever sign you choose, your coffee station is bound to look inviting.
After this article, you're more than prepared to embark on your barista adventures at home. Getting your own coffee station will lead to many relaxing opportunities as well as intimate moments with friends and family.