In the U.S., people are buying more homes than they have in over 14 years. If you decide to take advantage of the trend and sell your home, it is important to know how to stage it like a pro. There are many things you can do to make your home attractive to a buyer that take some work but very little money. 
The top reason to stage your home is to create space where the buyer can visualize themselves in your home. Any real estate agents will tell you that the process works! In the 2019 Profile of Home Staging, a report by the National Association of Realtors (NAR), it was cited that staging increases offering prices by one to five percent. 
Here are some top tips for Staging your home like a professional: 
Clean Everything
This is the number one tip for preparing your home for sale. Clean everything including ceilings, blinds, appliances, fans and baseboards. You want your home to sparkle and gleam when the prospective buyers tour it. 
Declutter Everywhere
Clutter is distracting to a buyer and tends to make a house look cramped, not roomy. 
First, get rid of items you don't need anymore like toys and clothes your children have outgrown. Second, rent a self storage unit and box up anything you don't need on a regular basis. This would include heavy winter clothing, seasonal decorations, bulky toys or hobbies and collections. 
Add Fresh Touches
New healthy plants in pretty pots make a home seem inviting. Use citrus-scented cleaners in your kitchen and put lemons in your garbage disposal to freshen it. If you smoke, remove all smoke smells and begin smoking outside only. Use a diffuser in a few rooms to add a fresh scent of essential oils to the air. You want the scents to be light and not overpowering. 
Remove Personal Items
This tip may seem unusual but remember the goal is for the buyer to see themselves in the home. It is important to remove family photos, clothing, and kids toys so the potential buyer is not reminded of the current owners. You want them to be picturing their belongings in each room. Clean off bathroom and kitchen counters showing how much space is available.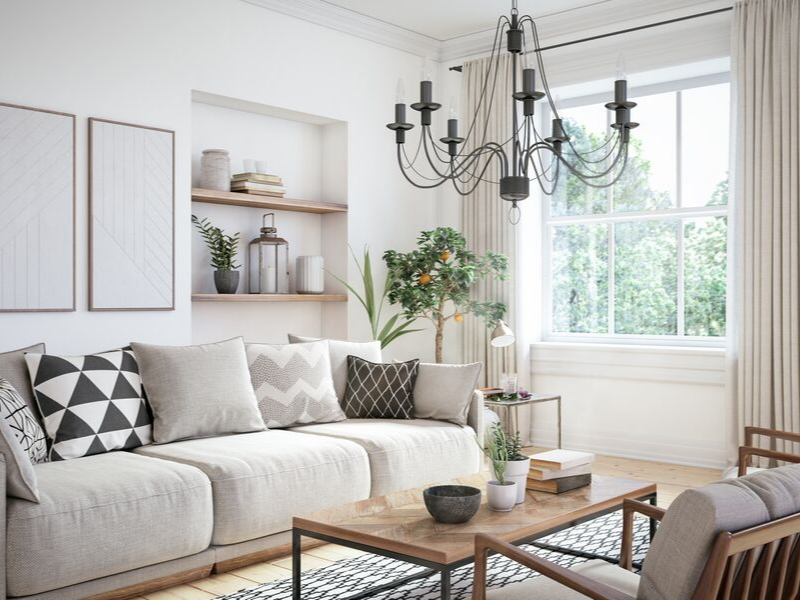 Remove Pets
Even though pets are a part of your family, they may not be a part of the potential buyer's life. They may have pet allergies or seeing pet gear may make them wonder if there is damage due to the pet. There should be no signs of pets when the house is shown. All pet food, bowls, toys and odors should be removed. 
Increase Lighting
One of the top things potential buyers notice is the light in a home. If it is dark in spots, that is a turn off. Make sure you have new light bulbs with bright light, clean windows, and open curtains. The lights should be on and ready when a showing is set to take place. 
Go Neutral
It is common for people to have a hard time envisioning different wall colors, furniture or flooring in a home. Where possible, paint rooms a neutral color. You may love your chartreuse accent wall, but a buyer may not. Also, if you can remove bold wallpaper and paint the walls neutral, it will help sell your home. Don't spend too much money on this part of staging. You do not want to put a big investment in the home you are about to sell. If you can, do these changes yourself. 
Take Care of Small Repairs
If you have a leaky faucet or toilet that sounds like running water, take care of these issues. Any small repairs you can do yourself are important to properly staging your home. 
Check the Exterior
Make sure your lawn is mowed and landscaping is trimmed, so that the exterior of your home looks neat and inviting. You may want to add some blooming plants at the entryway of your home and on the back patio or deck. Think about the overall curb appeal of your home and make adjustments accordingly.  If you have any work done that involves driving on the lawn, make sure they utilize road mats.
Add Special Touches
On the day of an open house or showing, add some flowers in a vase, open your home for about 10 minutes before letting in fresh air. Light some candles or turn on the diffuser making sure the scent you have chosen is light and airy not overpowering. Set the dining room table and add new fluffy towels to the bathrooms. All of these touches will be inviting to your potential buyer. 
Staging your home may seem like a lot of work, but it is an investment which will pay off. Your offers will be higher, and your home will potentially sell faster. You want to stage your home with broad appeal to a variety of buyers. Lighting, neutral colors, decluttered spaces and fresh touches will appeal to all buyers.