Kitchen's these days are no more a dull area where just meals for the day get done. People have started to show just as much importance to the kitchen as they do to other rooms inside their home. They are more personalized, eclectic and follow a theme making it a place anyone would love to enter. A good kitchen will give you the drive to go far beyond just a simple two minute meal to a gourmet delicacy without having to break too much of a sweat.
You'll have many things to consider when working with a new kitchen such as layouts, cabinets, and other jargon that could very possibly seem like a lot to take in at first. The following pointers should help ease your mind a bit and give you a rough idea of how a kitchen is designed. We'll start off with the design layout to give you the best functionality of the kitchen space, then move on to the furnishing and styling elements you can incorporate, and finally conclude with adding your personal touch.
Start With The Layout
Before you start browsing through different catalogues trying to decide what you will buy for your kitchen you need to be aware of the complete layout. There is a common kitchen triangle set up for all traditional kitchens that consists of the hob, sink, and refrigerator. By drawing up a rough sketch of the basic structure of your kitchen you can place these three important elements in a way that works best for you. If however your kitchen has a rather unusual shape its worth consulting with a kitchen fitting expert first as mistakes can be costly later down the road.
Going for a more minimalist approach will ensure more open space and easier movement around. If you want something more multifunctional then adding in more cabinets can assure that everything has a place to avoid any unnecessary clutter. Along with the design you will also have to choose the kind of materials you would like to use. It's completely up to you whether you would like to have a more metallic, wood, or some other kind of finish.
Colour It Up
Once you have figured out the layout you want to proceed forward with it's time to dive into the different colour options. Again this is completely your choice but there are a few things to keep in mind. All-white kitchens tend to give a bright open look and feel, while using the gray scale is perfect if you'd like to take the more modern and contemporary route. Try to choose a combination of both dark and light so as to maintain the harmony of the kitchen space.
In addition to the colour palette you choose, just make sure it also goes well and compliments the complete home furniture & decor you plan on bringing in. This way you will have a fair idea of how it will look at the end of the day.
Height Matters
One of the most used things in the kitchen is so far the countertops so it's essential to get the height right. You wouldn't want to bend over every time to place a pot or pan down , and at the same time you wouldn't want to lift your arms high above and risk dropping something hot on yourself. The height here matters a lot and most of the  time we take the average height of people in the country into consideration and have countertops that would be a little above the midsection of the bodies of these average height individuals. Also be weary of the space you provide between the countertop and the cabinets. It's always better to have just a short distance between the two.
Cabinets Are Key
Cabinets can be an enjoyable task to take up as you can explore different kinds of them. You can buy them in a variety of different materials and textures. There are also different laminates with patterns to add in case you want to spice it up a bit. Also do check the durability and shelf life of these laminates as putting down money for a good quality one can go a long way.  Make sure the cabinets possess enough depth but aren't too deep that you can't reach the things pushed to the back.
Let Light Through
If your kitchen is situated in a place where there is a window, always make use of the natural light that can seep in from the outside to create a warm welcoming atmosphere throughout the day. But if no natural light can make its way to your kitchen then investing in some good light fixtures is essential.
Light fixtures vary according to your requirement and taste. You can use spot lighting for the island area or in areas near the stove, overhead lights with a warm white tone to provide enough light for the whole space, and lights under the cabinets for aesthetic as well as to highlight certain sections of the countertop.
Let There Be Ventilation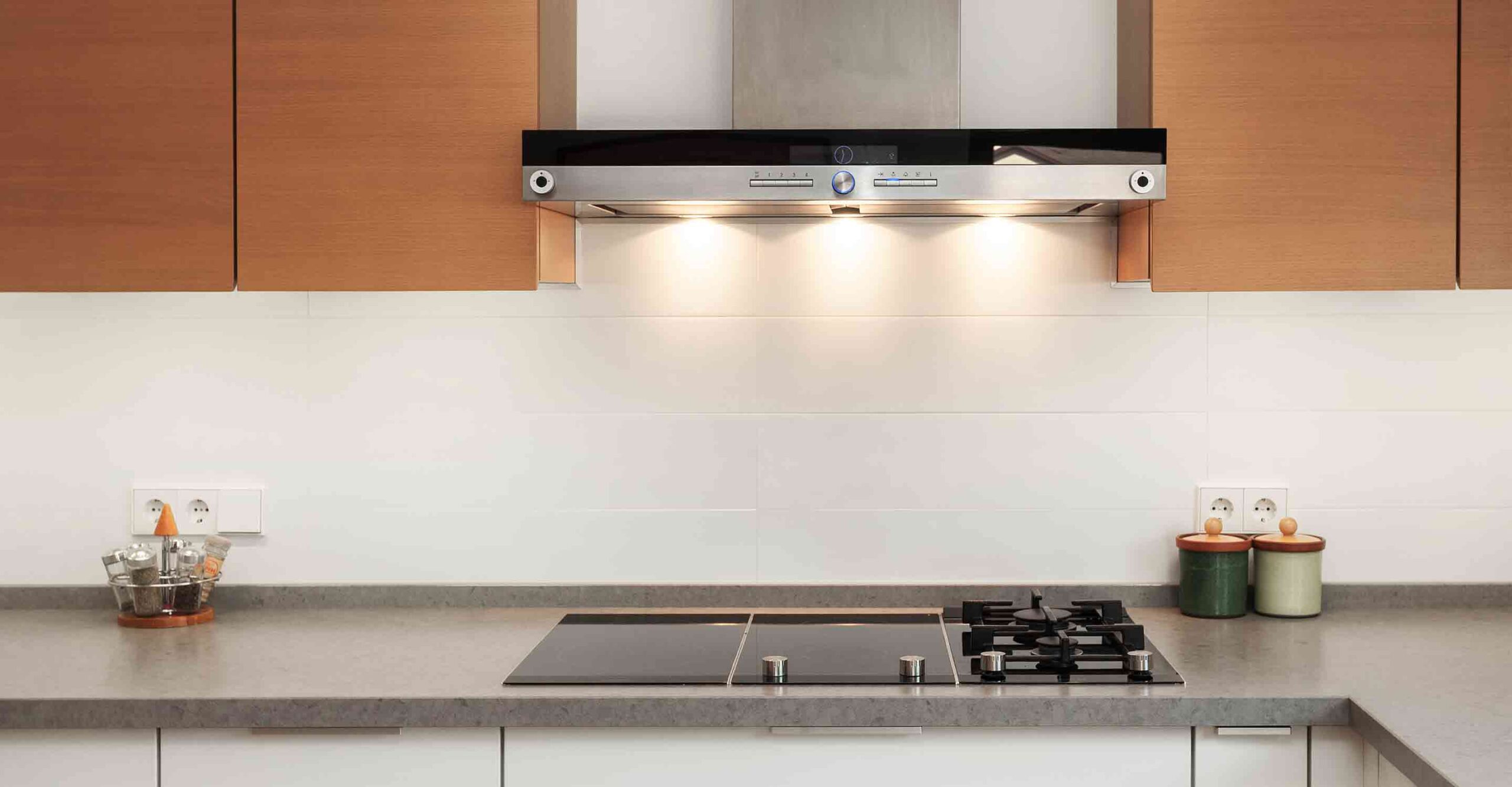 In a room where cooking is the main activity and tends to generate a lot of heat and smoke you need to have enough ventilation. Adding chimneys and other vents helps get rid of the excess heat leaving your kitchen at normal temperature. Using windows and balconies for ventilation is also done to fill up the room with fresh cool air.
Add Your Personal Touch
With any home designing task you take up, make sure to leave your personal touch to the decor. You can incorporate photos, paintings you like, craftwork, and other knick knacks that will make you feel more at home.
Conclusion
Now that everything has been mentioned we hope that this helped you gain more insight into kitchen designing so you can get started right away with yours. Don't miss out on doing some more research in depth of the choices you make and also start planning out your complete budget.