A floor plan is crucial to the construction of a home or renovation project. The most basic types of floor plans are open or closed. But what is the difference between the two and which will better suit your new build or home renovation? Below we define the two different types of floor plans and look at the advantages and disadvantages of each to help you make the best choice.
What Is An Open Floor Plan?
An open floor plan is one where two or more spaces are connected to form one large space. This takes away any separation like partitions or walls that would normally divide the space into different rooms or living areas. A common floor plan joins the living room, dining room and kitchen to make one communal living area.
What Are The Advantages Of An Open Floor Plan?
Creative Layout Options
Open floor plans allow for greater creativity and versatility especially when it comes to interior design and furniture placement. This type of planning is commonly associated with a contemporary or modern design. However, it can provide some design challenges as it calls for cohesion and coordination between the different living spaces that have been joined together.
Safety
An open living space gives you the benefit of being able to see what is happening in each space without walls blocking your view. This is ideal to keep an eye on children and increases the safety aspect of the home. People with special needs or disabilities and the elderly can also benefit from better supervision that is provided by the open spaces. The design also favors surveillance cameras and monitoring equipment.
Home Hygiene
Open living spaces are far easier to clean and keep clean. It is common to have one type of flooring throughout the space and it is far more efficient to clean than going from room constantly switching between different types of cleaning equipment. You can vacuum, sweep or mop in one go.
Accessible
No walls ensures greater interaction between members of the household for improved socialization. It also maximizes the flow of traffic and is better suited to people with disabilities who have difficulty navigating hallways, doors and small living spaces such as those who use mobility aids.
Property Value
Open floor plan homes are more popular and an estimated 70% of potential home buyers choose to view these types of homes. The greater demand increases the property value of homes with this design. Open plan is a good asset if you wish to sell a house fast. Other market factors may however still play a role in the overall value such as location and the style of the house.
What Are The Disadvantages Of Open Floor Plans?
Additional Costs
It is more costly to heat or cool one large space than it is to control the temperature in an individual room which may increase your monthly utility bill.
Lack Of Privacy
Open plan homes are often criticized for their lack of privacy. There are no walls and you can't close a door to keep you out of sight and hearing of others. Noise also travels throughout the space and into other living areas easier which can be an issue for some people.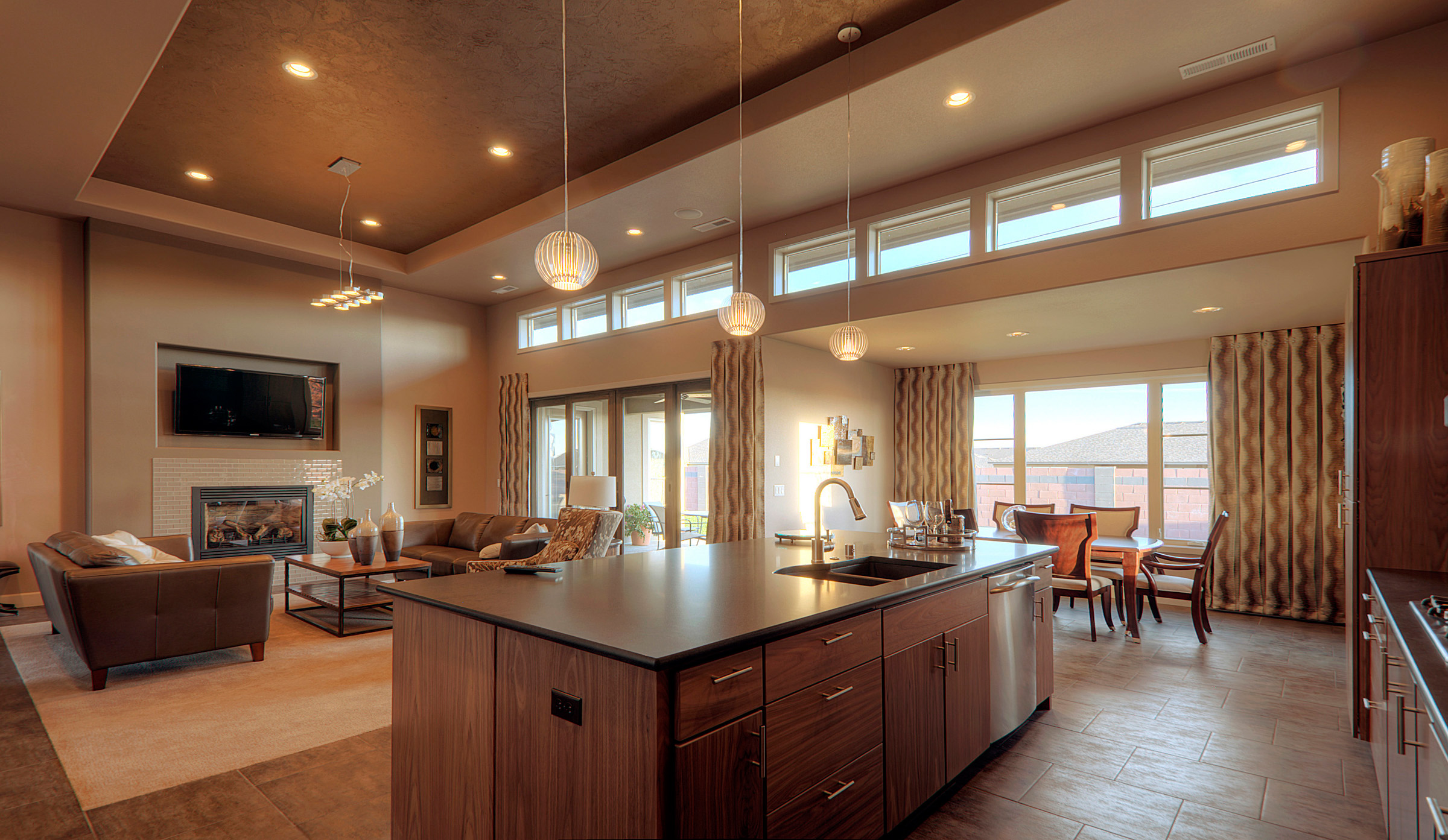 Odor Control
Most open floor plans include a kitchen. The smells from cooking will travel into the other living areas and rooms and may not be to the liking of everyone. Other odors can also travel throughout the house such as perfume, detergents and pet odors.
What Is A Closed Floor Plan?
This is a more traditional house design with walls and/or doors separating the home into distinct living spaces that have a dedicated function. For example, a kitchen for cooking, dining room for eating and living room for relaxation and entertainment. 
What Are The Advantages Of A Closed Floor Plan?
Privacy
Increased privacy is perhaps one of the greatest benefits of a closed floor plan. Walls reduce visibility as well as sounds and smells from travelling throughout the home. You have a means to hold a private conversation or just to get some peace and quiet that you may need.
Variety
The separate rooms in a closed floor plan allow you to have a different design for every room. Greater amounts of wall space also offer the opportunity for more artwork, photographs or mirrors to be hung.
Noise Control
Walls and doors are barriers to sound travelling throughout the house and offer a greater sense of privacy. This allows for greater sound control. For example, members of the household can enjoy watching different shows on TV in different rooms or a specific part of the house can be used for entertainment.
Decreased Costs
You can save on your monthly power bill by heating or cooling only the rooms that you are using. It is also more energy efficient to heat or cool a smaller space rather than a larger living area.
Dedicated Room Functions
A closed floor plan allows you to dedicate unique functions to a room. For example, a bedroom can be turned into a study, gym or craft room. 
What Are The Disadvantages Of Closed Floor Plans?
Space
A traditional, closed floor plan can feel constricted or cramped could become crowded when entertaining or socializing. The walls can close in and make rooms appear smaller than they actually are.
Isolation
It is easy to feel isolated or left-out in a closed floor plant home. If you are cooking in the kitchen, you have no idea what is happening in the rest of the house. You may feel that conversations behind closed doors are about you or not to be heard by you. This can become especially problematic if there are children in the home. It can also have a negative effect on social gatherings when entertaining in your home causing separation into different groups.