Summer is already here. The days are not far when you will be spending most of your weekends at the beach, going camping, enjoying backyard BBQs, and a lot of other fun activities. However, it also comes with a downside – extremely warm temperatures. While cooling off with a dip in a pool or taking a shower is ideal, you cannot always rely on these activities to cool down. This is where an air conditioning system brings in major comfort for the whole family during the most humid and hottest days. While having a central AC system is awesome, it is not an option for everyone, particularly those who live alone, have small spaces, or don't have that kind of budget.
So, it is natural to divert your mind towards window ACs and portable ACs. These are the ideal options for you if you have a small room that requires air conditioning. But, which one should you go with?
This is exactly what we are going to discuss in this post. We will be exploring both types of air conditioning units and outline their pros and cons so that you can make an informed decision.
Let's jump right into it.
What is a Portable AC Unit?
As the name suggests, a portable air conditioning unit is a portable system that uses a hose to exhaust air from the room through a wall or a window. They are small units, hence are not ideal for cooling large living spaces. Experts at American Home Water suggest that a portable AC unit is typically ideal for rooms hovering around the 300-400 sq-ft range. So, if you have a spare room in the house that is small enough, you can consider having a portable AC unit.
Please note that you have to keep in mind the heat generated by the air conditioner itself for determining how effective it will cool your room. Portable air conditioners work by sucking in indoor air, cooling it, and circulating it throughout the room. If you go for high-end models, they come with two hoses – one sucks in the fresh air and the other vents warm air and moisture from the room.
Portable AC units are also a little on the noisy side. Nevertheless, it will differ based on the brand and model you are going with.
Because of the technology used to make it portable and effective, these units are expensive. One of the most significant benefits of a portable AC unit is its portability. You can easily move it from one room to another and chill the rooms you are in as required. Easy portability means you can store it securely when the winters return.
With that said, if you live in an apartment, a portable air conditioner might be an intelligent choice. This is because you would not want to buy multiple ACs for multiple rooms, not yet. You can move this portable unit throughout the apartment, keeping whatever room you are in cool.
What is a Window AC Unit?
A window AC unit is the simplest type of air conditioning system with all the components and parts contained inside one single casing or box. As the name refers, a window AC is mounted or installed in a window. It operates independently from your traditional HVAC system and is much more convenient because you can move it from one window to another as required.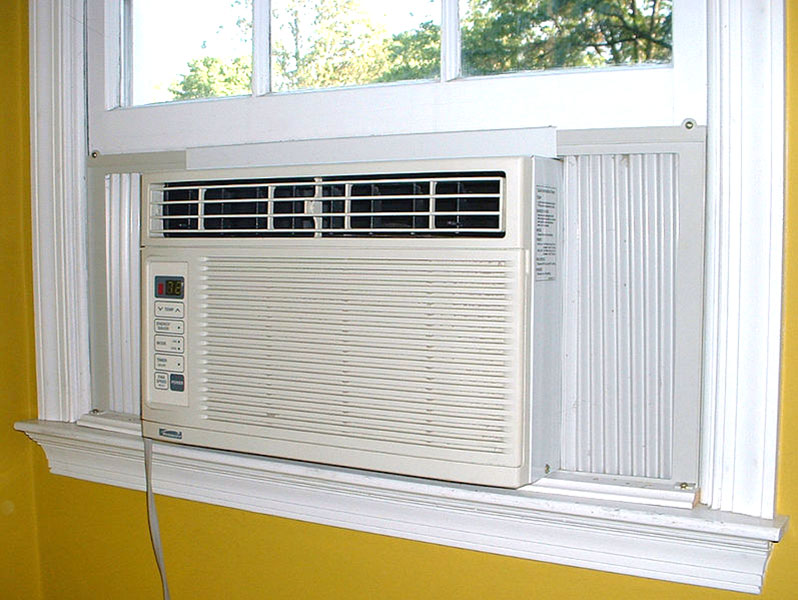 A window air conditioner uses the same principles as any other type of AC unit. It uses refrigeration to remove any humidity and heat from the indoor environment, cooling the air during the process. That air is then circulated throughout the room. Primarily, it contains a condenser coil, an evaporator coil, tubing filled with refrigerant, a fan, and a thermostat. So, it is basically your HVAC system but compact.
As your room temperature increases, the thermostat is triggered, which turns on the fan. The system is designed to pull in the room air, which is then refrigerated as the air moves through the refrigerant coils. The cool air is then passed over the cold coils and pushed out into the room.
Window ACs are much cheaper than HVAC systems and ideal for independent rooms and small spaces. If you live in an apartment, you can go for a window AC unit. They come in different sizes, and it is extremely important to choose one based on the type of window you have. Moreover, installation of this type of AC is not that complicated; you are advised to call in a professional to ensure that the unit is perfectly secure and mounted on the window.
Portable AC vs Window AC: Pros
| | |
| --- | --- |
| Portable AC | Window AC |
| Easy to transport from one room to another | Enjoy air conditioning without compromising your interior space |
| No installation is needed. Anyone can set it up | The exhausts are designed to  vent outward |
| Come in beautiful designs that can enhance the interior decor of your house | It runs on less electricity |
| It runs on less electricity | Operates the room temperature as needed |
Portable AC vs Window AC: Cons
| | |
| --- | --- |
| Portable AC | Window AC |
| Portable AC units are expensive | They boast a bulky design |
| Cooling is not that apt | Require drilling into the window frame for installation, which increases the risk of damaging the frame |
| Can be noisy | Blocks window views |
| Not suitable for larger rooms | Installation can be expensive |
Portable AC vs Window AC: Which one to buy?
Now that we have discussed pretty much everything you need to know about portable air conditioners and window air conditioners, we assume that things are a little clearer to you. Both the units have their own advantages and disadvantages, and it is totally up to you which one you go with. Nevertheless, if you live in a small apartment and don't want to spend on an air conditioning unit for every room, you should consider investing in a portable AC.
On the other hand, if you want the same cooling experience as that of an HVAC system, you can go with a window AC unit.