Ready-to-Assemble kitchen cabinets provide you the option to cut costs significantly during a kitchen renovation because you will not need to pay for the assembling, as you will do it yourself. RTA kitchen cabinets come in parts and all of the hardware required for assembly – unlike ready-to-hang kitchen cabinets.
Before ordering for or buying your new RTA kitchen cabinets, you want to take out time to learn about them. Thankfully, this is what our article, today, is about. To learn more about this, kindly scroll down and continue reading.
What are Ready-to-Assemble Kitchen Cabinets?
Ready-to-Assemble kitchen cabinets come in parts that have been cut to fit, with holes drilled into places that require holes, and all of the finishes required by homeowners have been taken care of. All you need to do is bring home your package and prepare to install your kitchen cabinets.
RTA kitchen cabinets usually come with instructions having steps and drawings with little or no written guidance. However, few of them come with links to online videos to make installation much easier.
The Features of High-quality RTA Kitchen Cabinets; What to Look Out for
Before making a move to buy RTA kitchen cabinets, there are some features to look out for. Below, we have discussed the characteristics of high-quality ready to assemble kitchen cabinets.
1. Wood Species
Many RTA kitchen cabinets are made using a technically "hardwood" – Russian Birch. It is not a very durable wood compared to others; however, they are affordable. Sadly, most RTA cabinets built with this type of wood come with the label "solid hardwood cabinets" but practically lack the ability to stand both the test of time and withstand abuse.
Mable, on the other hand, is a much better choice, as it is very durable. It can withstand daily uses, resist scratches, dents, and dings. Unfortunately, this type of wood is used only by few RTA manufacturers because it is pricier.
2. Joinery
There are very few RTA cabinet manufacturers who do not opt for inferior joinery methods but instead take hold of traditional techniques. The material the manufacturer uses for joining tells us a lot about the manufacturer.
For instance, metal is low-cost and not as strong as metal. So when you see plastic components in the cabinets, the manufacturer is most likely using hardwood, plywood, hardware, and finishes of very low quality.
3. Finishing
The most crucial feature of quality cabinets is the finish. The finish used for kitchen cabinets is vital as it has a lot to do with its durability. In the world of cabinet manufacturing, it is no secret that the best finish known to have resistance to UV, water, and chemical, as well as being very durable, is CV (Conversion Varnish). You want to look out for this.
4. Hardware
When it comes to hardware, we are talking about angle brackets and shelf pins. You want to ensure that they are not plastic. They must be metal. And the best brand in the market to watch out for is DTC. They are imported and are the best hardware for drawers and doors.
Always keep in mind that plastic component is a red flag, as it connotes poor quality.
5. Dovetail Drawer Boxes
While dovetail joinery is crucial for cabinets, it is essential to note that dovetail joinery in the drawers is not the only sign of high quality. It is enough to have cabinets with dovetail joinery. You have to pay attention to the type of wood used for the dovetail drawer boxes.
Many manufacturers have drawer bottoms that are too flimsy and thin with sloppy dovetail joinery.
Note that a high-quality drawer box is built from clean straight-grained hardwoods. It will possess a minimum of 3/8 thick plywood bottom, and of course, dovetail joinery.
Cost Factors
When buying RTA kitchen cabinets, there can be variations in your cost based on complexity, materials, the grade of completion, and of course, the finishing. At the low end of the cost range are kitchen cabinets with particleboard cabinet drawers and boxes, white, melamine-coated, unfinished elements, and flat-panel doors.
More pricey options are hardwood face frames, veneered plywood kitchen cabinet boxes, drawers with dovetail, and firm wood doors. Cabinets with accessories like interior lighting or crown molding can cost more. Those with odd angles with sizes, can too.
Kitchen cabinets are usually priced based on the linear foot. The linear foot is the horizontal distance along the wall that will be occupied with cabinets. This cost includes the wall and base cabinets. Based on the blend of the expensive and low-cost option of your choice, per linear foot, RTA kitchen cabinet can cost $160 to $380.
Kindly note that this cost can vary due to some factors such as location.
We recommend that you ask for price quotes for similar products from a minimum of three suppliers. You might even price out different suppliers for cabinet hardware, doors, and boxes.
Where Can You Buy Ready-to-Assemble Kitchen Cabinets?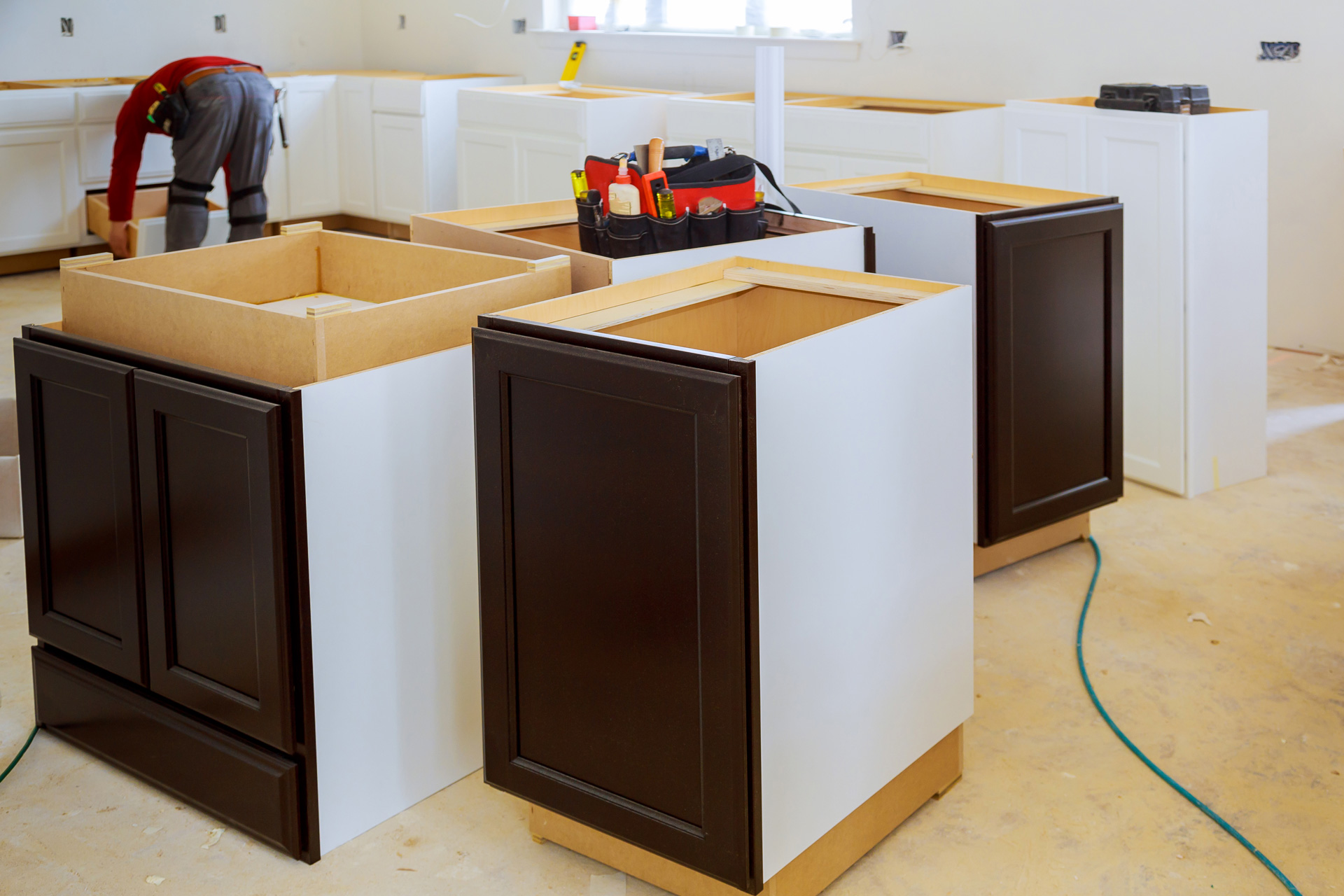 You can find these kitchen cabinets at big-box stores such as Walcraft Cabinetry. However, a larger selection is accessible online. If you decide to opt for an online store, ensure that you can interact with staff online to give you advice and explain the differences in the available kitchen cabinets. This is because you do not want to meet unpleasant surprises after your package is delivered to you.
Conclusion
RTA kitchen cabinets have become very trendy because they are very easy to set up. Most products in the market do not need anything aside from screws, wood dowels, and glue – all of these commonly come with kitchen cabinets. The only other tool you will need when setting up your RTA cabinet is a screwdriver.
When buying RTA kitchen cabinets, you can have the best of both worlds by picking high-quality cabinets and cut costs by setting them up yourself. You do not need to break the bank to reform your kitchen; you can do this at a fraction of the cost of high-end custom kitchen cabinetry of similar quality. You can purchase RTA cabinets at places like https://walcraftcabinetry.com. We hope that you found our article informative.