There are several decisions to make while considering a renovation. It ranges from painting the wall, clutching a few pieces of furniture, buying indoor and outdoor plants, and hanging beautiful curtains. Merely changing the curtain adds charm and elegance to the room, be it a bedroom, living room, dining or backyard. In the process of selecting new curtains and drapes, there are many decisions you have to make, but the most important one is the fabric and how you hang them.
Always be extra cautious when selecting a drape fabric because fabric makes noticeable changes in the room. For all these reasons, many designers come across a repetitive query from their clients: should curtains touch the floor? The answer to this question can not simply be yes or no. The answer depends on the window's height, preferred drape fabric, space identified for renovation (bedroom, living room, kitchen washroom, backyard, or some other area of the house), and many other factors.
Though windows in most houses don't stretch to full length, to be precise and to go with the trend, full-length drapes that touch the floor look elegant and classy. Full-length curtains have a remarkable impact on the ambiance. If you are also looking for valuable tips for deciding the length of drapes, here we go with a few suggestions.
Curtain length classification
Brushing the floor length for an elegant ambiance
One of the most preferred and stylish curtain lengths is one that slightly touches the floor, also known as floor-kissing curtains. For floor kissing length, acute precision is required to measure the fabric panel and hem them. A slight measurement error may lead to a waste of fabric and spoil your mood. The entire plan of having stylish brushing drapes depends on the measurement.
Trouser length
Trouser-length or puddle-length curtains form a puddle on the floor, making the length of the curtain look longer. Such curtains puddle at least 6 inches on the floor and add aesthetics to the bedroom, living room, dining area, or any place it is hung. It works best for tall windows and doors or anywhere with a full-height window.
If you prefer less puddle, go for trouser length with 2 inches onto the floor for a more dramatic look. While removing or fixing these curtains, you must lift them carefully to avoid dust sticking. Use soft and heavy fabric so that it lays on the floor nicely.
Pooling to add luxury to the space
Are you looking for a luxurious element for the space? Try pooling curtains with 6-8 inches of draping on the floor. These curtains look good in the living room or dining room. Though it's not easy closing and opening them, it adds a pinch of elegance to the space where it is hung. What length are curtains depends majorly on your likes and dislikes rather than the decor in trend?
Breaking length curtains
To hang a breaking length curtain, ensure it is at least 1 inch longer than the floor length. It's an attractive option for floor-length curtains as it looks more stylish and modern, especially on high ceilings. It goes well with all fabric types. These curtains are easy to open and close. It naturally lies on the floor. It is a must-try curtain length preferred for a conventional style.
Grazing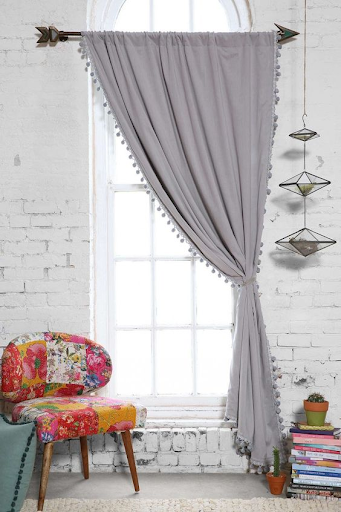 Curtain panels that lie just above the floor are known as grazing-length curtains. Due to its perfect length, it has a fuss-free and tidy look with no dust and dirt collection scope. These curtains look perfect for the space where it is hung.
Floating length
Floating-length curtains lie half an inch to 1 inch above the floor which is considered a perfect choice for the high-traffic area to avoid high maintenance. Kids and pets can play freely without getting hooked on the curtain. You may choose any fabric or texture, as this type makes opening and closing easier.
Apron length curtains
It is the best choice if you have kids and pets, as it is a few inches above the floor and a few inches below the window sill. If you choose short drapes floating on the floor, go with this. Though it is a better fit for the kitchen and washroom, it can be hung anywhere.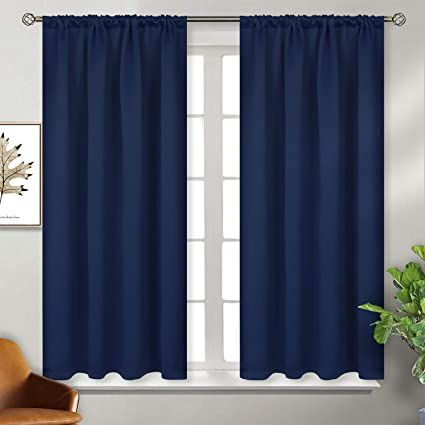 Place a few showpieces on an item of high furniture standing in front of the window to extend a look that the curtain disappears in the background behind the furniture. Cafe curtains are also worth trying if you prefer short curtains with an outside view. Cafe curtains are hung halfway below the window for a view into the garden.
Windowsill length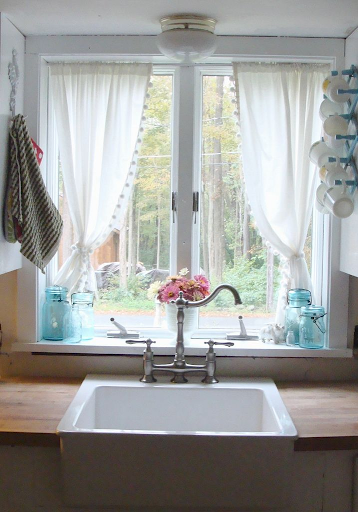 The shortest curtain length is a sill length that lies a minimum half-inch above the window sill. It is the best choice for a smaller space with elevated windows and windows above heaters or counters where floor-length curtains will block items kept below the window sill. These curtains are mostly preferred for the bathroom and kitchen.
Advantages and disadvantages of curtains touching the floors
Advantages
Floor-length curtains look modern and stylish.
It changes the appearance of the room and makes it look spacious.
Floor-length drapes extend a more formal look to the room and a lovely fall in the fabric.
Disadvantages
Maintenance of the long curtain is not pocket friendly.
Arranging the curtains while cleaning is a tedious task.
An expert measurement hand is required to measure the drape.
Long curtains are not pet or kids friendly.
If curtains puddle on the floor, it's difficult to open and close the panel as it collects dust and dirt.
FAQ's
How much should curtains touch the floor?
Well, this question encompasses many factors on which length depends, including the size of the window, your choice of fabric and desired look of the space, whether you have a pet and kids and several other factors. If you want a classy and elegant look, brushing off the floor curtain in the heavy fabric is a wise choice to ensure it won't swing with the wind. For windows where curtains are hung for beauty purposes, floor kissing one is a better option to act as a statement piece to the room without many makeovers and decor hassle.
If you have pets and kids, keep the length slightly above the floor to avoid dust and hair accumulating on the curtain, but not too short, as it will steal away the aesthetic. For the kitchen and washroom, opt for short sill curtains. For long curtains, always buy a heavy fabric; for short, you may blindly choose any material.
When should curtains touch the floor?
The answer to this subjective question depends on personal preference and lifestyle and varies from person to person. There is no fixed length of the curtain. It depends on your choices, decor preferences, window size, and fabric. Go for floor-length heavy fabric blackout curtains if you want to add a classy and stylish look. Opt for comparatively short light sheer curtains for a neat and classic ambiance. Usually, sheer curtains, blackout curtains, and single panels are preferred in floor-kissing length.
However, there's no hard and fast rule to decide the length. It's okay to break the law. A light sheer curtain also looks good puddling the floor, and a heavy fabric blackout curtain gives a bold look hanging a bit above the floor. Always bear in mind that what matters is your choice. Your choice makes the difference and not the rules and trending style.
Is it okay if your curtains don't touch the floor?
Though the trending curtain lengths are floor length, the selected size depends on the style and ambiance you want for the space, where you plan to hang them, and many other similar reasons. In contemporary homes, usually floor length is not preferred for practical reasons. With wool or linen curtains, which lengthens once hung, you may keep the size an inch above the floor, extending a floor-length curtain.
Final thoughts
Whether the curtain should touch the floor or be kept above depends on what style statement you want for your room. As long as drapes enhance the beauty and add an element of style, long or short length doesn't matter much. Merely by replacing the curtains, if the look of the space can be transformed, what more would you want?