Your home is your safe haven, sanctuary, and a space to truly express yourself. The way in which you decide to decorate your home can have a huge effect on how you feel; it helps you to foster the right atmosphere and create a mood. There are so many different design choices and decorating techniques to choose from, which can make developing your home's style a challenge. You need to find your own style. If you are thinking of redecorating in the coming year, then you have a lot of trends to choose from; let's take a look.
Functionality & Minimalism
In the last few years, the importance of self-care and holistic wellness has really taken off. Interestingly, this can be affected by the design and layout of your home. This does make sense if you think about it. There are several mental health disorders which can manifest to create a disorganised living space. This is why choosing to maximise the functionality of your home and try to get rid of the needless clutter can help to ensure that you, yourself, are functioning to the best of your ability.
The Art Deco Revival
As we are all well aware by now, fashion and design are cyclical; things come back into fashion regularly, which we saw with the resurgence of the seventies styles this year. For 2023, the art deco movement is primed to take over again. Now, this decorative style is in direct contrast to the minimalism trend mentioned above, but this simply means that you are bound to find something that speaks to you and your taste. For the art, deco trend, think, geometric shapes, symmetry, bold patterns and colours too.
Home Offices are a Must
In the last couple of years, more and more people have begun to work from home either full-time or having adopted a hybrid working pattern. Either way, you would be surprised by the amount of people who still do not have a dedicated workspace to work from when they are at home. This is precisely why home offices continue to be a huge design trend for 2023. They can be created in any nook of the home; you don't even need a dedicated room for them. You just need to ensure that you have the room to house your home-working equipment.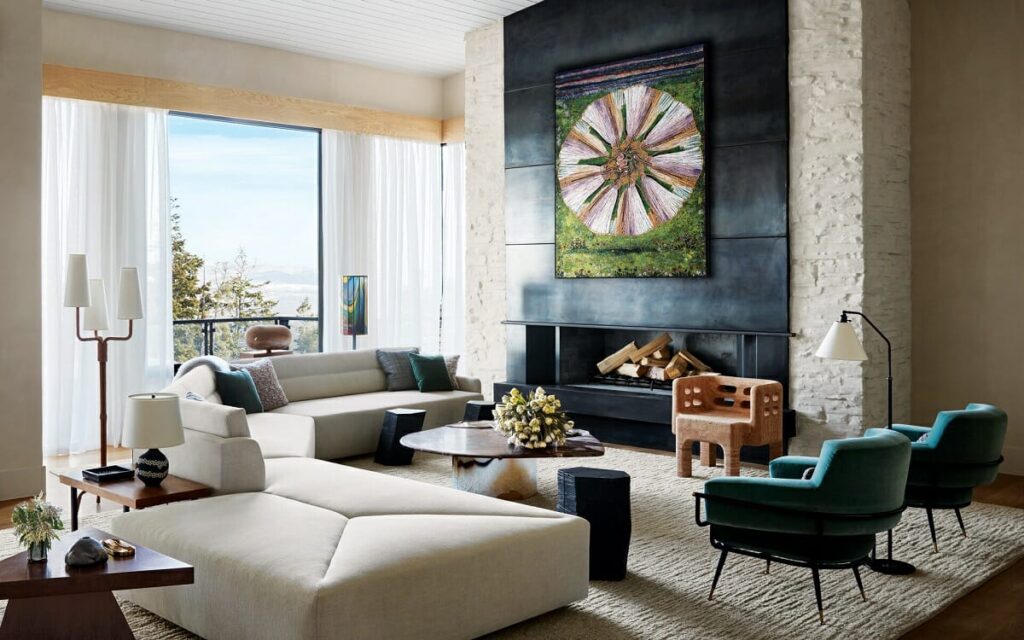 Landscaping Trends
There are several outdoor trends to consider for the next year too. Wild gardening is set to take off in 2023; it focuses on natural techniques that you can use to ensure that your garden is a safe haven for the local wildlife. Zoning is also popular, and it allows you to demarcate your garden as you see fit, ensuring that each zone has its purpose. Finally, increasing your living space by installing an awning is also primed to be big next year. Nationwide has a huge range of stylish patio awnings for you to choose from.
Careful Maximalism
Minimalism is often touted as an aspirational design choice; its followers are lauded and thought to be better than others because they don't buy into a capitalistic view or form connections with possessions. Not everyone is like this. A lot of people find comfort in their items for the sentimental value that they hold, and that is okay. Careful maximalism allows you to make the most of your items without allowing the space to get too cluttered. A good example of this is the gallery wall or the bohemian approach to style as a whole. It has to be done right. Otherwise, it simply looks cluttered and messy, so bear that in mind.
Light & Airy
Truthfully, natural light has long since been a trend, so it isn't necessarily a new or cutting-edge trend for 2023, but it is still worth mentioning. A lot of designs in the coming year have looked for ways to magnify and make the most of the natural light in the space. This isn't simply about the windows or doors; mirrors and reflective surfaces can be used to reflect and refract the light to make a space feel bigger, brighter and cleaner too.
Gothic Noir
Again, in a direct contrast to the light and airy trend mentioned above, dark, gothic designs are also likely to increase in the new year. These designs are fabulously dramatic. It isn't simply about painting the room black, although when done right, this can be incredibly effective. Think about the interior design of a church or cathedral – this means chandeliers, arches, sculptures and rich jewel tones, all of which can be incorporated into your home design easily. A simple way to participate in this trend without overcommitting is spotlighting your alcoves – if you have any, if not, you could create them – to draw the eye and display art or other knickknacks.
Curves, Arcs & Rounded Edges
During the last decade or so, a lot of interior design choices centred around creating clean lines. However, in the next year, this is going to soften as more and more people embrace rounded edges. These are likely to be seen in all forms of interior design, from arches to painted arcs on the wall and tulip sofas or egg chairs and even circular rugs. Even the furniture itself is likely to incorporate these style choices.
Indoor Plants
Again, indoor plants are not necessarily a trend exclusive to next year, but there are primed to take over. There are so many different types of indoor plants, which does mean that you can find some regardless of your skill level. Indoor plants help to introduce more texture inside; they can also be practical too; for example, you can keep potted herbs in the kitchen to use while cooking. Plants, as well as creating more visual interest, can also help to clean the air too. The greenery can also help to introduce a pop of colour in an otherwise plain room.
Colours To Watch Out For
There are several colours to watch out for in the new year. Long gone is the overplayed grey; instead, gold tones are set to rule in 2023. These gold tones can be as vibrant or subtle as you choose, depending on your personal tastes and the rest of your home design choices. As mentioned above, rich jewel tones are also set to be popular in the coming year, giving a more luxurious feel. Neutrals are always popular because they are inoffensive, have a wide use, and they tend to go with everything.
In Summary
2023 is set to be another big year for interior design, with interesting rends primed to take over. Participating in those trends is a personal choice; however, it is important to emphasise that trends do come and go. Trying to keep up with trends is a never-ending task, and it can quickly get expensive. Most people tend to redecorate every few years; this is why you need to make sure that you like the decorating trends that you are choosing to showcase within your home because you are the one that is going to have to live with them, so bear that in mind.