When embarking on a house flipping project, selecting the optimal flooring becomes pivotal. The choice of flooring is contingent upon various factors such as the house's architectural style, its geographical location, and the budget allocated for renovations.
Several flooring options are available, ranging from hardwood and tile to carpet, vinyl, and laminate. Each flooring type comes with its unique set of merits and drawbacks, necessitating a thoughtful evaluation of options before arriving at a final decision.
We recommend seeking guidance from individuals with consistent experience in house flipping. While we understand that the primary objective for most flippers and housing investors is profit, witnessing an inflated price for a flipped home with shoddy work and inferior flooring is far from ideal.
To assist you in making the most informed choice for your house flipping endeavor, we've compiled a list of the top five flooring options.
Why is flooring an important aspect of flipping a house?
Flooring plays a crucial role in the house flipping process due to its substantial influence on the property's overall value. The appropriate choice of flooring has the potential to enhance a property's worth, whereas an ill-suited selection may diminish its value. Various factors, including the house's style, location, and budget constraints, must be taken into account when determining the most suitable flooring option for a property.
Use Functional Floors Based On The Room
When commencing the flipping process, it's crucial to factor in the intended functionality of various rooms. While considering the overall aesthetics is important, ensuring practicality is equally essential. For instance, opting for hardwood floors in bathrooms and laundry rooms may compromise functionality due to high humidity. In such cases, a more suitable alternative like luxury vinyl, which mimics the appearance of hardwood, could be considered for its water-resistant properties.
Additionally, if the property is intended for use as a rental, it's vital to contemplate how tenants will utilize each room. Installing carpet in a bathroom or hardwood in a laundry room may expose the property to unnecessary damage in case of incidents like overflowing toilets or malfunctioning washers. A prudent choice would be to incorporate water-resistant options such as luxury vinyl or tiles. An emerging solution involves the use of stick-in-place vinyl, providing both convenience and water resistance, says Robert Fields, Owner of ATX Stained Concrete.
The Five Best Flooring Options For Flipping A House
Laminate Flooring
Laminate flooring stands out as an ideal option for house flippers due to its cost-effectiveness, making it the most budget-friendly choice among flooring options. Widely available at major retailers like Home Depot, Lowes, and Floor & Decor, laminate is easily accessible for investors. Its straightforward installation, allowing it to be floated over most existing floors, proves to be a time-efficient and convenient choice for investors aiming to prepare a house for sale promptly. Additionally, the wide variety of styles and colors in which laminate is offered makes it effortless to discover an appealing look that caters to the preferences of potential buyers. In summary, laminate flooring represents a pragmatic and visually appealing option for investors engaged in house flipping, says Andrew Johnson, Owner of Prime Seamless Guttes & Roofing.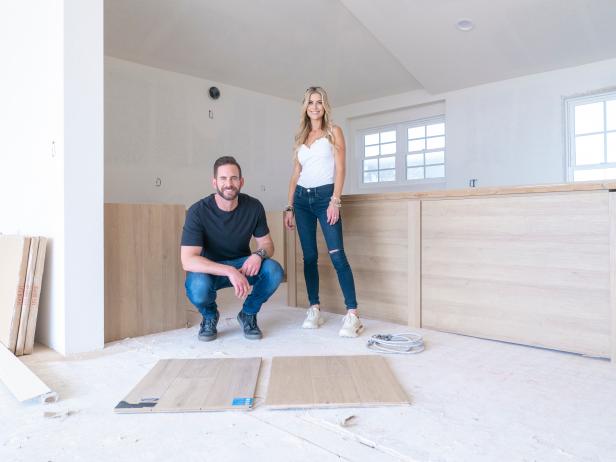 Hardwood Flooring
Opt for hardwood flooring if you desire a classic and timeless appearance. Suitable for any house style, hardwood floors bring an element of elegance and sophistication. Their ease of care and maintenance is a significant selling point for potential buyers, although it's essential to note that hardwood floors can be relatively expensive. If budget constraints are a consideration, exploring alternative flooring options may be advisable. Hardwood floors outshine other choices due to their exceptional versatility and durability.
Luxury Vinyl Flooring
Tile flooring offers an excellent choice for those seeking durability and ease of maintenance. Ideal for high-traffic areas, these floors can withstand significant wear and tear. Additionally, they boast relative ease of installation, providing time and cost savings. The primary drawback lies in the tendency of tile flooring to feel quite cold, which might not suit the preferences of some buyers. In colder climates, exploring alternative flooring options could be a wise consideration.
Vinyl emerges as a practical alternative when hardwood flooring is not within your budget. A visit to any Floor & Decor store is likely to reveal enticing options. Opting for a slightly off-color vinyl can add a touch of flair to your flip. Additionally, if time is of the essence, vinyl is a convenient choice as it is relatively easy to install, eliminating the need for a specialized expert—unlike hardwood flooring, which typically requires the skills of an experienced installer for proper installation and finishing.
Linoleum Flooring
Linoleum flooring proves to be an excellent choice if durability and ease of maintenance are high on your priorities. Ideal for high-traffic areas, these floors demonstrate resilience against wear and tear. The relative ease of installation adds a practical advantage, saving both time and money. It's worth noting, however, that linoleum flooring can be slippery, which might not suit the preferences of some buyers, especially those with young children or pets. In such cases, exploring alternative flooring options could be a prudent consideration.
Concrete Flooring
According to Shlomo Cherniak, Owner of Cherniak Handyman Services, concrete flooring is a great option if you are looking for something that is durable and easy to maintain. Concrete floors are perfect for high-traffic areas, and they can withstand a lot of wear and tear. Concrete floors are also relatively easy to install, which can save you time and money. The only downside to concrete flooring is that it can be quite cold, which may not be ideal for some buyers. If you live in a cold climate, you may want to consider another type of flooring.
House Flipping Tips:
Budget Consideration: When engaging in house flipping, maintaining a budget is crucial. Opt for cost-effective flooring options such as laminate and vinyl, which provide a high-end appearance without exceeding financial constraints.

Prioritize Durability: The flooring in a flipped house must withstand wear and tear, both during property tours and once sold to new owners. Durable materials like tile, stone, and engineered hardwood are resilient to heavy foot traffic.

Neutral Color Palette: Choose a neutral color for the flooring to broaden its appeal to a diverse range of potential buyers. This approach facilitates easier envisioning of living spaces by prospective homeowners.

Harmony with Home Style: Ensure that the chosen flooring complements the style of the home. For instance, a modern home may benefit from sleek materials like concrete or porcelain tile, while a traditional home may suit classic wood or stone floors.

Consider Maintenance Levels: Factor in the maintenance requirements of the chosen flooring. Hardwood and stone may demand more frequent cleaning and sealing, whereas vinyl and laminate offer easier maintenance.

Sample Testing: Before finalizing your decision, obtain samples of the flooring materials under consideration. This allows you to assess how they look in the space, aiding in an informed decision-making process and ensuring the chosen option appeals to potential buyers.
Final Thoughts
Selecting the right flooring is a crucial aspect of house flipping. The appropriate choice can enhance the property's value, whereas an unsuitable one may diminish it. With various flooring options available, each presenting its own pros and cons, it's essential to invest time in thorough research. Understand the specific requirements of the area and consider the prevailing trends. Avoid mismatching choices; for instance, if neighboring homes in your price range are opting for luxury vinyl, it might not be advisable to choose laminate flooring. Make informed decisions to optimize the value and appeal of your flipped property.