Introduction
Few things can heighten the style and impact of an architectural project or renovation better than a glass wall. Whereas conventional bricks-and-mortar or plasterboard partitions regimentally separate 'in here' from 'out there', floor-to-ceiling luxury glazing embraces the outdoors and blends it with the interior, creating a unique sense of togetherness.
If you are considering a glass wall in just one or two rooms of your home or your client's project, it's important to consider where is going to offer you the most value. In this blog post, we hope to offer some guidance, helping you to identify the ideal spaces in your home to benefit from the unique advantages of luxury glazing.
The advantages of glass walls
When compared with those built using traditional bricks and mortar or plasterboard, glass walls have several distinct advantages over their architectural counterparts:
A touch of modernity
Glass walls encapsulate the very essence of contemporary design, being sleek, minimalist, and highly functional. While its modernity is undeniable, its adaptability also contributes to the specialness of this innovative architectural feature. Whether you are incorporating glass walls into your commercial office block or using them to divide rooms in your rustic farmhouse, they are equally at home in both, justifying their popularity with top designers around the world.
Open plan with privacy
Embracing an open-plan layout can make a room feel bright, airy, and spacious, reducing the divisions inside your home, but it does have one important trade-off: privacy. Perhaps you enjoy listening to music but don't like wearing headphones, whereas your partner would like to read a book in silence – the two activities might prove unsuitable in an open-plan space. Glass walls, however, provide visibility from one space to another, but have high levels of audio insulation, preventing one activity from disturbing another.
Transporting natural light
We have written extensively about the many benefits of natural light and its ability to make us happier and healthier. Alongside those physical influences, natural light can also transform a design, enhancing materials and creating a distinctive mood within the space. Often, the natural light is contained within one side of our home – usually the south side in the northern hemisphere. With a glass wall, however, you can set the natural light free, allowing it to flow through the space and brighten even the gloomiest north-facing room.
Which rooms will benefit from glass walls most?
In our opinion, glass walls could benefit every single room in your house, even the bathroom (with the right privacy features in place, such as switchable glass, of course). That being said, some spaces stand out as key candidates for floor-to-ceiling glazing. 
Let's take a look at a few of them below:
Living rooms
Imagine yourself sitting in a comfortable armchair – perhaps a Chesterfield – reading a book that you've been wanting to read for ages. Maybe you have a glass of something cool or a mug of something hot nearby, but where in the room is that chair positioned? If it's wintertime, you might be near a fireplace, but few things beat the seat beside the window, allowing you to gaze out at a calming or captivating view when your eyes aren't on the page.
By installing a glazed wall, you enhance that view, maximising its availability wherever you are in the room and boosting the feeling of bringing the outside in. If only you could maximise the availability of your chosen drink…
You can, of course, deploy glass walls in other parts of the living room, not just on its exterior. Floor-to-ceiling glazing can be a great way to create an open-plan kitchen/living room whilst restricting the noise and aromas to the cooking area.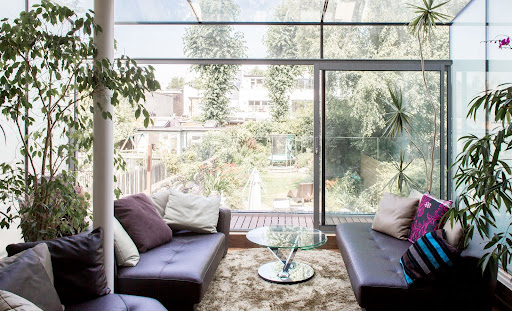 Home gyms
You might be feeling the burn, but you can still enjoy the view – whether that's outside or inside. Internal glass walls maintain a sense of connection with your home's architectural beauty, allowing you to blend the benefits of exercise with the pleasure of interior aesthetics. On the other hand, cityscape views or a panorama of rolling fields framed by a glass wall can distract you from your exertion.
Let's face it, gyms – whether they're at home or in a purpose-built facility – can often appear quite uninspiring. They are, after all, collections of equipment designed primarily for their functionality. But, and it is a big but, with a little bit of architectural planning, they can become quite impressive spaces in which to work out.


Home office
It can become quite isolating if you sometimes feel like you live in your home office, buried under paperwork, or working away at an idea that has captivated you. Fear of missing out on what's going on in the rest of the house might cause you to feel distracted, but it can be a thing of the past with the addition of internal glass walls. Instead of a foreboding opaque wall with a definitive shut door indicating Mum is not to be disturbed, glazing keeps a visual connection between life in your household and you in your study. Alternatively, if you'd like to keep the visual barrier in place, you could choose to install switchable glass or opt for an exterior glass wall instead.
Bedrooms
We've written before about the benefits of installing a glass roof in the bedroom, allowing you to fall asleep under the stars each night, but what about a glass wall? It is here that the benefits of bringing the outside in are abundant: enjoy the changing of the seasons from the comfort of your bed – if your bedroom faces east, you can wake up with a sunrise, whereas a west aspect gives you a sunset each day.
In practical terms, a glass wall is often deployed in studio apartments to stylishly distinguish one area – such as the bedroom – from another – the kitchen, for example. Traditional opaque building materials can make the space feel cramped, whereas glazing can open it up, while still creating the necessary division between different areas.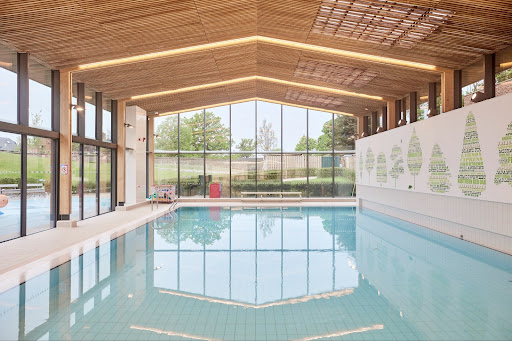 The swimming pool
The addition of glass walls introduces an element of sophistication and safety to your swimming pool. First and foremost, glass walls around the pool create a visually striking and elegant enclosure. They not only enhance the aesthetics of the pool area but also seamlessly integrate with the surrounding landscape. The transparency of the glass allows for uninterrupted views, giving your pool area a sense of boundless expanse. Whether hosting a poolside gathering or simply taking a leisurely swim, the glass walls add a touch of class and modernity to your outdoor space.
But it's not just about style; it's also about safety. Glass walls act as a protective barrier, ensuring that the pool area is secure and that young children or pets are kept at a safe distance from the water. This peace of mind allows you to fully enjoy your pool area without worrying about accidents or unauthorised access.
Conclusion
A glass wall is not the reserve of soulless corporate cubicles. Instead, it is a stylish architectural feature that can take your contemporary aesthetics to the next level. Whether you want to foster a connection with the rest of the house or capture views of the great beyond, glazing is adaptable, especially when provided by bespoke providers like ourselves.