Are you planning to buy a pool table for your house? Whether you're eyeing a specific one or you're still exploring your options, it's best to calculate your steps before and after purchasing the pool table of your choice. If you're feeling inspired by this article and are ready to take the plunge, be sure to start by looking for a reputable dealer in your area when shopping for a pool table. 
Let's Get Started
Setting up a pool table at home can be a fun and rewarding experience. But to ensure you're making your home space as comfortable as you can with the addition of a pool table, here are some tips to help you get started:
Choose the Right Location
Select a spacious and level area in your home to set up the pool table. Ensure there's enough room for players to move around comfortably and take shots without obstruction.
An ideal way to do this is by having a separate game room to store your pool table. This way, you don't intrude on other spaces of the house and keep your game time as secluded and comfortable as possible.
Measure the Space
Measure the dimensions of the room where you plan to place the pool table to ensure it fits properly. Leave some additional space around the table for cueing and maneuvering. A good rule of thumb is to have at least 5 feet of space between the table and its surrounding walls or any furniture lying around.
Additionally, it's best to look up standard pool table sizes and requirements and work your way around that. In essence, if you're looking at a 9FT tournament table, then the recommended size will be 19FT x 15FT area. This will ensure full clearance around the table for cues. 
Level the Floor
It's crucial to have a level floor to prevent any unwanted roll or movement of the pool balls. If the floor is uneven, use shims or adjustable table feet to level the table. 
Most tables also comes with 3 pieces of slate forming the playfield, a professional installer will be able to fully level the 3 pieces of slate through a professional precision leveller. Be sure to insist on a professionally leveled table to ensure the proper playing experience.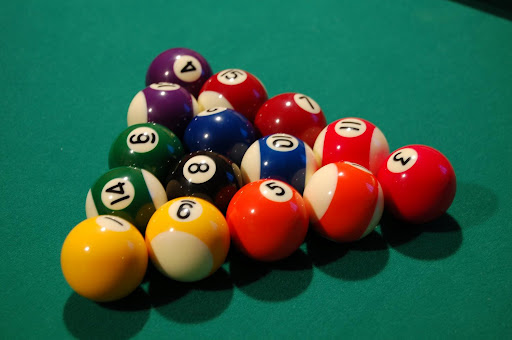 Consider Lighting
Good lighting is essential for playing pool effectively. Make sure the playing area is well-lit without any glare or shadows on the table. Overhead lights or dedicated pool table lighting are popular choices.
The main lighting types to avoid are spot or track lights, which creates a concentrated spot of lighting on your table. This makes it difficult to see across the entire table evenly.
Clearance
Ensure that there is enough clearance around the table, especially if you plan to use longer cues for more challenging shots. Avoid storing other items within the space of the pool table. This will prevent any damage to furniture, walls, or any other objects within the vicinity.
Protect the Floor
Place a protective mat or rug under the pool table to safeguard the floor from scratches caused by sliding the table or dropping balls. A well positioned rug serves to not just improve the exterior look and feel, but also provides protection to your floor if balls were to jump off the table. Be sure to ensure that the rugs are large enough to fully contain the table. 
Invest in a Quality Cue Rack
A cue rack will keep your cues organized and prevent damage to the tips. Some of the cue racks in the market also feature balls and triangle storage facility, so opt for those if you prefer to have all your accessories kept neatly in one place. 
Provide Seating
Having seating around the pool area is essential for players and spectators. Comfortable seating will encourage people to stay and enjoy the games. It also promotes inclusivity, so those who prefer not to play can still have a fun time watching others play pool.
Decorate the Area
Consider decorating the space around the pool table to create a pleasant and inviting atmosphere. You can hang pictures, add wall decals, or install a mirror to make the room visually appealing.
But don't go too overboard with the decorations. Ensure these room additions aren't obstructing traffic around the pool table, so as not to inflict damage on the players or the table itself.
Maintain Proper Climate Control
Keep the room at a comfortable temperature and humidity level. Extreme temperature variations and humidity can impact the performance of the table and the cues. In winter conditions, consider installing a pool table with a heating feature to ensure optimal conditions at all time.
Regular Maintenance
Regularly clean and maintain the pool table, including the felt, pockets, and rails. Brush the table surface and clean the balls to ensure optimal play. Keep an eye out for tears and loosening of cloths which can be stapled back to the backing underneath the slate.
In addition, be sure to look at the railings of your ball return system. Frequent potting of balls can result in the loosening of these systems, and hence, it will require periodic tightening of bolts to ensure optimal performance. 
Create a Scoreboard or Chalkboard
Having a scoreboard or chalkboard nearby allows players to keep track of the score during games and adds a touch of authenticity to your setup. You'll be surprised at how much a simple scoreboard does to add to the overall experience of your space!
Pool Accessories
Invest in high quality accessories as these really do make all the difference. Good maple hardwood cues are straighter than typical house cues, which offers improved aim and control. Likewise, investing in high quality ball set does not just ensure that your playing experience improves, but is also integral to keeping your felt in good condition. Cheap balls creates a lot of heat and friction, which then result in burn marks on your pool felt.
The Ultimate Question
Now that you know the things to consider when setting up your pool table at home, are you ready to make the next big step? Setting up your pool table can be a hefty process, but with this guide, you are hopefully set to begin the process.
In Conclusion
Remember, the key to a successful pool table setup at home is creating a comfortable and inviting space where you and your guests can enjoy playing pool together. With proper setup, care, and maintenance, your pool table can provide years of entertainment and fun.
Looking for a variety of pool table options to choose from? The Men's Cave's catalog of products can help you spruce up your home and keep your gaming nights with the whole family as fun and memorable as they can be.