Having trouble sleeping is something that all of us have experienced at some point in our lives. And while temporary sleeping problems usually resolve on their own, if you haven't enjoyed a good night's sleep for a while, you're probably feeling desperate and want to do something about it. After all, our quality of sleep affects a lot of things from our mood to our concentration and physical health.
Depending on the reason that's preventing you from enjoying a good night's rest, most of the time it's possible to get your sleep back on track. But only as long as you give your best. However, you also need to keep in mind that not everything you read or hear can have the same effect on everyone. So it's paramount to try and experiment in order to find out what works best for you. Here are some tips that can help you. 
Stick to a Schedule
How much sleep you need can mainly depend on your age, but generally speaking, if you are an adult, you will need at least 7 hours of sleep per 24 hours. So, make no exceptions and make sure to create a schedule where you will go to sleep at the same time and wake up around the same time. 
Try to limit the difference in your sleep schedule during weekends and make sure there is no greater difference than one hour. This is essential, as it is believed that consistency can reinforce the body's sleep-wake cycle. In case you have trouble falling asleep at first, and if you don't do it within 20 minutes, it is best if you get up from the bed, walk around the house, listen to something soothing and even read a book. In the end, we're all familiar with the 'great power' books have on us when it comes to sleep, right?! (chuckles)
Sleep on Comfortable and Fresh Bedding
It goes without saying that both the mattress and the pillow play a huge role in getting your good night's sleep. But, did you know that your choice of bedding linen can increase or decrease the quality of your sleep and comfort? While the market is overwhelmed with a large selection of bed linen, not all of these fabrics can give you the needed comfort and sleep. 
This goes mainly for the beddings made from synthetic fabrics. It is well-known that they are the first skin irritations and the ones that can cause numerous skin reactions and discomfort. So, when asking yourself what is the best bed linen, the simplest answer is natural fabrics. Sticking to natural and quality fabrics like cotton is the best option you have for getting your sleep.
Cotton is a natural fabric that has been used for ages in bed linens, clothing and everything in general. Amazingly looking, soft and smooth bedding linen made of cotton can keep you warm in winter and cool in summer thanks to its insulating properties. It's a hypoallergenic type of fabric that also has anti-bacterial properties which will reduce the chances of bacteria and odour spread.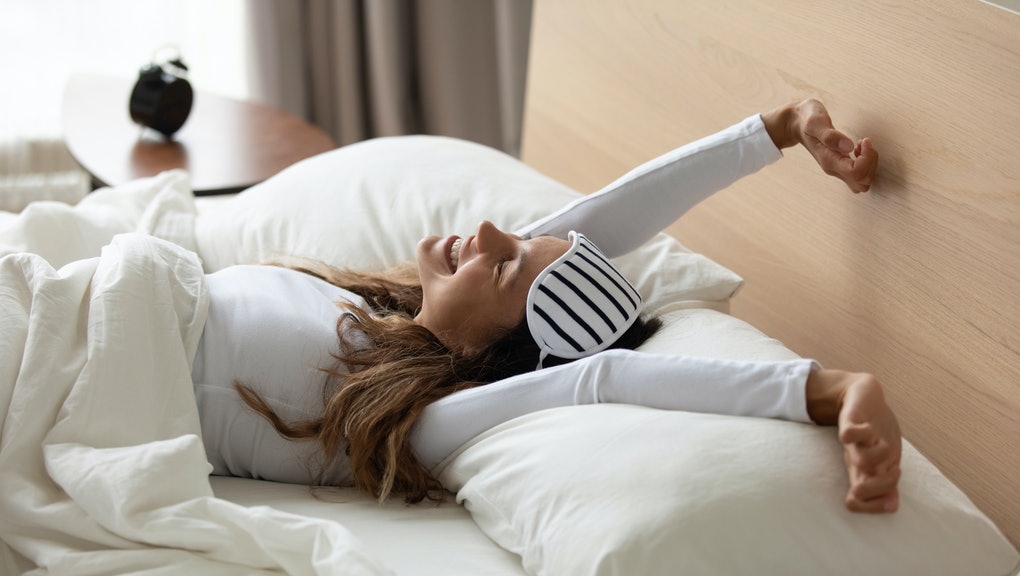 While the linen's design, colour and size matters (in order to find the one that will best meet your bedroom décor), make sure to choose a linen bed linen that is made from 100% cotton. You should also take into account the thread count (TC) which acts as some kind of barometer that shows the bedding quality, durability and smoothness. The measurement refers to the number of threads woven into a square centimetre of fabric. Consequently, the higher the thread, the better the fabric's quality and durability. Generally speaking, a TC of standard quality cotton is around 150 – 180TC. Anything above this like 200TC is considered high-quality cotton.
Note: An important thing to have in mind is changing the bedding on a regular basis. How often should bed linen be changed can mainly depend on the use. However, experts recommend changing it once a week, and the reasons for this might stun you.
Reduce Your Day Naps
We all know how troublesome it can be to fall asleep in the night after you have had a long daily nap. It is said that not having a day nap can certainly help you fall asleep faster, and it'll also improve your sleep. However, if you can't exclude it completely from your schedule, make sure you nap no longer than 30 minutes. You should also avoid doing it late in the day as this will interfere with your sleep.
Try to Relax
While yoga and meditation can certainly help you improve your sleep, if you don't have the time to practice these activities, you can always try relaxing with essential oils. Designed to calm your mind, body and soil, there are numerous essential oils to help sleep available on the market. 
Ideal for creating an ambient atmosphere, some essential oils to help sleep are quite effective. There are lots of them available on the market, out of which the lavender essential oil has proven as the most popular and commonly used type for sleep.
Obtained from the Lavandula angustifolia plant, this essential oil is designed to promote relaxation which explains its common use. Being a multipurpose oil thanks to its anti-inflammatory, anti-fungal, antiseptic, antidepressant, anti-microbial and anti-bacterial properties, this oil can aid you a lot more than just for sleep. It is believed that lavender essential oil can also help you with anxiety and depression because of its analgesic, detoxifying, hypotensive and sedative effects.
When it comes to sleeping, it is believed that practising lavender aromatherapy in a combination with sleep hygiene techniques can have beneficial results in no time. When talking about sleeping hygiene, besides sleeping on comfortable and clean bedding, it is believed that having a shower right before bed can prepare your mind for bed. On the other hand, it is said that inhaling lavender before going to bed can also improve your daytime energy levels, which can have a positive impact on your productivity and focus.
As you can see, practising aromatherapy with lavender essential oil, in particular, will help you get the best of both worlds, a good night's sleep and an improved focus that can positively impact your work.