A blocked drain does cause stress. Sometimes when you have finished cleaning the dishes you may see that the drain is getting rid of water slowly. It may remain inside and not drain. The drain will therefore be blocked. Something may have been stuck in the pipe leading to the obstruction. The following are some ways you can unblock the drain and have it draining freely once again.
The popular remedy of baking soda plus vinegar
If you want to go the natural way you can use baking soda along with vinegar. These are said to be effective home-remedy ingredients. You can mix around 1/3 cup of baking soda with around 1/3 cup of vinegar. This will be the solution that you can use.
At the time that the two ingredients get mixed, they must begin fizzing immediately. Therefore, you must put them immediately down the sink.
Allow this to remain for at least one hour. You may let it stay over-night as well. Use hot water to flush this through.
Use of boiling water
This is a simple way to unblock the drain. Boil some water in a kettle. Fill the kettle till how much it can hold. Pour this slowly through the drain in some stages. Wait some seconds between every pour.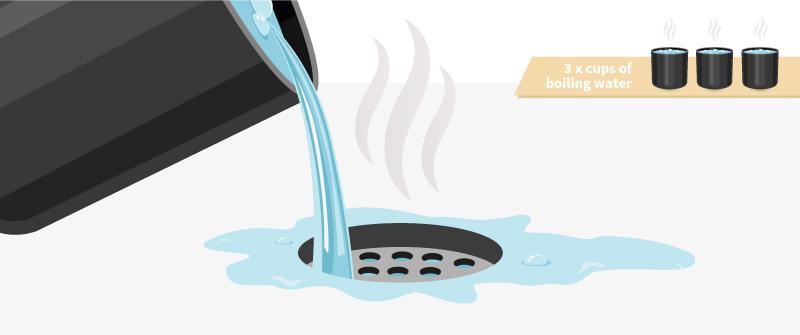 It is the boiling water that will dissolve obstructions. It is a quick and simple way to unblock the drain.
Get some cleaner
There are different types of drain unblocker liquid or cleaners available to help you out here. Sometimes the natural remedies may not work. You must choose a good one that will not cause more damage. You can get the following ones:
Chemical: There are chemical cleaners available. This will probably be stronger than the natural remedy you were trying. Pour the cleaner down the drain. Allow it to remain for some hours or also during the night. Once again hot water will be poured into the sink to complete the procedure. Follow any instructions carefully on the cleaner.
Biological: The biological cleaner is for those who want an environmentally friendly option and if you want to stay away from strong chemical ones. The biological ones employ enzymes that handle the blockage. You need to remember that their power is less in comparison to the strong chemical ones. Some tough grime may not be able to be removed with this. But, if you are handling hair, soap, along with simple to tackle blockages, then you can opt for the biological cleaner.
The Zip-it device
This is a wonderful cleaning device. It features a long plastic stick having upward facing hooks. When these are put in the drain, they pull out any grime when you pull the stick up. It is an effective method to get rid of messes from drain pipes immediately.
Before calling a professional to unblock your drain, try the above methods. Hopefully, they will help you out and leave you with a flowing drain.