According to a study done by the National Sanitation Foundation (NSF), the refrigerator water dispenser is one of the germiest places in the home. This place plays host to yeast and mold that can cause health problems. Thankfully, this problem can be averted by replacing your refrigerator filter cartridges regularly.
In this post, we will explore some of the best fridge water filters in the market today and what you should know before buying.
Read on.
5 Best Water Filters for Refrigerators
There are hundreds of refrigerator filters in the market today, but if you are concerned about performance and durability, here are some of the best options to invest in.
EveryDrop by Whirlpool Refrigerator
When it comes to the best water filter for refrigerators, Everdrop's extensive compatibility and capacity to eliminate a variety of impurities makes it one of our top picks.
Some of the top features and benefits of this item are.
Triple filtration technology.
Eliminates the taste and odor of chlorine, lead, and mercury.
Filters out as many as 25 contaminants.
Compatible with a wide range of refrigerators – Whirlpool, Maytag, KitchenAid, JennAir, and Amana.
NSF 401, 53, and 42 certified.
It is easy to install and replace.
Has a lifespan of six months.
Using this filter will save you the cost of buying at least 1500 bottles of water.
FRIGIDAIRE ULTRAWF Pure Source
FRIGIDAIRE is another good option that can eliminate a lot of contaminants ranging from pesticides to heavy metals.
Features and benefits include.
Eliminates up to 99% of contaminants.
Reduces the taste and smell of chlorine.
Carbon-based.
NSF 42, 53, and 401 rated.
Certified by Water Quality Association.
Easy to set up and use.
Lasts for six months before replacement.
Using this product will save you the cost of at least 1800 bottled water.
GE RPWFE Refrigerator Water Filter
If you have a GE refrigerator, this is the filter for you. There are several reasons why GE RPWFE makes it to this list, and some of them are:
Eliminates BPA, progesterone, and a few other pharmaceutical traces.
Reduces cysts, lead, chloramines, and chlorine.
99% reduction in Perfluorooctaine Sulfonate and Perfluorooctanoic Acid.
NSF 42 and 53 rated.
Easy to install and use.
6 months lifespan.
The beautiful thing about this product is that you don't need tools or a water turnoff to replace it inside the refrigerator.
Samsung Electronics HAF-CIN Refrigerator Water Filter
If you are looking for the best refrigerator water filter for Samsung, then this item is perfect for you. Even though this product is not NSF 401 certified – it will not work against pesticides and herbicides – there are still a few good features that make it stand out.
Reduces contaminants by 99%.
Certified to NSF standards 42 and 53.
It Installs easily with a simple "lock in place" mechanism.
Flood-proofed design.
Lasts for 6 months before requiring replacement.
Samsung Electronics HAF-CIN is compatible with Samsung French doors and side-by-side refrigerators.
Arrowpure Refrigerator Water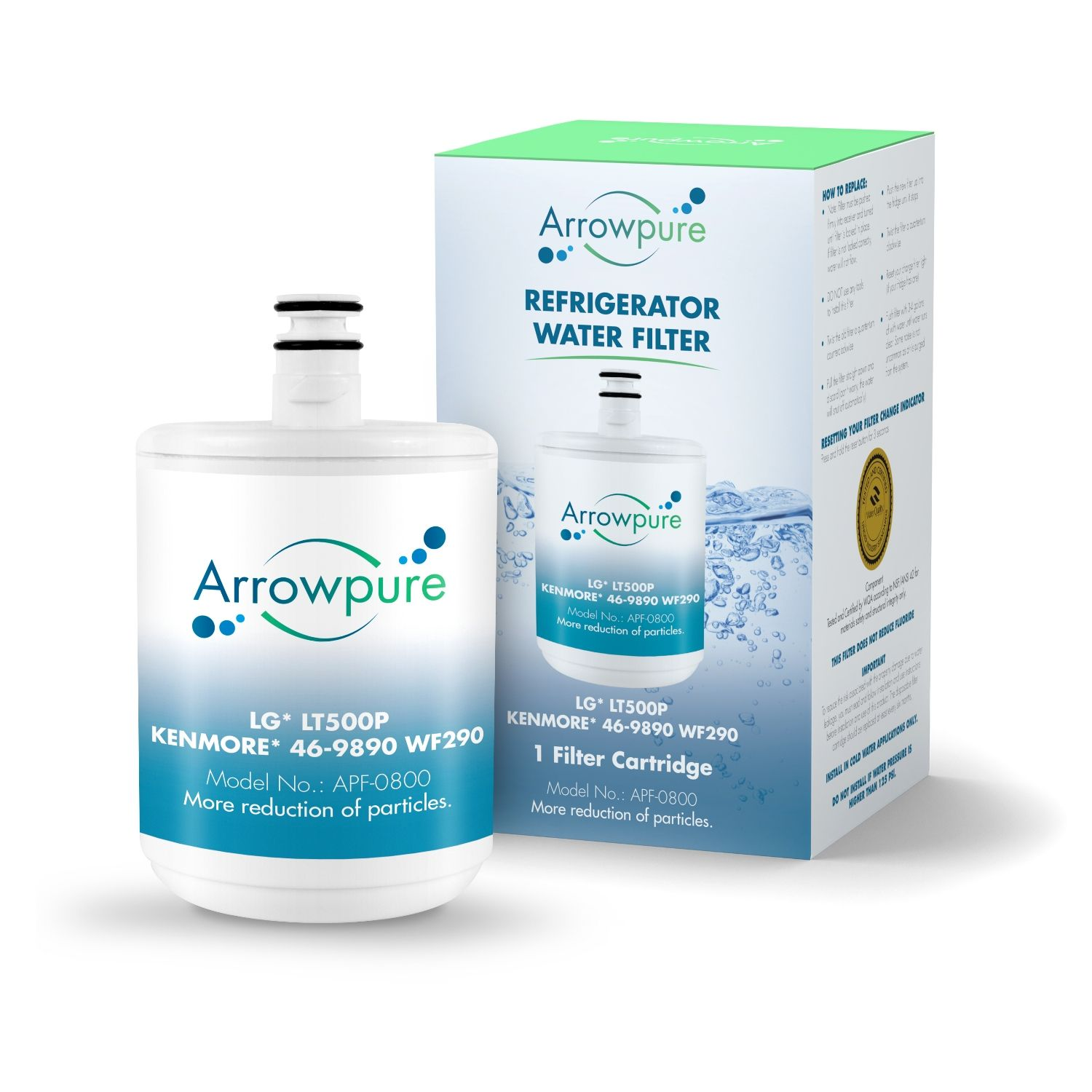 Arrowpure products are the real deal when it comes to the best filter for refrigerators.
The top features of this filter are.
Compatibility with a wide range of refrigerators.
Testing and certification by WQA: NSF 42 and NSFI 372.
Double o-ring connector for the perfect fit.
Super-powerful carbon absorbent that eliminated cysts, chlorine, lead, and other harmful chemicals.
Sold by Filterway, this product comes in a variety of models, and all have one thing in common. They remove impurities and heavy minerals, leaving you with clean, healthy water.
Things to look at when searching for fridge water filters
Determining the best replacement filter brand for your fridge is just one part of the equation. Other factors that should inform your decision include.
It's important that you buy a filter that can get the job done. This means looking at the micron rating. A good micron rating is between 0.5 and 1.0. This works well for most impurities and sediments.
While these products don't last forever, it's important that you go for something that lasts for at least 6 months.
Filters are typically certified to show their ability to handle contaminants. The most common standard is the NSF, so be sure that you only buy NSF-certified products.
You will likely be replacing your filter every six months or so; therefore, be sure to go for something that is easy to install.
Conclusion
Buying a replacement filter for your refrigerator is not usually a difficult process, but sometimes, you need extra help to make sure you choose the right one. Hopefully, the points covered in this guide will help you find the perfect product that fits your needs and budget.
Choosing the best filter for refrigerator water for your home can ensure that you and your family have access to clean and safe drinking water. Visit Filterway today to check out the wide array of options available.