Roofing is one of the most important components of any building structure. It provides protection from the elements, enhances the overall aesthetic appeal of the property, and plays a crucial role in maintaining the energy performance of your home. When it comes to roofing, choosing the right material is essential. But with so many options available on the market, it can often be overwhelming to decide which type of roofing material is best suited for your needs. 
Whether you're building a new home or looking to replace an existing roof, it's helpful to understand the different types of materials available and their benefits. From asphalt shingles to metal roofing sheets, each material has unique properties that can affect the lifespan and overall performance of your roof. In this guide, we'll break down the most common roofing materials to help you make the right roofing choice that will protect and enhance your property for years to come.
Asphalt shingles: the most affordable roofing material
Asphalt shingles are the most popular roofing material on the market today, made from a combination of fibreglass and asphalt. They are also affordable, widely available, and come in a wide range of colours, shapes, and styles. 
Asphalt shingles are available in various designs, including 3-tab, architectural, and designer shingles, each with its own set of benefits. 3-tab shingles are the most affordable option and provide a traditional, uniform look, whereas architectural shingles are thicker and more durable than 3-tab shingles, providing more protection against the elements. Designer shingles are the most expensive option, providing a unique, high-end look and maximum protection against various weather conditions. 
While asphalt shingles are affordable and easy to install, they require regular maintenance and replacement, typically every 15–20 years.
Metal roofing sheets: long-lasting and durable
Metal roofing sheets are a popular option for commercial and industrial properties, as well as residential buildings such as garages, sheds and extensions. They are also made using different metals, including steel, aluminium, and copper, providing a range of benefits depending on the material. Metal roofs are durable, long-lasting, and require very little maintenance, making them an attractive option for most homeowners. They can also last for 50 years or more if properly installed and maintained. Besides, they come in a wide range of design styles. Corrugated metal roofing sheets are a more affordable option for homeowners looking for a traditional, industrial look. Metal shingles are an alternative to metal roofing sheets that provide the same benefits, such as high durability and strength. 
Tile roofing: stylish, high-end and resilient
Tile roofing is another popular option that has been used as a roofing material for centuries. It offers a unique, stylish look to your property, enhancing your home's aesthetic appeal. They are also made using different materials, including clay, concrete, and slate, and come in different shapes, sizes and designs, making them one of the most versatile roofing materials on the market today. Roof tiles are also long-lasting, durable, and require very little maintenance (depending on the material), making them an excellent choice for any roofing project. Click here to browse a wide range of roof tiles from different brands. 
Wood shakes: a natural and aesthetically pleasing option
Wooden shakes are a natural, eco-friendly roofing option that can give your home a rustic charm while also being long-lasting. They are usually made from cedar, redwood, or pine wood and treated with sealants for fireproofing and pest resistance. However, they are not as durable as other roofing materials, such as metal or slate, and also require significant maintenance and treatment to prevent the rotting and decay of wood.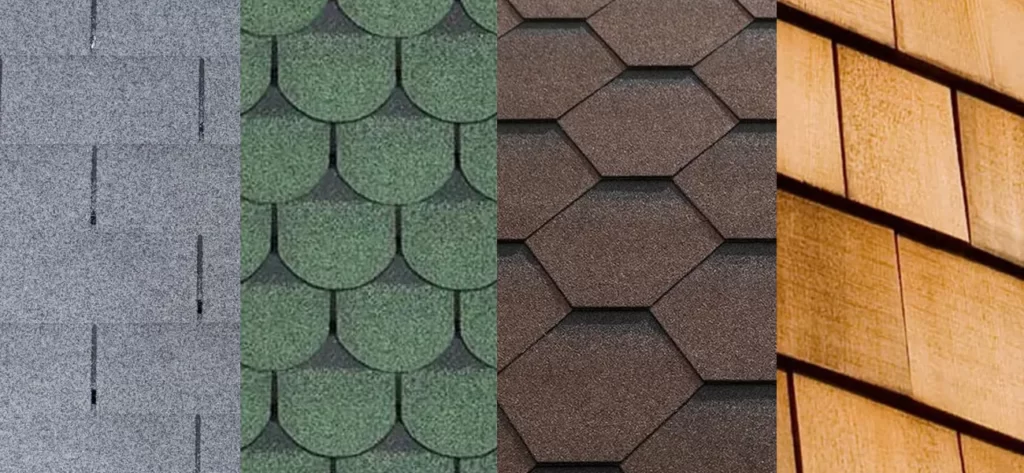 Green roof: an environmentally-friendly option
Green roofs are a new and non-conventional roofing option that is also environmentally friendly. It usually involves a layer of green vegetation grown on top of the roofing material, which can provide extra insulation to reduce energy consumption and improve air quality. They can also provide a home for local wildlife, making them an excellent choice for environmentally conscious homeowners. As such, they are becoming increasingly popular in urban areas, providing a natural oasis in an otherwise concrete jungle.
While green roofs provide numerous environmental benefits, they require significant maintenance and may not be suitable for all properties. This can involve regular watering, fertilising, and pruning to ensure the health and longevity of the vegetation. 
Summing it up
All in all, understanding the different types of roofing materials and their benefits is essential for any homeowner looking to make informed decisions about their roofing needs, as each type of material has its own unique advantages, from durability and longevity to energy efficiency and aesthetic appeal. By considering factors such as your budget, climate, and personal preferences, homeowners can choose the roofing material that best suits their needs.