If you are tired of the traditional wardrobe designs that are practical but far from aesthetically appealing, then we are certain that you will fall in love with the assortment of unique options that we have listed below. These wardrobes are luxurious and are created with modern bedrooms in mind. Whether you prefer smooth seamless doors or detailed vintage models, there's bound to be an idea that caters to your taste. Let's start! 
1. Sleek sliding doors
Sliding doors or panels are an innovative way to create more space in a room. They are also perfect for no-fuss décor themes where you want to complete a clean-cut look. They differ from traditional hinged wardrobes that sway open and instead, glide smoothly along rails to give you easy access to your belongings. 
This sliding wardrobe by Instrument furniture features synchro doors that open to reveal a beautiful interior that's superb for organising clothes, shoes, linen, and more! The doors come in an assortment of finishes, but we adore this design in white matt with chrome trims. 
2. L-shaped designs
L-shaped wardrobes are ideal for making the most of open wall space and filling corners. They can be used to add texture and intrigue to a room whilst maximising storage space too. These wardrobes can be fitted to be flush with a wall, but they can also be bought as freestanding units. 
This wood-finished L-shaped wardrobe has been cleverly built into the wall and includes shelves and drawers to provide multiple storage options. 
3. Mirror doors
If you have a small bedroom, then a wardrobe with mirrors can be beneficial in three brilliant ways. Firstly, it can offer a clear vision of what you look like before you head out the door (no spinach in your teeth, that kind of thing) and then secondly, it can keep your belongings safe and preserved behind the scenes. Finally, the mirrors can be used to reflect light, making your small quarters seem more spacious. 
In the example above, crystal clear mirror panels have been used to beautifully enhance the modern décor of the bedroom whilst simultaneously reflecting natural light to make the space appear larger.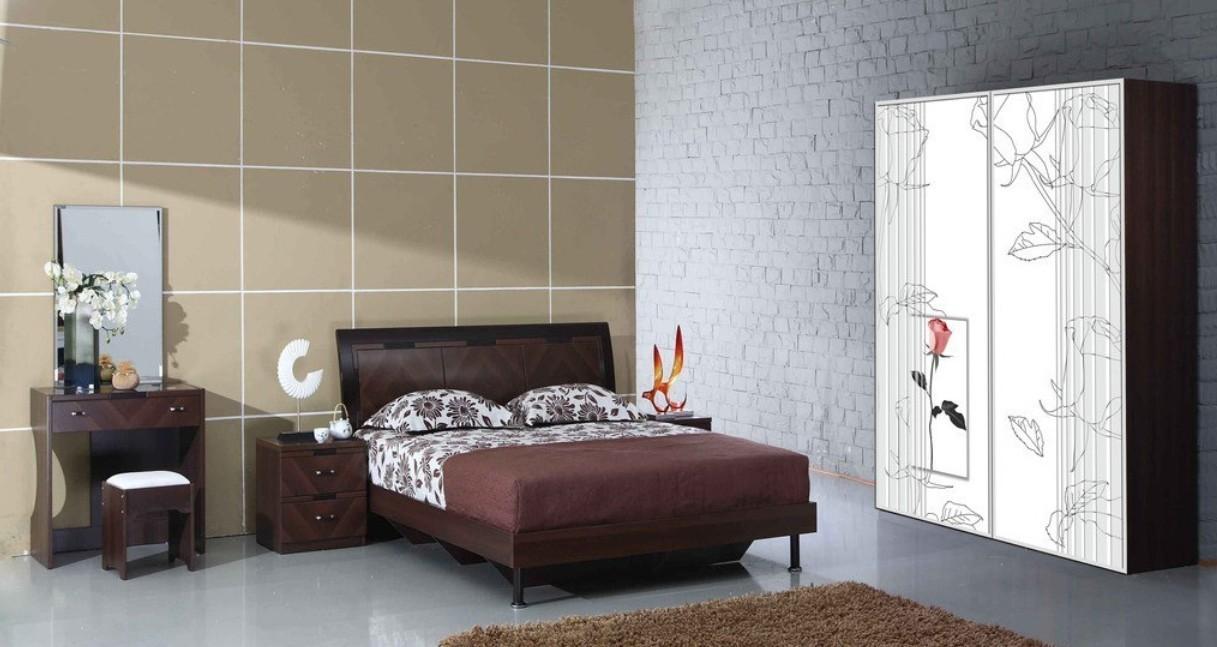 4. Multifunctional designs
Multifunctional wardrobes are great for kids' rooms and bachelor pads. They can include anything from TV units and toy display shelves to desks and dressing tables. The idea is to combine a wardrobe with other furniture to create a multifunctional station that ultimately makes life easier and more compact.  
This wardrobe design provides enough packing space for clothes and linen and uniquely makes way for a large flat-screen TV and a sound system. 
5. Transparent doors
If you are a neat freak and don't mind showing off your stylish garments and organisational skills, then a wardrobe with glass or transparent doors can be an original addition to your bedroom. If you like the idea but aren't too keen on complete transparency, you could always opt for sandblasted doors.
In this example, IDF Design combines glass with dark wood to create a masculine-looking wardrobe that would look amazing in a modern city apartment. 
6. Simple but sophisticated
Plain doesn't have to be boring, in fact, the "less is more" approach can often find itself as a one-of-a-kind solution in a world that is bursting at the seams with innovative ideas. Don't be afraid to choose a wardrobe that is stylishly humble. 
This plain oak wardrobe by instrument UK is lavishly rustic and adds a homely warmth to a room. You can fit a light to the top of the carcass to enhance the atmosphere. 
7. Vinyl doors
Vinyl doors may be all the rave lately but they've yet to make a huge statement in bedrooms, which means that you can situate yourself at the forefront of this trend. You can use vinyl to "pimp" up your old wardrobe for a fresh modern look or you can source free-standing vinyl wrapped wardrobes from contemporary furniture stores. 
*Tip: pair vinyl wardrobe doors with chrome or aluminum handles for a sleek and daring look that will compliment most luxe homes.
8. Classically chic
If you prefer bedrooms with classically chic themes, then a vintage wardrobe is a perfect choice. You can scour your local antique stores to search for an extraordinary find or you can "zhoosh" up a wardrobe to mimic a historical design. 
This chich wardrobe has been painted in a stunning grey-blue colour for an enhanced vintage look. Steel handles add a contemporary touch. 
9. Cleverly cornered
Make the most of bedroom corners with a unique wardrobe that slots perfectly into a 45-degree angle. These wardrobes are ideal for tiny bedrooms and their construction provides a walk-in wardrobe feel when the door is open. 
You'll find that this type of wardrobe is available in an assortment of colours with different trims. *Tip: add 2-3 slim wardrobes to a corner unit to create a unique L-shaped effect. 
10. Radically retro
If you want your room to burst with character, then consider a retro wardrobe that will pull a room together. For example, the 70's wicker trend is making a fresh debut and is becoming an original way to add warmth and texture to a luxury bedroom. 
We're completely in love with this lavish setting that shies away from steel and glass. Instead, this boudoir incorporates wood and grass to create an opulent atmosphere that takes contemporary design to a new level.