If you want to upgrade to a waterproof floor, there is no better time than right now to investigate your options. There is a range of new products and designs for waterproof flooring that have come onto the market in recent years, so from laminate to vinyl and engineered timber, we have got you covered.
When Do You Need Waterproof?
As t8c(,KM%s8ZmMH)Lhe name suggests, waterproof flooring is made to be resistant to moisture. Understandably, waterproof flooring is most commonly used in the wet areas of homes, such as the kitchen, bathroom, and laundry. Waterproof floors are also often installed in basements and cellars because they are so protective and tough. If you have young children, pets or lots of foot traffic, there is nothing wrong with using waterproof flooring throughout your home.
Benefits of Waterproof Flooring
Waterproof floors are easy to maintain and clean. In most cases, you can wipe over them with a damp or dry cloth to have them shining brightly and looking as good as new. Waterproof floors are durable and will give you good longevity over many years. They are protected from the damage caused by spills, accidents and other issues caused in areas with high humidity.
Styles and Textures of Waterproof Flooring
The options for waterproof floors are laminates and vinyl, which contain a waterproof core, or specially treated engineered timber. Waterproof flooring will give you durability and comfort, with a surface that will maintain its quality for many years. Waterproof flooring does not have to look tacky, and in many cases is hard to discern from other materials. The technology used to create and print waterproof laminate and vinyl has come a long way, and new products will look contemporary and won't date.
Waterproof Laminate
Waterproof laminate has extra backed and is finished when compared to standard laminate. When you choose a waterproof laminate, the planks will be reinforced and placed securely so that moisture cannot seep through the joins. Waterproof laminate often has an authentic wood look and is difficult to tell apart from its timber counterparts. When you choose a waterproof laminate, the planks will be reinforced and positioned tightly so that moisture cannot seep through the joins. Waterproof laminate often has an authentic wood look, but it is also available with a stone look and in many other designs to suit its intended use. You can confidently install waterproof laminate in your bathroom, laundry, or kitchen, and know that it has been made to handle the humidity and moisture that occur in these rooms.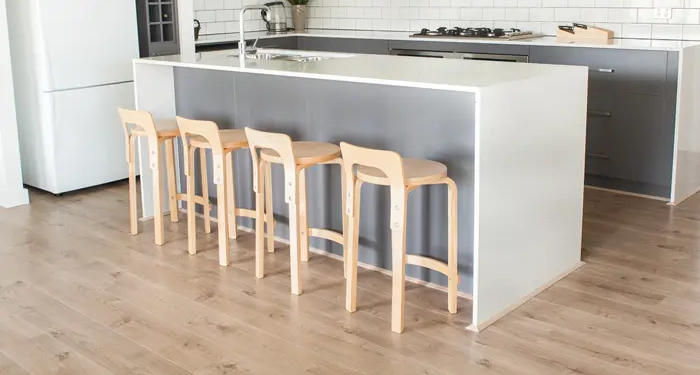 Waterproof Vinyl
Waterproof vinyl is one of the most popular flooring surfaces because it looks so realistic and is so hardy and durable. The protection is offered through four layers packed tightly together. Waterproof vinyl typically has a top wear layer, offering superior stain resistance. Next, a printed vinyl layer has a high-quality print and is also resistant to chips and dents. Underneath is the dense waterproof material, which sits on a foam underlay. Some products come with a 100% manufacturer's waterproof guarantee. Vinyl floors are best professionally installed so that the edges of the sheets are properly secured and there aren't any weak spots for moisture to seep through.
Waterproof vinyl is popular in both domestic and commercial settings because it is easy to clean, cost-effective, and lasts for years, even in high-use settings. Waterproof vinyl is created to be tougher and more resistant to spills than the standard product. Vinyl waterproof flooring need only to be wiped clean with a soft cloth to remove any dirt or grime. Vinyl flooring comes in a huge range of designs and prints that will help you get the look of any material you are looking for.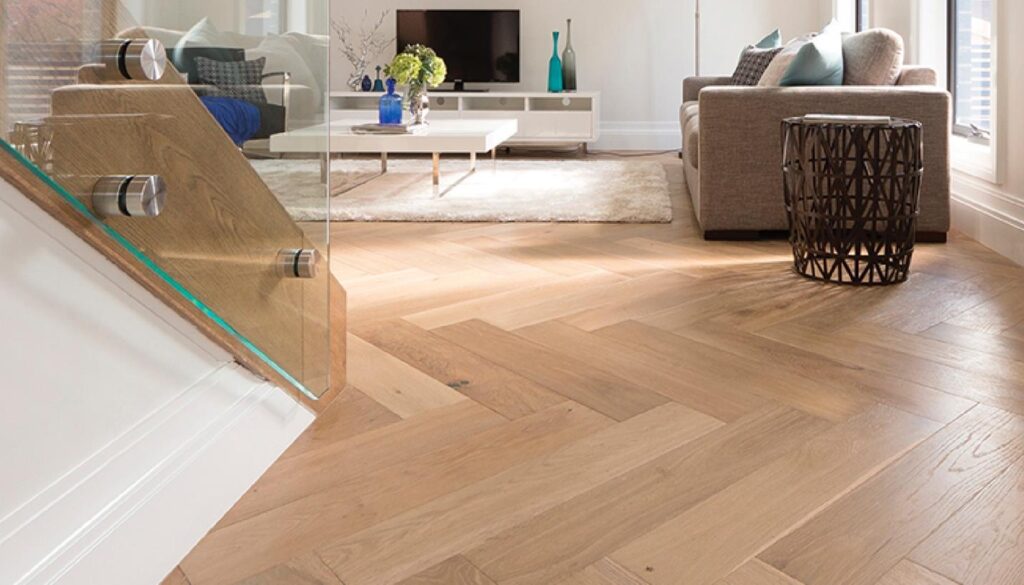 Waterproof Engineered Timber
If you are looking for wood flooring in your wet areas, you will need to choose a material that will survive constant exposure to moisture. When you choose a waterproof engineered timber, you will have the look of real hardwood with a finish that keeps that lovely natural material safe from warping or swelling. Teak and mahogany make attractive timber bases for waterproofing. Waterproof engineered timber has been specially treated so that water cannot penetrate the service or cause damage to the natural fibres. Moisture can't get trapped within the layers of this specially treated wood. It won't warp or rot, and it is also easy to clean and won't feel rough underfoot. As with laminate and vinyl, engineered timber comes in a range of styles and colours to suit your home.
Waterproof Stones
Stone surfaces such as concrete, marble and granite look great in many modern bathrooms. These surfaces look chic and sophisticated. They are non-porous once installed and can withstand any amount of water. However, concrete floors can, on occasion, develop cracks, which eventually enable some water to pass through. Occasional resealing can help prevent this problem. Stone floors are easy to clean and maintain but do tend to become slippery when wet. They will bring a dramatic and rich look to a room but are likely to be the most expensive choice of all.
If waterproof flooring is a priority for you, we can help you find a material and finish you, love. Reach out to your local Floorworld store for more information and to find the best products for your home. For more information visit www.floorworld.com.au or visit your local Floorworld retailer. You might be surprised to discover just how many waterproof styles are out there on the market.