Storms can be incredibly destructive and often leave homeowners with much damage to repair. One of the most common types of storm damage is roof damage, ranging from minor shingle loss to major structural problems. Homeowners need to know what steps to take after a storm has damaged their roof to ensure that it gets repaired correctly and quickly. This article will discuss what you should do if your roof is severely damaged in a storm. 
The steps to take after a storm has damaged your roof
Once the storm has passed, assessing the damage and planning repairs is essential. If water has begun to enter your home, or if you suspect that sections of your roof have been damaged by wind or flying debris, contact a licensed roofing contractor as soon as possible. The contractor will be able to inspect the damage and provide advice on how best to repair it.
When choosing a contractor, make sure they are licensed in your state and are experienced working with insurance companies. Before signing any contracts with them, read through all documents thoroughly. After confirming that the contractor is qualified, ask them to explain their process for making repairs and what materials they need. 
It is also essential to check with your insurance company before starting any repairs. You may be eligible for a claim if the damage is significant enough. Your insurer will likely recommend an approved contractor to perform the work. In some cases, they require that you have the roof inspected after it has been repaired so that they can confirm the job was done correctly.
If your roof needs to be replaced immediately or repaired, consider green alternatives such as solar shingles or reflective roofs. These materials are highly energy efficient and can help reduce heating and cooling costs in your house. Additionally, depending on where you live, rebates may be available to offset some of these costs.
Finally, ensure you take safety precautions when repairing your roof after a storm. Wear protective clothing while working on the roof, and never attempt any repairs without the assistance of a professional. Additionally, you should avoid climbing onto your roof or walking on it during rain or after recent storms. 
By following these simple steps and being aware of safety precautions, you can ensure that your roof is repaired correctly to withstand future storms. Doing so will provide peace of mind for years to come.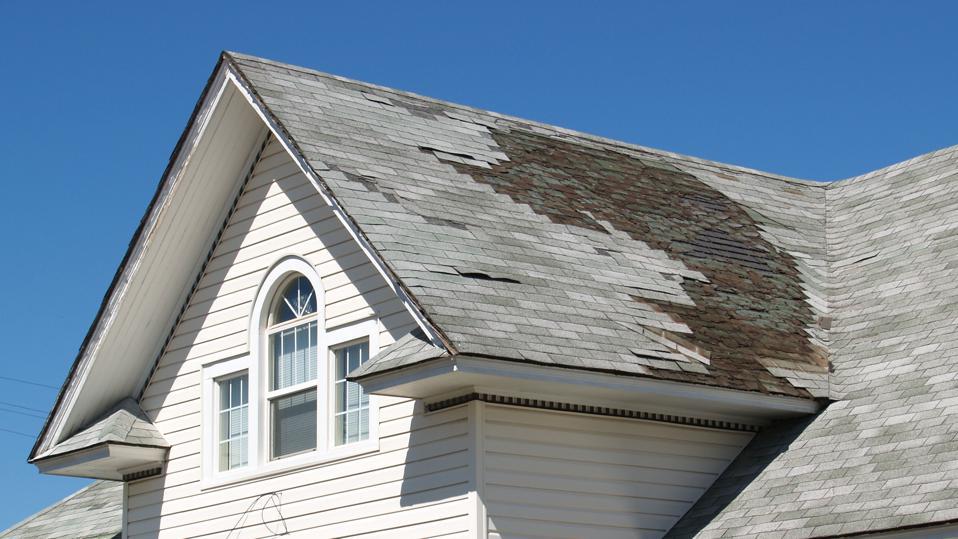 How to choose the best contractor to repair your damaged roof
When searching for a contractor to repair your damaged roof, there are several important factors to consider. Firstly, ensure the contractor is fully licensed and insured in your state. Not only will this ensure they have the necessary experience and qualifications to carry out repairs correctly, but you're also covered in case something goes wrong. 
Additionally, ask the contractor for references or other customer reviews, which can provide valuable insight into their work ethic and reliability. It's also worth meeting with them in person to better understand how they will handle the job. 
You must receive a detailed estimate of the costs associated with the job before signing any contracts with them. The estimate should include an outline of materials needed, labor costs, and any additional fees, such as permits or disposal costs, that could be incurred throughout the project. Be sure to read all documents carefully before agreeing to anything, as some contractors may try to charge more than expected once work has begun. 
Choosing something other than the lowest bidder, make sure you weigh the cost against quality when selecting a contractor for roof repair services. Make sure they use high-quality materials suitable for your climate and environment so that you can be confident in their ability to protect your home from future storms or damage. 
Taking the time upfront to research potential contractors can save you a lot of money by ensuring that you hire someone reliable, experienced, and trustworthy enough to do an excellent job on your roof repairs. For more information on reliable and experienced roofing contractors, go to https://digitalroofingcompany.com/.
The bottom line
Repairing your roof after storm damage is a big job, but with the right contractor and knowledge of safety measures, you can be confident in the results. Before beginning any repairs, ensure that the contractor is licensed, insured, and experienced. Read all documents carefully before signing any contracts. Additionally, speak to your insurance company about potential claims and research green alternatives for an energy-efficient repair. By taking these steps, you are sure to have your roof repaired correctly to withstand future storms.