Construction sites are full of safety hazards, and one should be careful at all times. Just like workplace safety comes first everywhere else, it is an optimal working requirement for construction sites. Without having the assurance to feel safe while working, constructors should not agree to work. Everyone deserves to work and associate with firms that prioritize the health and safety of their employees.
Whoever fails to understand the importance of safety at work is not ideal for employees to join. Moreover, if employees do not know why workplace safety is a must, how can they expect the same from employers? Therefore, both parties need to understand the growing importance of workplace safety and safety signs on site. If not, you may risk your life and health and put your loved ones in danger as well.
Similarly, safety and health signs are displayed almost everywhere on construction sites. From the entrance points to site hoarding and other locations, signs are vital 24/7. If you have ever worked on a construction site or happen to walk past one, you must have spotted different safety signs. They usually come in bright colors, like blue, red, yellow, and green.
So, why put up these signs on under-construction sites, and what do they stand for?
Generally speaking, these safety signs don't serve to decorate under-construction sites. The reason behind putting these signs in bold colors is to inform others about their significance. Every single color represents something different. By knowing what every sign means will help in understanding the safety threat or warning behind it.
Take the example of ADA signs, a common term used for a precautionary alert at the construction, architectural, and signage industries. These signs are present in places where the chance of getting harm is high. Learning about workplace safety signs will only increase your knowledge. If you fail to realize their importance and misinterpret the message behind them, you could hurt yourself.
The reason behind putting them up is to save both workers and visitors from minor to fatal injuries. They have important information, especially for your safety. Also, they warn you about different hazards on the construction sites.
For your understanding, here are some different types of workplace safety signs, especially for under-construction sites.
1.  PROHIBITION SIGNS
Many people are already familiar with the prohibition signs. If not, anybody can easily recognize them by their red color. As the name suggests, these signs prohibit people from entering/going somewhere. You will usually find prohibition signs on almost every other construction site. These boards have text saying 'no unauthorized access.' Also, they are present in a red circle with a crossbar on it. Any text written on it is in black.
Some examples of prohibition signs are No Entry, Stop, No Smoking, No Parking, etc. All of these signs instruct people not to do something or stop from attempting it.
2.  WARNING SIGNS
Warning signs are different from prohibition signs because they do not stop people from doing something. They are specifically used to make the public aware of an underlying hazard or danger. Under construction sites, put warning signs before beginning construction. They are the first-ever signs you will notice when passing by construction sites.
Warning signs usually have texts like 'danger construction site' or 'warning construction site.' They are colored in a yellow triangle (pointing upwards), with a black side-border. Warning symbols or letters get written with a black color on the yellow sign.
Some common examples of these signs are High Voltage, Work Overhead, Deep Excavations, Asbestos, Wet Floor, etc.
These warning signs serve the purpose of warning people or asking them to be careful when near a construction site.
3.  MANDATORY SIGNS
Mandatory signs have a completely different purpose than warning and prohibition signs. Rather than giving you a warning or prohibiting you from doing an activity, they tell you to do it. The literal meaning of 'mandatory' is compulsory or must. If you ever spot this sign, please know that you have to do something.
Every single under-construction site has these signs on display, asking people to obey the protocol. They guide construction workers about what they must do when near/on a construction site.
A simple example of a mandatory sign will be 'wear safety helmets' or 'maintain distance.' These signs appear in bold blue circles with white symbols and letters.
4.  FIRE EQUIPMENT SIGNS
Fire equipment signs are easy to get. They tell construction workers and the general public about the location of the fire equipment. They are red, and they have a square or rectangular shape. Due to this shape, one can distinguish fire equipment signs from prohibition signs. These are also present near the fire call-points, with white lettering on red color.
Some common examples of equipment signs are Hydrant, Call point, Fire Alarm, and extinguishers. They tell people where to find the needed equipment.
5.  SAFE CONDITION SIGNS
Safe conditions signs are usually contrary to the warning signs. Instead of warning about hazardous situations, they alert workers and the public about a safe place. These signs are used widely on construction sites to let the workers know about first-aid kits, fire exits, and reporting centers. They guide people about where to find safe conditions when present on a construction site.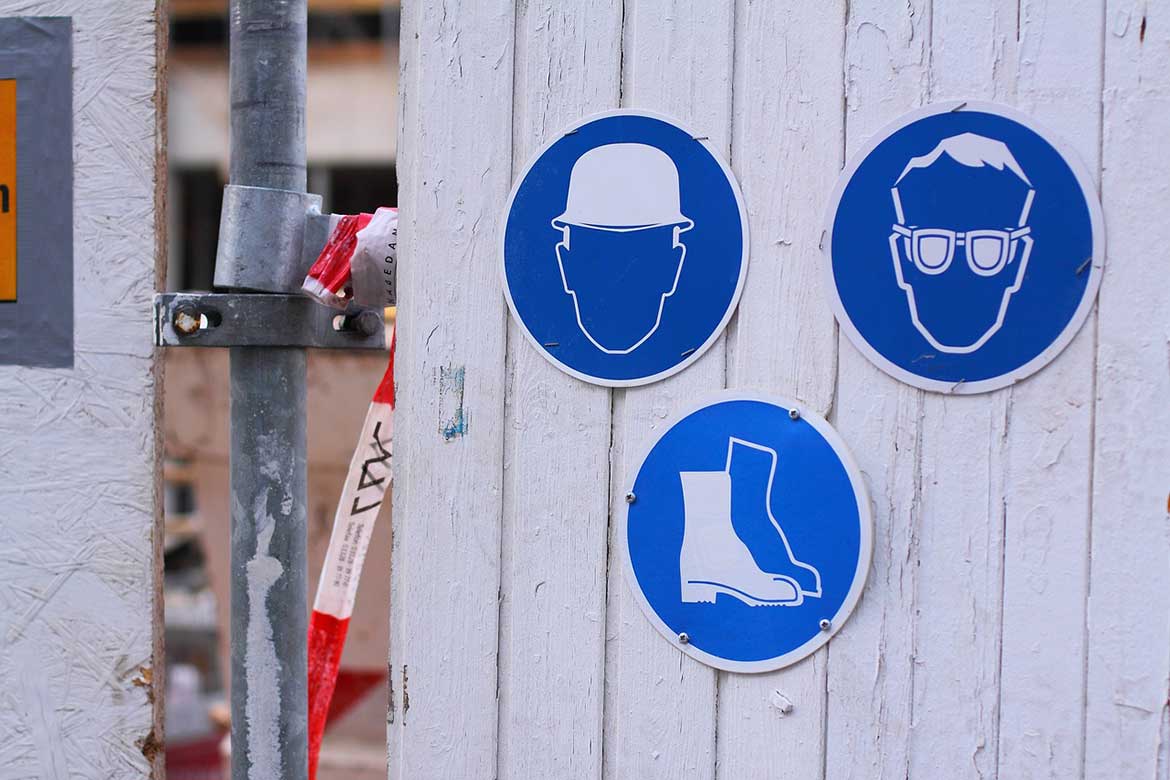 Safe condition signs come in solid green oblongs or squares, with white text or symbols. Common safe condition signs will be First Aid and Fire Exit. Without these signs, people will never know where and how they will feel safe during work.
CONCLUSION
Signage serves to guide the construction workers and spread awareness for the general public as well. All of the signs mentioned above serve an essential purpose. They remind people about necessary measures, so the ones who are unfamiliar know what's coming forth. Any construction site is incomplete without these safety signs.
Moreover, workplace safety signs get specially made to cater to everyone's safety. For this reason, they are visible with one or two simple words and graphics. There is no point in using complex signs as it will kill their ultimate purpose. Hence, it is for your well being to follow these signs religiously and understand their worth. Not only should the construction workers know this, but everyone else too. Consider this a 'mandatory' requirement to stay safe!