Before starting any construction work, a few factors have to be considered and the decking is a big one. Your choice of materials and build type will greatly influence how well the roof serves you or the residents of the house. 
Naturally, many are confused between ⅝ vs. ½ plywood.
Deciding on the thickness of the decking is a crucial step. This article will help you decide which thickness will suit your needs the best. We will also answer a few general questions regarding the roof decking that you might have.
In-depth Differences Between 5/8 And 1/2 Plywood Roof Sheathing
Now let's take a look at a few factors that differentiate the two and please keep in mind that you have to consider those factors before picking the right one to get you a perfect home.
Thickness
½" roof sheathing features a decreased thickness level – under ½ inches. Compared to that, ⅝ inches of roof sheathing is thicker and develop a stronger base for the decking.
This ensures small bowing between the trusses. As a result, your roof material will have a better surface.
Weather
A key aspect to keep in mind is the climate of the place where the decking will be done. If the house is being built somewhere with moderate weather, going for ½" roof sheathing is a good idea. 
Its ⅝" counterpart offers extra durability (we will get into that later) but you will not need that for these climates. 
On the other hand, in zones with extreme weather, a sturdier substitute is preferred. For instance, if you suspect the area to have heavy rain, hurricanes, and thick snowfalls, it will be best to get ⅝" roof decking. 
Rafter Spacing
The rafters' space will help you decide the correct thickness for your roof sheathing. The average rafter spacing which is 24 inches will call for the installation of ⅝" sheathing. 
A decking like that should be rigid enough to tolerate loads without falling apart or bending. 
Consider ½" sheathing if there is less space between the rafters, around 16 inches. Although not as mainstream as 24 inches or 16 inches, a 20-inches rafter space can be found on some house roofing. In these cases, you can choose either thickness and it will work.
Picking one over the other will depend on weather conditions, building standards, and your budget.
Budget
⅝" roof decking is significantly more expensive than ½" sheathing. Moreover, the thicker and heavier boards take more time to install.
Thus, if you are on a tight budget, there is no need to splurge on a ⅝" roof sheathing, unless you are sure that you will need it to tide weather demands. If you don't have any monetary restrictions, we recommend going for ⅝" thick sheathing boards.
Workspace Requirements:
Consider your workspace requirements when choosing between 5/8″ and 1/2″ plywood roof sheathing. If your attic or upper floor space will serve as an office or workspace, the choice of sheathing thickness can impact the comfort and stability of your office desks and furniture. Thicker 5/8″ sheathing provides a more stable and rigid base, reducing the likelihood of desk wobbling or uneven surfaces, which can be crucial for productivity and comfort in an office setup.
Durability
A heavier roof decking can stay firmly in place and handle great loads even in adverse weather situations. Therefore, ⅝" roof decking is always more durable than its 1/8" counterpart. 
The additional thickness reduces the chance of bending between frames. The house's exterior roof materials will not be compromised despite the heavy load. Even over the years, there will be little to no dips between the joist.
Installation Cost
⅝" plywood is expensive in itself but you must also consider the installation charges. In comparison to ½" roof decking, ⅝" roof decking is costlier to install. not only that, but you will also need more masons to assemble it.
Only certified professionals are suggested to handle ⅝" roof decking as it can get tricky. In some cases, advanced equipment has to be used for the best installation, increasing overall costs.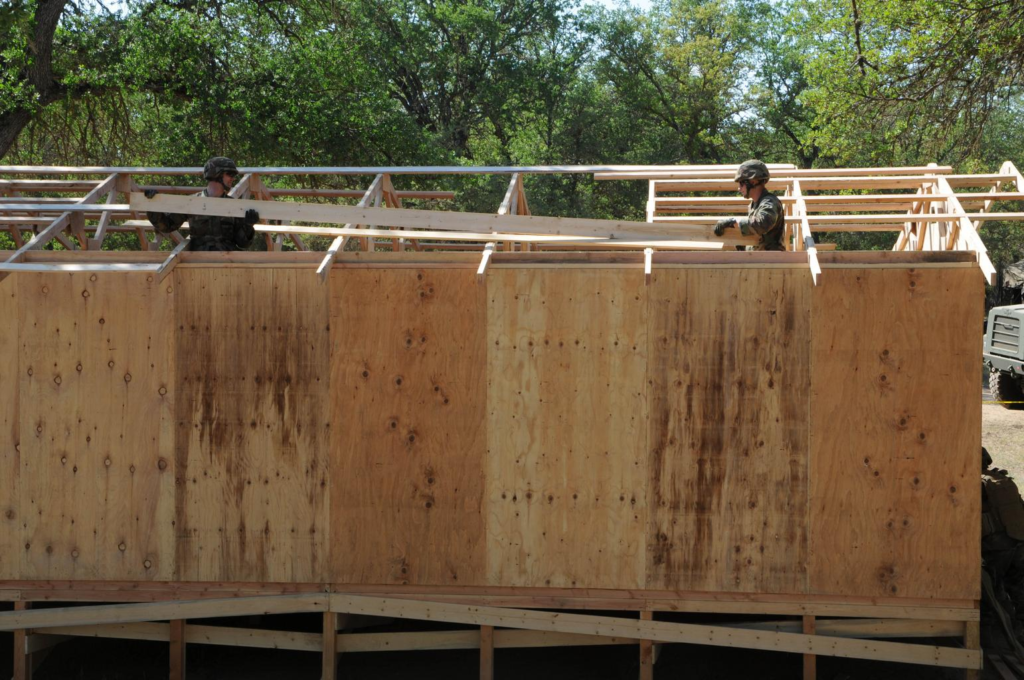 Installation Ability
As ⅝" plywood is thicker, it's more difficult to carry them. Consequently, you will require more helping hands for the job.
In contrast, installing ½" roof decking is fairly straightforward. Not as many professionals will be needed to do a smooth job. Furthermore, there will not be a need for additional special equipment for the task.
Building Standard
Local building codes simply cannot be ignored when making houses, and they have a thing or two to say about roof sheathing too. Your particular locality might have imposed restrictions on the usage of a particular roof sheathing thickness level. 
For example, roofs cannot be made fully with ½" roof sheathing in New York. The minimum level of thickness is ⅝". So, you might run into trouble with the regional authorities for using a lower standard.
Which One Is More Suitable For Your House?
Right away, most experts suggest getting ⅝" decking. Thanks to its extra thickness, ⅝" plywood is usually more durable than its competitor. It's difficult to go wrong with this choice, to be frank.
However, not everyone can afford these boards. It's not just the price of the boards you are considering; there is also the extra installation charge for assembling ⅝" roof sheathing.
You do not see a lot of the truss outline when using ⅝" plywood, and the deck will turn out smoother too. If the snow buildup is less where you live, you will be okay with ½" decking and prevent roof damages.
Frequently Asked Questions (FAQs)
What is the Minimum Thickness Requirement of Roof Sheathing?
Laws dictate that the minimum thickness for roof sheathing is ⅜". That number, however, refers to both plywood and OSB. 
There is no ceiling on how thick the roof substrate can be. It is determined by how far apart trusses or rafters are positioned and the roof decking's rating.
What's Better for Roofing: Plywood or OSB?
We find that OSB is the better choice for roof decking as it is more affordable and available in a wide variety of sizes – more than plywood. Go for plywood if you are worried about moisture seeping into the sheathing.
But there are more layers to an OSB board which means it takes more time to dry. A wet board will sag easier.
What Size of Roofing Nails is Needed for Roof Sheathing?
8d roofing nails are needed to install sheathing. These are 2.5" in length and more than enough to secure even the thickest of roof substrates. Alternatively, go for #10 wood screws if you want to use screws.
What Plywood Is Best for Roof Sheathing?
CDX or C-D Exposure 1 plywood is the most commonly used plywood for roofing. Its name reminds that it's construction grade for outer purposes. 
Can You Pile Plywood on Top of Each Other?
There is no problem adding new plywood over the old ones if the new ply can cover the distance, handle the wind, roof, snow, and seismic loads for your area.
Conclusion
There are so many options when it comes to roof coverings that it's natural for people to get confused. Roof sheathing is an aspect where you should consider investing a bit more. 
Think of the benefits in the long run when weighing ⅝ vs. ½ plywood roof sheathing. 
Sagging roofs are dangerously common; not to mention visible. It can be easily fixed at the time of installation by making the right choices.