When you have guests, you want your kitchen to appear well-organized. You want to pull off a perfect meal and impress your guests with your culinary abilities. That is why it is critical to ensure that everything looks great. Here are a few ways you can enhance your kitchen to impress your guests:
Upgrade Your Sink
If you plan to have a dinner party in your home, you must make your kitchen sink look exceptional. If you have an outdated sink, it might be time to upgrade it to impress your visitors. Here are some of the most popular types of sinks which can be seen on the best page of some kitchen renovations online:
Shiny Copper Sink

: Copper has long been a popular option for kitchen sinks because it adds warmth and beauty to any room. The shiny finish on this copper sink makes it perfect for modern kitchens or those with industrial-style décor.

Black Granite Sink

: Granite is another popular material used in kitchens due to its durability and timeless look. Black granite sinks are incredibly versatile because you can use them with any color scheme or style of furniture or decor. They also go well with stainless steel appliances.

Stainless Steel Sink

: Stainless steel sinks come in many different finishes, including polished, brushed, and oil-rubbed bronze, among others. These sinks are modern yet durable enough for everyday use in busy kitchens, such as commercial kitchens.
Install A New Kitchen Island
You can easily install a kitchen island in your home. It's not a highly complex process because you need some essential tools and materials. If you want to impress your visitors with your new kitchen island, here are some tips on how to install one:
Measure the height of your countertop. You should do this to determine the height of the new island you need to install. The size of the island should be the size of your countertop.

You need to first remove all existing cabinets and drawers from the area where you will install the new island. This makes it easier for you to work in the area without obstacles or interference from other parts of your kitchen cabinets.

Once all obstructions have been removed, you can start installing your new kitchen island by attaching them using screws or nails if needed. Ensure everything is installed correctly according to specifications and measurements so there will be no issues with stability when using it later.
Enhance The Lighting
Lighting is an important feature in any residence. It can set the mood of a room, highlight a particular piece of art or give your kitchen a professional look. Lighting can be functional, but you can also use it to create ambiance and enhance the aesthetics of your home. Here are some tips to help you select the lighting style for your kitchen:
Consider the energy efficiency of bulbs. Bulbs come in different wattages, so choose one that's appropriate for the size of your room. For instance, if you have a small kitchen with one recessed light fixture over the sink, you'll want to choose an LED bulb that consumes less energy than an incandescent bulb.

Use dimmers on overhead recessed lights to lower the brightness, like when entertaining guests. Dimmers are especially useful if you have poor vision. Also, they allow you to adjust the brightness level as needed without turning off all the lights altogether.

Install under-cabinet lighting under all countertops, so it's easy to see what you're doing while cooking or cleaning up after dinner parties and other gatherings with friends and family members.
Add A New Backsplash
When guests walk into your kitchen, one of the first things they notice is the backsplash. It establishes how they will perceive your space and its functionality. A well-designed backsplash can make your entire room feel sophisticated and upscale while also adding a pop of color or texture that distinguishes it from other kitchens.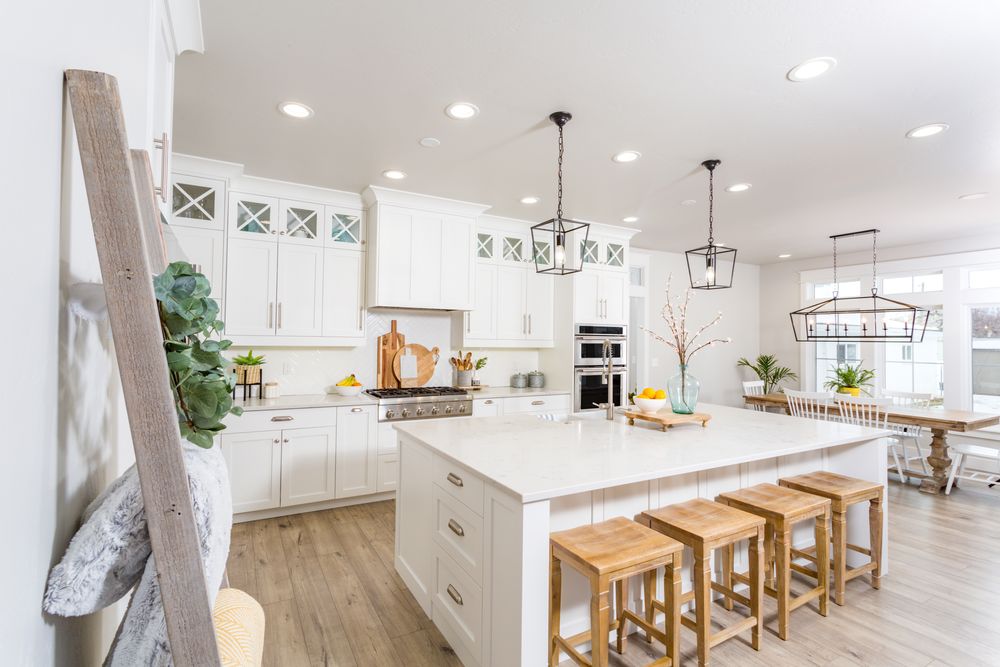 Backsplashes come in many different materials, including tile, glass, and metal. Each material has its unique look and texture that can create an interesting design statement in any kitchen design style, from modern to traditional.
Update Your Appliances
If you're having a party at home and want to ensure everything is perfect, you need to research and spend time planning. It can be quite daunting to host a party at home, but it can also be a lot of fun if you know what you're doing.
One of the most important things to do when planning your party is to update all your kitchen appliances. This will make your house look more professional and give guests a better impression of you as an owner. Here are some ways to update your appliances and give your kitchen a fresh look:
Replace Your Dishwasher

: A new dishwasher can make doing the dishes more fun by saving water and energy while cleaning better than ever.

Upgrade Your Fridge

: Upgrading a new refrigerator will help keep food fresh longer without worrying about issues that could cause spoiled food. Moreover, the newer refrigerator model is also more energy efficient than older models, so they'll save you money on your monthly electric bill.

Upgrade Your Oven

: While most people don't think twice about their ovens until something goes wrong, upgrading to a new one can make all the difference in the outcome of cooking meals for your family and friends.
Install A Pot Filler
Pot fillers are a luxury feature that'll enhance the look and functionality of your kitchen. They're often installed over the stovetop or sink and can be used to fill pots, pans, and other cooking utensils with water or other liquids.
If you love to cook, installing a pot filler is one of the best upgrades you can make to your kitchen. Not only does it add instant value to your home, but it also makes cooking more accessible and more convenient.
Final Thoughts
Your kitchen is a reflection of who you are and the way you live. It's where you prepare food for people who matter most to you, and it's an extension of your personality. No matter what you do or what upgrades you have in your kitchen, remember that your guests are coming over to enjoy themselves and spend time with you.