Are you ready to choose a fresh coat of paint for your home's interior door?
Doors help make up the first impression of our home. Yet, they're more than just exceptions. They're opportunities to stand out from the crowd and make a bold statement.
But how do you choose one? We're here to help.
Below, we created a must-know guide to the best interior door paint colors. From bold and striking choices to timeless neutral shades, we've handpicked some of the best for you. Check it out to up your interior door game and make a great first impression.
1. Classic Navy
Navy is making a strong comeback in interior design, and it's not limited to walls and furniture. In 2023, classic navy is one of the top choices for interior door paint.
Navy doors add a touch of sophistication and elegance to any room. This makes them an excellent choice for homes with both traditional and modern aesthetics.
One of the key benefits of using classic navy for your interior doors is its versatility. It pairs beautifully with a wide range of wall colors, from crisp whites to soft pastels and bold jewel tones.
Additionally, navy doors can be an excellent backdrop for statement hardware. This includes brass or matte black handles, creating a visually stunning contrast.
To achieve the perfect navy door, make sure to properly prepare the surface. Apply a high-quality primer and use a paint with a satin or semi-gloss finish for durability and easy maintenance.
2. Earthy Olive Green
Olive green is another interior door paint color that's gaining popularity in 2023. This earthy and calming hue brings a touch of nature indoors, creating a soothing and inviting atmosphere.
Olive green doors work particularly well in rooms with plenty of natural light. This is because they can enhance the connection between indoor and outdoor spaces.
Pairing olive green doors with neutral walls and natural materials can create a harmonious and cozy ambiance. This color choice is also versatile, making it suitable for various design styles, from bohemian to farmhouse and mid-century modern.
When painting your doors olive green, consider using a matte or eggshell finish for a softer look that complements the natural feel of this color. For professional painting services in the Frisco area, you can rely on the expertise of Fresh Coat Painters of Frisco to bring your vision to life.
3. Soft Blush Pink
Blush pink continues to be a darling in interior design, and in 2023, it's finding its way onto interior doors. Soft blush pink doors can add a touch of femininity and elegance to any room. This color choice is perfect for bedrooms, nurseries, or even as an accent in living areas.
To create a balanced and sophisticated look, pair blush pink doors with brass or gold hardware. This combination adds a touch of glamour and warmth to your space.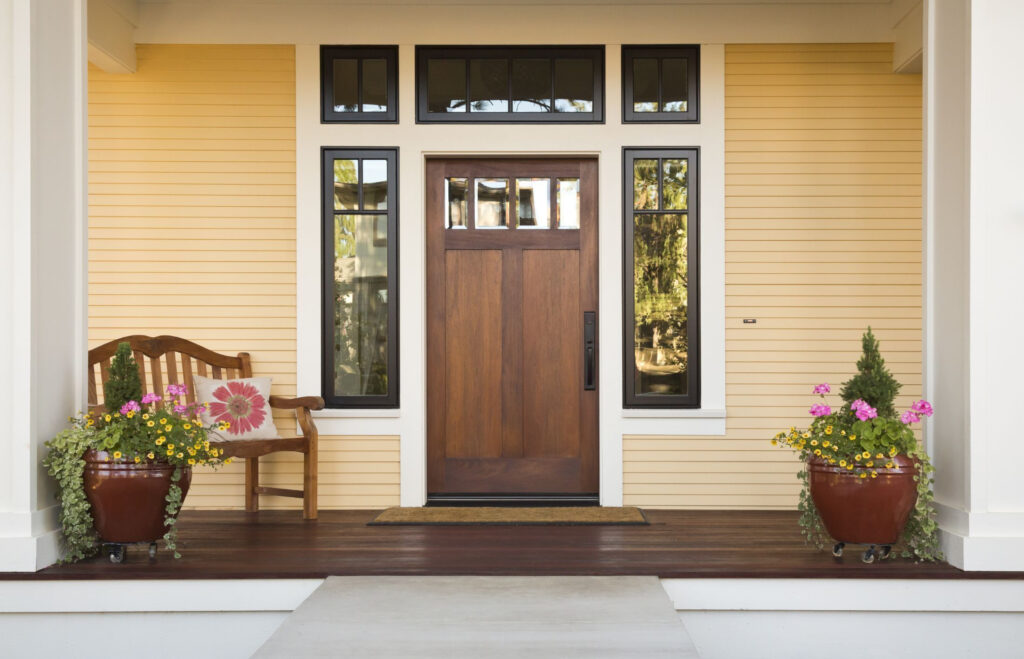 When opting for blush pink interior doors, consider using interior paint with a satin or semi-gloss finish. This will achieve a subtle sheen that enhances the delicacy of the color.
4. Rich Charcoal Gray
Charcoal gray is a timeless and versatile color that's making a statement on interior doors in 2023. This deep and rich hue adds drama and sophistication to any room, making it an excellent choice for those seeking a bold and modern look.
Charcoal gray doors pair beautifully with a range of colors, from soft pastels to vibrant jewel tones. They also create a striking contrast against light-colored walls, making them the focal point of the room. To complete the look, consider using sleek and modern hardware in finishes like brushed nickel or matte black.
When painting your doors charcoal gray, be sure to prep the surface. Also, use high-quality paint with a satin or semi-gloss finish for a smooth and durable result.
5. Vibrant Teal
For those who crave a pop of color and want to make a bold statement, vibrant teal is the way to go in 2023. Teal doors add a sense of energy and playfulness to any space. This makes them an ideal choice for entryways, home offices, or children's rooms.
Pair vibrant teal doors with complementary colors, such as coral, mustard yellow, or deep navy. This will create an appealing and balanced look.
You can also use teal as an accent color in decorative elements like throw pillows and artwork to tie the room together. To achieve a vibrant teal door, use high-quality paint with a semi-gloss or gloss finish for a brilliant and eye-catching result.
6. Timeless Black
Black interior doors are a timeless and elegant choice that will continue to be popular in 2023. Black doors exude sophistication and work well in a variety of design styles. They can create a sense of depth and contrast, especially when paired with light-colored walls.
To enhance the drama of black doors, consider using statement hardware in finishes like polished chrome or brushed gold. These touches of metallic shine can elevate the overall look and add a touch of luxury to your space.
When painting your doors black, ensure proper surface preparation. Use a high-quality paint with a semi-gloss or gloss finish for a sleek and polished appearance.
7. Warm Terracotta
Terracotta is a warm and earthy color that will be gaining traction in interior design in 2023. This rich and inviting hue can create a cozy and welcoming atmosphere in any room. Terracotta doors work particularly well in spaces with Southwestern, Mediterranean, or Bohemian-inspired decor.
Pair terracotta doors with warm neutrals like sandy beige or creamy whites to create a harmonious and grounded look. Incorporate natural textures like rattan and jute to enhance the earthy feel of this color choice.
When painting your doors terracotta, opt for an interior paint with a satin or eggshell finish. Go for a soft and inviting result that complements the warmth of this hue.
Try These Interior Door Paint Colors Today
The year 2023 brings an array of promising interior door paint colors that are sure to elevate the aesthetic of any space. From calming blues to bold blacks, there's a perfect shade to suit every style.
Don't hesitate to revamp your doors with these popular colors and give your home a fresh look. Take advantage of these trends and start painting your interior doors today!
For more helpful blog posts like this one, visit the rest of our site!